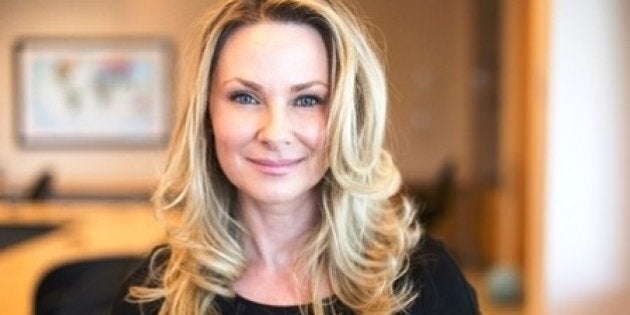 From a very early age, I understood that one of the toughest things in life was to be poor. I learned this from personal experience.
In most cases, being poor in Canada is different from being poor elsewhere in the world. True, the hardship and stigma are brutal for anyone, especially children. But there's opportunity here in Canada that doesn't exist in other places. People along the way saw the potential in me, and stepped forward to help. My grades were good, and I received a scholarship to law school.
But poverty overseas has a whole other dimension. Before coming to World Vision Canada, I had never seen extreme, mass hunger. I can't forget my first visit to Ethiopia and walking through a part of Addis Ababa where families were sleeping on the grass outside of a church. There, I met a mother who was picking cigarette filters out of the butts that were lying scattered on the ground, and feeding them to her desperately hungry toddler.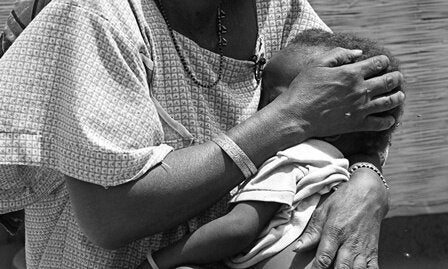 The little girl was crying in agony, as her stomach screamed that she must eat or soon die. I later learned from my colleagues that the pain of hunger can be so extreme, that it's common for children to eat dirt just to fill their stomachs.
Nothing about this situation was fair or just. Nothing. At the time, my two daughters back home were two and four years old. They had cried plenty of times in their lives -- but their voices sounded nothing like that of the little girl in Ethiopia. And as their mom, I always had a way to stop the pain. This mother had the right to dream anything she wanted for her child. Why should her only dream be to end the pain of hunger?
I went to law school to equip myself with the tools to make a difference in the world -- something that many of us want for our lives. Some people do it through teaching, others by volunteering, and others by the way they run their businesses. I do it through practicing law. When used properly and for its intended purpose, law can help create a harmony that's lacking in many areas of society. It can be one of the tools in bringing justice to our world.
The practice of law is rarely the glamorous portrayal of what you see on television. It is long, tedious hours spent mulling over details and navigating through processes and procedures that are often too long for even the most patient of clients. But when you have one of those moments, where the work you do helps to tip the balance in favour of some of the world's most vulnerable people, it is the most rewarding and empowering feeling a lawyer can experience.
Here's an example. On my second day at World Vision Canada, in January, 2010, a massive earthquake shook large regions in Haiti. As details poured into the office about the numbers of people killed, injured and left homeless, I struggled to get my head around the magnitude of the disaster. And all before I even knew where the photocopier was. In my prior role as counsel for an oil and gas company, my practice primarily focused on commercial leasing. What could I contribute to saving one life, let alone thousands?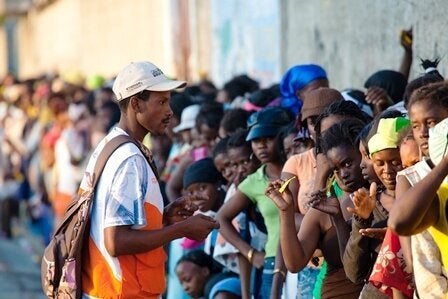 Families line up for humanitarian aid in the wake of the 2010 earthquake in Haiti. World Vision photo.
Although World Vision had aid supplies pre-positioned in areas near Haiti for just such an emergency, coordinating entry of those goods required the creation and approval of documents by both the Canadian and Haitian governments. It had to happen fast, as children and families were dying. But it also had to happen right -- the first time -- so as to prevent delays that could cost lives.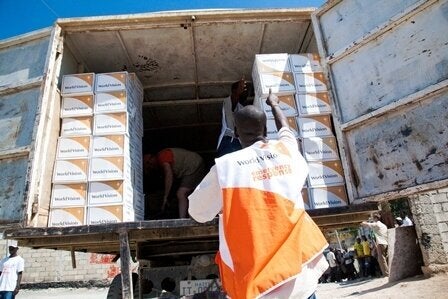 Once World Vision was able to bring supplies into Haiti, they could be distributed to families in need. World Vision photo.
The chance to help make things a little easier for the people in Haiti was life-changing for me. I realized I had come to the right place, that I had found my calling in life. Whether in emergency situations or long-term development work, I get to help parents create opportunities for their children that would otherwise not exist. Perhaps it's erecting a tent to shield their little ones from the elements, because I could help navigate the legal processes needed to get the supplies in to the country. Or perhaps it's about reviewing and approving World Vision's appeals to Canadians for donations to help refugee children in turbulent places like the Democratic Republic of the Congo.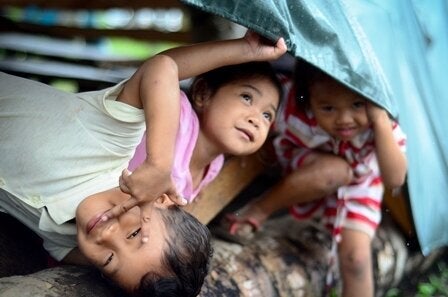 In the wake of Typhoon Haiyan in the Philippines, Dawn helped navigate the legal processes to get supplies like tents into the country. World Vision photo.
Any Canadian can use the law to help children around the world -- not just lawyers. The law is just a reflection, a codification if you will, of what we as a society want to see happen in our city, country and world. The laws that protect Canadians and remove barriers were created because people wanted them -- because people believed that the rights and freedoms we hold dear should be assured and safeguarded. If people like you hadn't done this before I came along, lawyers like me would have nothing to work with.
I urge you to look out for ways you can help create policy and laws to help and protect others around the world. Right now, for instance, World Vision is pressing the Canadian government to help protect children the world over from being forced to work in dangerous, exploitative jobs. In taking a minute to sign this petition, you can help bring about laws requiring large companies which operate in Canada to report publicly on their efforts to monitor, address and prevent child labour in their supply chains.
I've seen what's possible when enough people get on board to make a difference. And in my travels with World Vision, I've seen how badly that difference is needed. My way of helping is through the law. It can be yours, too.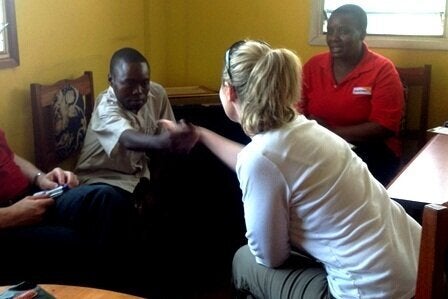 Dawn meets Juma, a Kenyan man with a physical disability who is now thriving, thanks to sponsorship throughout his childhood through World Vision Canada.
All photos from World Vision.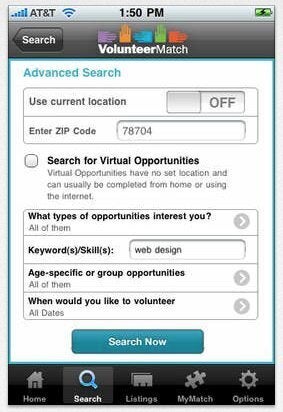 10 Charity Apps That Make Giving Part of Living
Popular in the Community