Whether it's your birthday, a special occasion or you are simply having a bad day and needing some cheering up, everyone deserves to have a day to feel special. Luxury can be associated with expensive outings, taste and experiences; however it can also be inspired by a sense of self worth and the way people make us feel. A life of luxury may seem out of your reach; but money isn't the only way to make you feel like you are worth thousands. Treat yourself to a day on the town. Learn how to become a celebrity for a day and be awesome without breaking the bank!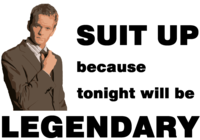 There is a reason for the popular saying "dress for success"; your appearance is the first impression someone learns of you. While we should strive to value the person underneath rather than the clothes off of their back, the reality is your outward appearance can say a lot about you. If you want to turn heads or create an atmosphere of importance, the first step is to dress to impress. This is your chance to break out that jacket, pair of shoes or wardrobe piece you have been dying for an excuse to wear. Dress up and have fun with it!
2. Pay a visit to your favourite designers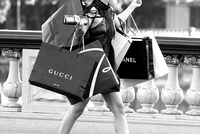 Dolce & Gabbana, Cartier, Hugo Boss, Chanel, Valentino, Tiffany, pay a visit to whatever designer calls your name! Take a shopping trip and visit those expensive stores you aspire to one day afford. Thought leaders will tell you the first step in changing your future and creating a path to success is to open your mind to possibility and visualize the future you want to live. There is no better way to envision than to taste the experience firsthand. So go for, enjoy yourself and shop until you drop!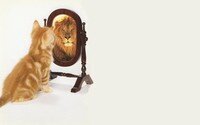 Now that you look the part, you need to start acting it. Celebrities may be well known by their fans, but often times even if someone from the larger public doesn't recognize them they "sense" they should know them. This comes from the confidence and respect that the celebrity emits. When they walk into the room they command it with their presence; they are comfortable in their own skin and act confident. While you may feel out of place in designer stores, with confidence you can convince everyone else that you belong. If you believe you are worth it, others will believe you are worth it, because let's face it we both know you already are!
4. Spoil yourself & have some fun!
Ever wanted to try on a $10,000 dress or suit? There's a first time for everything, and there's no better time than the present! This is your day so spoil yourself. Ask to try on the most expensive item in the store. Worried that you are spending so much time in the store but can't actually afford to buy anything? Use the wishlist trick! Try on as many things as you like and then tell the store associate that you are making a wish list for an upcoming special occasion so you won't be buying today. Immediately the pressure of feeling you need to walk out of the door with something in hand will fade and you can indulge in the shopping experience.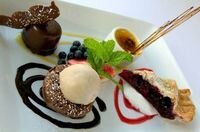 What would be a luxury experience without an evening of great food or cocktails? Make a reservation at the most expensive hot spot in town. Can't afford a $50+ plate? You don't need to, they always save the best for last anyways. Book a table for dessert. Much more affordable and certainly more delicious! Not big on a sweet tooth? Meet some new people and take a seat at the bar for some cocktails instead. Take in the ambiance and have the experience of dining in the hottest place in town. You deserve it after a long day of celebrating the awesome you!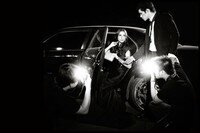 What would be a celebrity without their driver or elite escalade? Every princess needs her carriage or prince his steed. With the wonders of the shared economy getting a fancy ride has never been more convenient and affordable! Drive a block or two away from the hot spot you are going to next. Call up an UberBLACK or UberSUV and for $5 or so have them drive you down the block to your destination. Arrive in style in the blink of an eye!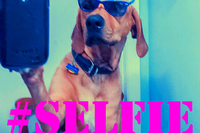 What better way to remember your awesome day than capturing the memory? Time to show some selfie love and share your experience for the world to see. Post photos of your favourite moments throughout the day on instagram, facebook, twitter, snapchat or wherever your social network is based. Don't forget to share the one of you rocking the most expensive item in your favourite designer store.
While your day may materialistic and viewed by some, as a superficial experience, there is a greater take away. Your day will not be successful if you can't act the part. If you cannot master the confidence and belief that you deserve your awesome day, no one will believe in you to make it happen.
Success doesn't just come from money, fame or power; it stems more so from the self worth that each of these attributes empower. Our self-worth doesn't have to be rooted in material value or recognition, we all have the power to exude confidence. You may not have wealth or influence (yet), but today you were able to recreate the experiences of those that do. This illustrates the power you have to mold your own future and command the respect from others as you deserve. We are all worthy in our own light; the key is finding first our confidence to shine.
We all don't just deserve a day to feel special, we ARE special.
Success is not just aptitude, it is mindset. Believe, act, be.
So have an awesome day and embrace the amazing you!
Want to see the power of passion and confidence in achieving your ambitions?
Image Credits: imgkid.com, fashion-kid.net, nyfa.edu, metronews.ca, illastradolife.com, capitalfm.my