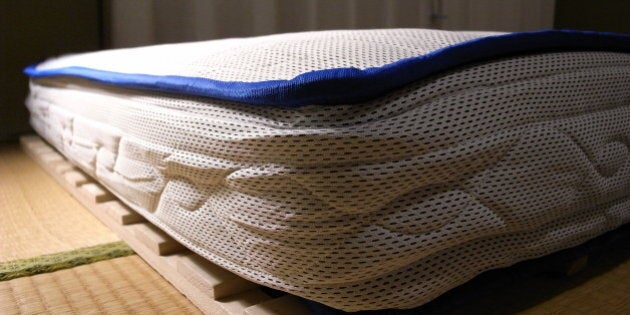 From the price to the chemicals, buying a new mattress can be a nightmare and shopping for "natural" or "organic" one will definitely NOT have you sleeping easy. In fact, it's one of the hardest areas in the home to green and that's thanks to a number of factors.
Investing in a new mattress is a big deal for most families, they are a huge expense, but if you make the right choice right out of the gate, you will be happy and will have made a good investment in your health and that of your family.
The biggest concern when buying a conventional mattress is the chemical concoction of toxins found in many of them. You've got petroleum based petrochemicals, plastic, vinyl's and flame retardants.
The first flame retardants were created by Obadiah Wyld in 1735 and were comprised of alum, borax and ferrous sulphate. Fast forward to today where there are more than 175 different types of flame retardant chemicals found in everything from our TVs to furniture to mattresses.
The problem with flame retardants is that give off VOCs (Volatile Organic Compounds) that find their way into the dust in our homes and because we are always touching surfaces where these chemicals are found, our hands pick them up and we inadvertently ingest them. We also breathe them in at night when we are sleeping.
The most common fire retardants called polybrominated diphenyl ethers or PBDEs first raised concerns in the 1970s after fish, shellfish, birds and other marine life were found to have higher concentrations of the chemicals.
In 2007 a study found high levels of PBDEs in milk from mothers in the Pacific Northwest.
Being fat soluble, PBDEs accumulate, and their large size means slow elimination from the body. Studies have revealed that teens and babies have higher concentrations than adults and are more at risk.
In 1999 and 2010 Environment Canada took issue with this family of flame retardants and actually banned PBDEs after research showed these chems are tied to cancer, brain damage, reproduction issues and more. Good news right? Well here is where is gets a bit complicated, when it comes to decaBDE (a family of PBDEs), the government asked manufacturers to voluntarily phase these out by 2012.
Some companies have already done this, but others have not and the consumer really just does not know, and although some of these flame retardants have been banned, they can still be found in goods imported into Canada.
According to an Environment Canada report "Human Health State of the Science Report on decaBDE", published in December 2012, decaBDE has not been banned completely.
There is some good new though, while the government takes its time to impose strict regulation on these chemicals, manufactures are voluntarily adopting phase out policies. But we, the consumer still need to know what to look for and because there is no regulation around using the words "natural" and "Organic", it's key to know what look for and what to ask.
First, you want to know the "ingredients" and you want to pick the right ones:
Most people don't know that Organic wool (untreated) is a natural flame retardant, it also has added benefits, it resists mildew, dust and dust mite droppings.
Natural latex is made from rubber trees. You must make sure the latex is 100% natural, there far too many latex blends on the market that can include petroleum-based polyurethane or styrene, a known human carcinogen.
If you are opting for organic cotton make sure it has a third party certification.
A bit more on certifications:
First party certification is certifications used by the actual company that makes the products, and are 100% BS.
Second party certifications are made by trade associations, an example of this is
CertiPUR, a "certification program developed by the flexible polyurethane foam industry", so even though there may not be PDBEs present it's still a polyurethane mattress.
Finally, there are third party certifications that come from either government agencies or not-for-profit organizations and have no financial gain. These are the ones you want to look out for.
GreenGuard is a third party seal that does not regulate fire retardants; they focus mainly on VOCs like formaldehyde.
G.O.T.S or Global Organic Textile Standard, certifies the materials used to make the mattress are in fact certified organic, these guys are considered to be one of the best as they also take workers rights into consideration
This means the cotton or some other material used to make your mattress is certified organic by what's considered by many to be the world's best organic textile certifier. Goes beyond just making sure the cotton is organic, workers have to be treated well too.
Oeko-Tex was originally developed as a label that gives guarantees on various aspects of textile ecology, with the first component focusing on consumer health, especially to prevent adverse health reactions made by textiles.
From this perspective, OEKO-TEX Standard 100 focused on requirements on hazardous substances, like heavy metals, toxic dyes, crop protection substances, and carcinogenic substances like formaldehyde.
Each label has a serial number and carries the name of the institute that carried out the laboratory tests for the qualification for the standard. For me this is the best certification available.
My top 3 eco mattress (in no particular order):
The IKEA Sultan Heggedal mattress is a good choice, my husband and I bought this mattress a few years ago after some research on natural latex. Not only is it unbelievably comfortable, it's 85 percent latex, the padding is made from wool, corn-based PLA (a biodegradable plant-based polyester) and coconut-husk coir. The outer fabric is made from cotton (not organic), lyocell (from tree pulp) and flaxy linen. Ikea is very transparent and all their mattresses are free from flame retardants.
Sleeptek (in Ottawa) is made from certified organic rubber and padded with certified organic wool (an effective flame retardant) and certified organic cotton. Sleeptek offers a range of brands including Obasan, Dormio and Soma. All the beds are third party certified with high standard for VOCs, heavy materials and flame retardant.
Made in Canada, but they've been in a bit of hot water with their claims.
In 2013, the Federal Trade Commission stripped Essentia from stating their mattresses are VOC- and chemical-free and "made with 100% natural materials." In the big picture these are great mattress, and they have since changed their wording. They offer some really great choices when it comes to eco mattresses.
Getting rid of your toxic mattress is one of the MOST important changes you can make in your home, especially if you have a baby or very small children.
Products made without polybrominated diphenyl ethers
Products manufactured in Canada
Encased products to reduce exposure chemical exposure
Natural rather than synthetic fibres
Natural latex foam
Products made with polybrominated diphenyl ethers
Products made outside Canada
Wrinkle-resistant fabrics treated with formaldehyde
Polyurethane foam
Second hand bedding and furniture
Follow HuffPost Canada Blogs on Facebook
Popular in the Community