White sneakers are synonymous with summer (hello Stan Smiths and Converse!), however, keeping them squeaky clean has proven to be quite the hassle.
Between running around the city, attending summer music festivals and road tripping, keeping our white sneakers white seems like an impossible feat.
Luckily, there are some ways to keep your kicks -- whether they be leather, canvas or suede -- in almost pristine condition. It'll take a lot of work and commitment, but trust us when we say it's totally worth it.
Before wearing your shoes, pre-treat them with a stain and water repellent for preventative measures. And don't just bank on a one-time spray -- re-apply the product every few weeks, much like you would for your winter boots.
At home, remove excess dirt using a soft-bristled brush (like a toothbrush), especially if your kicks have a cotton mesh upper (a stiffer bristle will cause it to pill). Using dish soap and water (or "premium" shoe cleaner if you're really picky), apply the solution onto the bristles of a wet brush and start scrubbing until the solution begins to foam. Wipe clean with a towel or T-shirt.
And if that seems too complicated, try the good old Mr. Clean Magic Eraser. It's great for getting off any dirt or scuffs, especially on the midsole (our associate editor, Julia, swears by this method!)
For suede shoes, use a mixture of water and cleaning solution on a cloth to get any stains or dirt off. Afterwards, use a microfibre towel to dab the suede and twist. This will soak up the fluid and loosen up the nape of the suede so it doesn't harden. Once your shoe has finished drying, take a dry brush and brush the suede to the back of the shoe.
Avoid The Washing Machine
Megan Wellemeyer, lifestyle product manager at Keds, strongly advises against this, according to Fashionista. "The wear and tear of the machine and the heat of the dryer can make the shoes discolor further and rip or tear them," she warned the site. The washing machine will also turn the white rubber into that dreaded yellow hue (a serious no-no).
Keeping your laces in mint condition is just as important as the rest of the shoe. Avoid bleaching as this will weaken the fibres. Instead, place them in a "bra wash bag" or a pillowcase and put them in a normal wash on cold.
Don't Forget To Deodorize!
We know you're probably going barefoot in your kicks (hey, we won't judge) which means they probably need some airing out. Try leaving dryer sheets inside your shoes overnight, or sprinkling some baking soda to absorb any odours.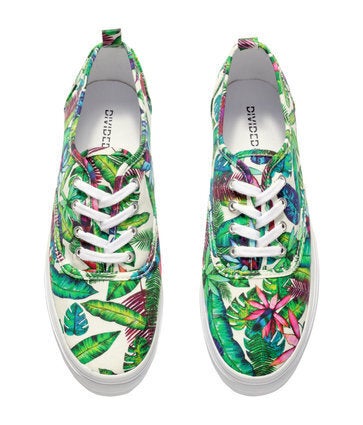 Summer Sneakers
Popular in the Community