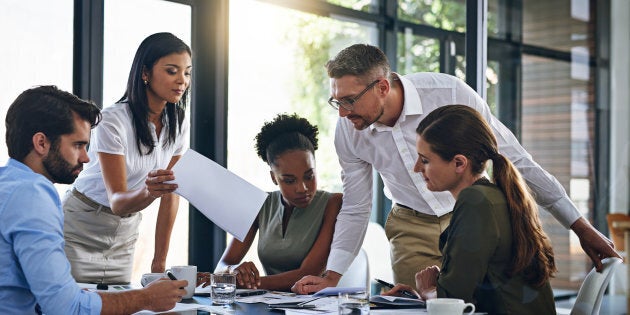 Co-workers make jokes about the smell of your "ethnic" food. Clients look at you and ask you where you are from, and will not take Toronto or Canada as a final answer. All your male colleagues keep excluding you from after-work socials, assuming that you need to go home and take care of your young child. Somehow, all of your non-racialized colleagues have been promoted, yet you are still in the same position three years later.
Diversity is one of our biggest strengths as a nation; however, that does not mean that the scenarios above have disappeared. They can affect workplaces of any size or makeup. They may reflect ignorance, or a need for attitudes to catch up to changing human rights legislation. We need to look no further than the recent YouTube video of a woman demanding her son be examined by a "white doctor" who did not have "brown teeth" and who "speaks English." This, of course, took place at a clinic in Mississauga, where presumably everyone spoke English.
"[T]he experience of "everyday discrimination" at work, in public, and in services such as restaurants, puts an increased strain on participants' mental health and increased susceptibility to behavioural disorders."
So where does an employee in such an environment go?
The first step is to understand discrimination itself. The Ontario Human Rights Code specifies that a person cannot be treated differently in their employment on the basis of several protected characteristics, including, but not limited to, ethnicity, place of origin, gender, family status, race, and disability.
For example, your boss can most certainly discipline you for legitimately poor work performance. It is a different story if he or she knows that the aforementioned poor performance is linked to an illness or external childcare obligations. In that case, if a protected ground forms even one per cent of a decision to treat a person differently, it can be enough to amount to discrimination.
Moreover, an intention to discriminate is not necessary. It is enough if the behaviour itself has a discriminatory impact on the individual. In cases of "everyday" discrimination, it might not be as easy as picking out one incident or behaviour. All surrounding circumstances must be considered.
Such was the case in Clennon v. Toronto East General Hospital. This case involved a well-regarded nurse who, at the time of the decision, was 59 years old. She faced frequent questions about whether she was planning to retire anytime soon. It was alleged that Human Resources asked, and indeed encouraged, her and other staff over 50 to consider retirement. On one occasion, her director asked her over coffee, "Why don't you retire?" Her director once again made this comment when Ms. Clennon requested time off work for surgery. Soon after this conversation, her employment was terminated, and a significantly younger individual was then hired to replace her.
In the lawsuit that ensued, vice chair Mark Hart of the Human Rights Tribunal of Ontario found that there were at least two occasions that the director asked about her retirement plans. This in turn supported Ms. Clennon's allegation that her age was a factor in the hospital's decision to fire her. Because there was no direct evidence of discrimination, the Tribunal looked the circumstances instead to make its decision.
Of course, the employer's version of the story was that she had been fired for performance concerns. The Tribunal, however, found that there was no evidence that performance issues had ever been raised with her.
The ultimate issue for the Tribunal was "whether an inference of discrimination is more probable from the evidence than the actual explanations offered by the employer." In applying this test to the circumstances, the Tribunal found Ms. Clennon was able to establish a prima facie case of discrimination. Moreover, evidence revealed that her age was a factor in the way in which her performance was managed during her employment, such that no steps were taken to help her improve issues. Rather, firing her was thought to be more appropriate. The failure to take such steps were "tainted" by age discrimination, and this was found to in turn colour the employer's decision to dismiss Ms. Clennon.
Clennon presents the situation where subtle discrimination played a part in a job loss. It also teaches us about the importance of evidence to back up claims of discrimination. For those who face such adverse treatment on a day-to-day basis at work, it is crucial to gather as much proof as possible about the circumstances and their impact on you. Raise these issues formally, and in writing, with a manager or Human Resources where possible. Feel confident in doing so with the knowledge that it is illegal for an employer to act in reprisal against an employee for enforcing their rights under the Ontario Human Rights Code. If things don't work out through this process, your best option is to contact a lawyer and file a Human Rights Tribunal application.
This conversation is not just about employees, though. Employers, take a hard look at the culture within your workplaces. Is anyone consistently being left out? Is inclusivity a priority within your organization? Ongoing dialogue with employees is critical, as are proper measures and policies for dealing with any potential discrimination.
Diversity and inclusion should be a priority regardless of your organizational size, structure, or mission. Work should never be a daily battle against discriminatory attitudes. It should be what it's meant to be about in the first place: work, and the pursuit of the goals that we all set for ourselves regardless of race, gender, place of origin, or any other protected characteristic.
Because, as our prime minister would say, it's 2017.
Follow HuffPost Canada Blogs on Facebook