If there is one thing we all know to be true, it's this: heartbreak sucks.
Trust us, we know. The feeling of having your heart and soul crushed by a human being, one you were so in love with, is downright devastating.
Admit it, we've all pulled a "Bridget Jones" after these traumatizing breakups: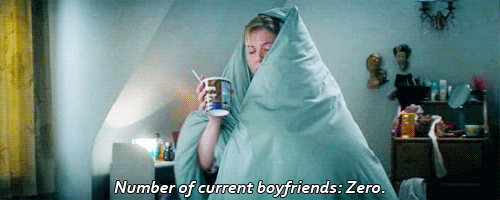 But just like Bridget, we've all managed to pick ourselves up. Of course, the journey to recover a broken heart is no easy feat. For some it takes a few days, for others, years.
That being said, we decided to ask our fellow Canadians how they dealt with heartbreak and bounced back. Here's the tips they used to mend a broken heart:
"Trust me. You don't need to be seeing your ex frolicking around Europe with his new girlfriend. Shut. It. Down. Defriend him from Facebook, unfollow him from Instagram and hide his timeline on Twitter. Don't go social media stalking him ever again. You don't need that negativity in your life."
"Last year I got my heart torn out. At first I was a mess, then when it began to set in, all I did was sleep to the point where I couldn't sleep. But I had a week to get myself together because I was starting a job. Thank god for that job; I was super busy in the day and then after work I stayed at my grandmother's, so I had a new environment to heal in."
"I went on a Maui vacation with my best friend! The vitamin D helped my blues."
"I began reconnecting with my friends and I was with them all summer doing something exciting and new. I surrounded myself with supportive people."
"A cute haircut is always a good idea."
"Getting over a heartbreak, from my experience, is crying over romantic films for a good few months, especially watching movies that have themes of relationships having an ending. Eating everything possible deep fried and covered in ice cream and chocolate. Hating yourself for eating everything and letting yourself go and having puffy eyes everyday from crying. Then eventually when your body and mind are ready, you enter acceptance and start loving yourself again and realize that it's not the end of the world."
"I've written myself for anything that caused any heartbreak. Starting with 'dear 25-year-old me, you will get over this and you'll look back on this letter and see how things in life are more transient and fleeting than you think. You will have become a stronger person from this experience.' Just words of encouragement and reflection that my older self later on can read in the future."
Listen to your favourite tracks over and over. Dance to them, cry to them, laugh to them. Let the emotion run through you as you listen to those hard hitting lyrics.
"Try not to put too much pressure on yourself in any aspect of your life. Enjoy the days as they come. This is very difficult for someone like me who is always thinking about the future but it is amazing how much just trying to change your attitude helps!"
You don't need a significant other to buy you a nice latte or wander around an art museum with. Cut out time for yourself to enjoy little moments and gain some inspiration along the way.
Start practicing yoga. Be kind to your body and your mind. Begin to meditate when you wake up right in the morning and before you fall asleep. Write down positive affirmations.
Meet your friends for brunch, take exercise classes, focus on what you're passionate about at work. Schedule your time with things you love to keep yourself busy (boredom leads to you thinking about your ex and that's a big no no).
Things take time. Don't beat yourself up over feeling sad, insecure or upset. Be gentle with yourself.
You are strong, idependent and valued, and another person does not define you.
Quotes are kept anonymous.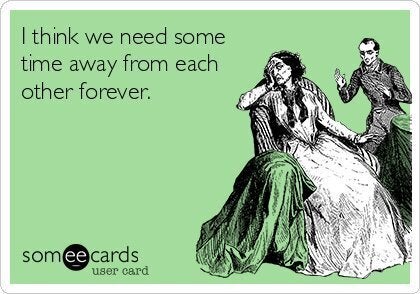 Breakup E-Cards You Need To Send Before It's Too Late