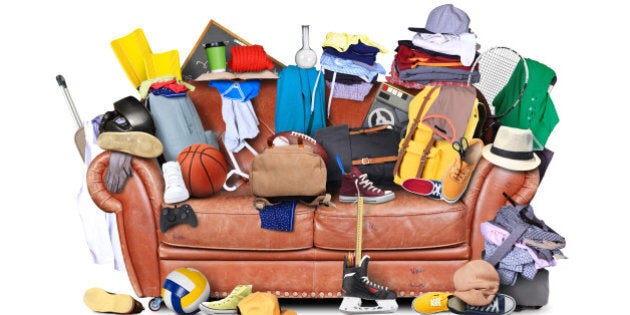 October has rolled around, bringing with it cooler weather and a hot housing market. As you're seeing "sold" signs come and go, you may be considering selling your own home. Fall is the perfect time to start preparing your home and property for the selling season. Professional Organizers in Canada has plenty of experience to help get you out of your house, and fast! The first thing to go? Clutter!
"A cluttered home can give the illusion of less space and indicates the seller has not taken care of their home. When someone is looking to purchase a home, they try to envision themselves living there. That's difficult to do when clutter and personal items prevail," says Marie Potter, Director of Marketing for POC. "You need to think of your house as an asset. When you look at selling your home you need to remove the clutter that can devalue your home."
To help you prepare your home for the hot, fall housing market, POC is sharing the top five strategies implemented by residential organizers when preparing clients homes for the sale.
Start your organizing early and make it manageable by working on one room at a time, especially if you've lived in a house a long time. Tackle the rooms that host the most clutter first, such as the office or spare bedroom. Continue focusing on individual rooms until you make it through them all. Set up regular donation drop offs or pick up dates, so you are motivated to pare down before you sell and then move. This strategy will likely give you a better ROI on your home sale and reduce moving costs.
When people are looking to buy a house, they want to be able to envision it as their home not yours! Although it is tempting to have family photos or personal possessions on display, put them in storage during the selling process. You are selling the asset, not the story, and you don't want potential buyers to feel like they're intruding on your space. Less is best.
Look at horizontal surfaces
Floors, counters, tables and islands ... keep them clear. Leave only a few decorative pieces on mantels, counters and entry. After all, people pay more for space, so use this strategy to create the illusion of extra space.
Take stock of what you need for now and pack away everything else. Storage space is such a necessity! Let buyers see that you have plenty of it by removing clutter from surfaces in your home. Make sure your cupboards and closets are organized, and pack away anything you won't need until after the move. Making your home minimalist will help buyers notice the space and potential, making it easier to sell.
Some people become oblivious to their own clutter. If this sounds like you, take a photo to get a 2 dimensional objective look at your spaces or take a walk through all the rooms in your house with a critical eye. Potential buyers don't know the history of the house, only what they see. Look through your home with an outsider's eye to see any distractions or clutter that you may have missed, and focus on fixing them before the showings.
Following these five simple steps will make the task of selling your home less daunting! If you need help, find an organizer near you by visiting www.organizersincanada.com.
Follow HuffPost Canada Blogs on Facebook