Coachella mania will hit us over the next two weekends, as well as subsequent style guides and suggestions we pair crop tops with short-shorts. (We know, blogs. We know.)
But where are the festival guides that will actually prepare you for everything three days of music has to offer? (a.k.a horror -- real horror?) What happens if you're a human being who hates hot weather, won't wear feather accessories (word to the wise: never atop your head, friends), and fear rain more than I do the front row of any concert? Where is the common sense?
And that's where we come in. Sick to death of festival guides that suggest pieces like tank tops and/or gladiator sandals (which are 100 per cent uncomfortable if you're standing for more than 20 minutes), we're giving you this: a list of pieces you need to live your best festival self.
(Story continues below slideshow).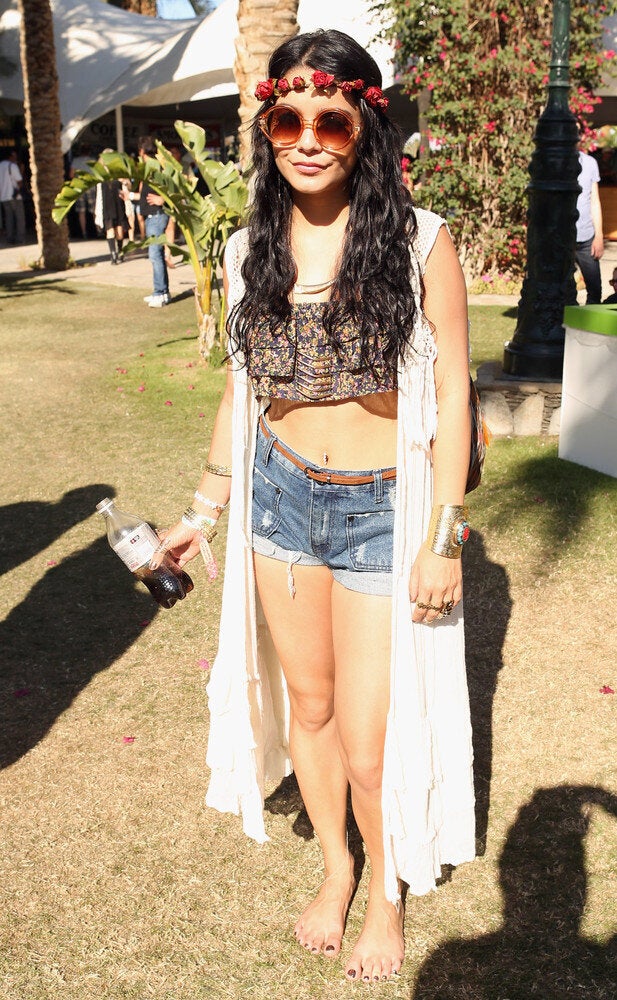 Coachella Style
Have you ever been to an outdoor music event when the flood scene from Noah is being recreated? If yes, then you get it: you get that within seconds, normal ground transforms into a mud pit and effectively ruins your footwear and spirit in seconds, effectively acquainting your feet with glorified quicksand. Are rubber boots warm? Will they chafe your ankles? Absolutely. But unlike those very cool leather sandals, they are immune to everything. Everything. I personally love my Hunters ($174.99 at Soft Moc) -- I cleaned them with tire shine the other day, and they only got better.
You think this is a game? Listen to me: it's nighttime, it's warm out, and you're probably standing in dirt and grass, and you don't know what's out there. And this is why socks will always prevail -- real, substantial, might-scare-off-bugs-just-by-existing work socks, like the ones you can pick up at Roots for $18.50. Pair them with your sandals because you can never be too careful when making your way through a freaking field.
One year, I went to a music festival and when it started to downpour, I ran out into the rain and thought I was living my best life. I was incorrect, because an hour later, the rain had stopped, everything started to dry, and I was left with sopping wet hair and clothes, praying everything would end so I could go home and change. (It didn't, and I could not.) That's why a raincoat can save you. American Eagle has the right idea with its bright yellow slicker, which includes both lining and a hood (that essentially prevents you from turning into me, during that terrible time). And if the $99 price tag's too steep, you can pick up a $4 poncho at Mark's Work Warehouse and thank me later.
5. Loose-Fitting T-Shirts
We can pretend a snug crop top will be comfortable for the 10+ hours you'll be queuing and waiting and standing and trying to find snacks (especially in the summer heat, beneath the unforgiving sun). Or we can be real with each other and with ourselves. Fortunately, oversized pieces are available in droves, and chains like ASOS boast a selection of pieces that'll keep you feeling on-trend as well as cool, calm and collected. They'll also prevent your shoulders from getting burned, so you won't have to slather on as much SPF. (Again, you're welcome!)
That's right, a blanket scarf. First: it can act as a cape, and capes are phenomenal. Second, in moments of not wanting to sit on the ground, it can (nay, will) double as a straight-up blanket -- without you having to cart around an actual blanket. You can still pick up this go-to at Urban Outfitters for about $44, or you can congratulate yourself for already buying a blanket scarf this winter.
9. An Expression Of Discontent
We're not here to discredit what music festivals have to offer, and we're not here to make anybody feel bad for thoroughly enjoying them. But when it's warm, and it's crowded, and you begin to forget why you did this to yourself, channel it into an expression that will ensure several feet of free space around you at all times: discontent. Pure, solid discontent that will intimidate anyone who feels like talking when you don't (and will make enough strangers uncomfortable that they'll give up their free space in the bathroom line, just so you'll go away). Smiling is wonderful. But so is the opposite. And if you're somebody who's at said festival in socks, shoes, and a rain slicker already, you know this expression well, and I commend you for it.
Popular in the Community