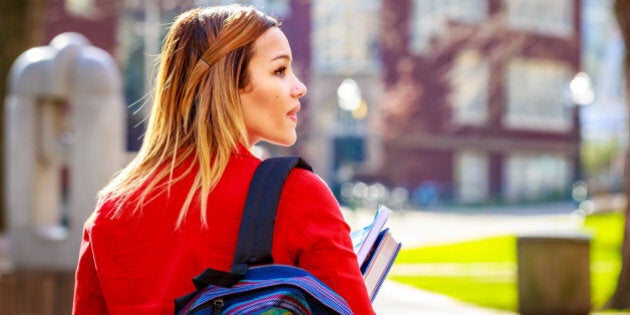 Life as a student can be challenging, fun and full of the unexpected. While a life spent living on the edge might make for some great stories upon graduation, when it comes to your budget, limiting the unexpected will give you more peace of mind.
In a recent RBC Poll, nearly half of students surveyed say social outings and eating at restaurants cost more than they anticipated, followed by groceries and tuition. Interestingly, students who receive financial support from their parents are more likely to say that they didn't anticipate certain costs would be so high.
I was one of those students. I supplemented my summer earnings with a little financial help from the Bank of Mom and Dad. Seemed like a great idea at the time -- hey, who doesn't want "free" money! But the inevitable "catch" was that I had to face the dreaded "Oops, I need more money" conversation. I sweated over which parent to ask. Who is going to be the least judgmental? Who is least likely to drill me on where the money went? How do I convince them that I really am responsible?
I felt like a failure. I hadn't prepared myself adequately for the realities of balancing my academic and social life. An important part of first-year post-secondary studies is the new connections, friendships and networks we build that will last us a lifetime. Surprisingly, small indulgences -- and don't get me wrong, treats are important -- like caramel whipped non-fat lattes can become a big cash flow drain when you aren't keeping track.
During your first few weeks of school, one of the most important things that a student can do is talk to peers and do research to figure out what the school year is really going to cost. This will make a big difference in helping you plan your finances for the whole year.
Here are some tips to help you stay on top of the little things so that you'll have a solid handle on your finances and you can leave the unexpected to your social life:
Make time to plan (read: budget!): It's likely not a coincidence that students paying their own way through school had done a better job of estimating their expenses and thinking through how they were spending their hard-earned money. Assess your needs versus wants and talk to upper-year students who may have insight on costs of academic conferences, textbooks, and other necessary tools. Use an online calculator geared specifically towards students for helpful hints that you might have overlooked.
Stay alert: Sign up for online banking or download a mobile banking app to make banking and paying bills more convenient. Consider using alerts through mobile banking that reminds you when a payment is coming up, tells you when a purchase was made, and notifies you when your account balance is low.
Think about hidden or unanticipated costs: Think about your planned activities and try to estimate all costs. If you'll be commuting to school and using a phone to catch up on reading (or catch the latest episode of your favourite show or stream music) then you'll want to make sure you have enough data in your plan. If you're living off campus think about last minute items you might need for your room or apartment.
Make your smartphone your wallet: Need to pay back a friend who covered dinner last night? Sharing expenses with friends is a great way to save money and using free eTransfers to split the bill is quick and convenient. Or use a mobile wallet to manage your accounts, credit card and gift cards.
So how did it go with my parents? They were of course, supportive and understanding. It's a big learning curve. In fact, my parents didn't automatically top up my bank account. Instead, we sat down and talked about what a realistic budget looked like for me. It was something I had never done before At the end of the exercise, it helped me feel more in control of my expenses by showing me the tradeoffs I had to make on a daily basis.
Budgeting is an art, and sure I strayed from it from time to time, but it gave me the guide posts to come back to. Putting my plan on paper also inspired me to get a part time job to help with that extra pocket money so that I could enjoy my new social life, and rely less on my parents. It was a big life lesson for me, and a big step forward in independence.
If you're a student or a recent graduate, what was your most unexpected expense? Let me know on Twitter @RBC_Canada
Follow HuffPost Canada Blogs on Facebook
Popular in the Community