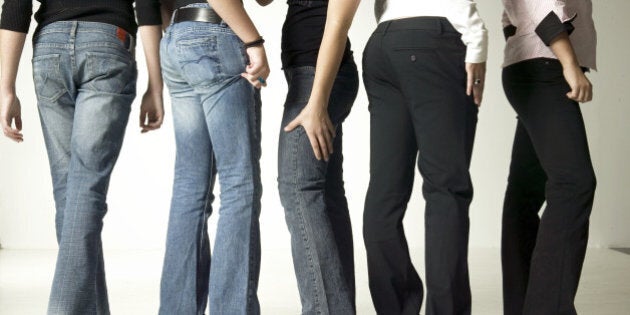 They are your comfort place. They can take you from an elegant night out to a casual breakfast the next morning. They are dependable, flexible and steadfast. They are common yet unique, comfortable yet sexy and durable yet cool. They may be hard to find but when you have a good pair you don't want to let them go!
This may explain why denim jeans have such a wide appeal and are typically a staple in every man and woman's wardrobe. From farmers to supermodels, they are everywhere. This unavoidable trend for both men and women can sometimes feel a bit daunting when trying to find the perfect fit. Most women will often tell you that shopping for jeans is not an easy task. At 27 years old, I am now at an age where it's not so much about what's new and hot but more about what's comfortable although style doesn't hurt either.
A recent Canadian study showed that most women are kicking back on the high-end denim, for more comfortable jeans. Sandy Silva, a fashion industry analyst at The NPD Group, is quoted in a research report stating "There is always fierce competition in fashion to bring the next 'big trend' to market, and though denim is tried and true, consumers are quick to explore new styles. Nationwide we're seeing gravitation towards more comfortable daytime styles in jeans, rather than the pricey brands."
High-waisted, boot leg, skinny, flare, slim fit -- on the surface it appears as though women have a broad selection of jeans to choose from. Yet, the reality is, the modern day woman has a very difficult time. My friends and I are at that awkward stage where jean brands tend to target either, high school teens, college/University students or moms and dads. Most of my friends are now married and few are starting to have children of their own. Shopping for jeans with my soon to be mother friends was actually quite an eye opening experience and one I hope to not endure myself for at least a couple more years!
For women, the primary denim purchasing season is in March, when fall styles hit stores and deals are promoted for the summer months. Despite recent lacklustre sales due to the economy, consumers ages 18-24 and 45+ are still big denim lovers and are the only groups to have increased their year-over-year spend. And since its March, the promising news is, brands that myself and my friends support, including Joe's Jeans, JBrand, Levi's and the famed Canadian-brand, Golden Girls Jeans have designed fashion forward jeans which compliment women at any age and flatter any body type. From my extra-long legs to my best friends baby bump, most of these brands carry jeans that are comfortable, reliable and trendy.
But just like searching for a suitable partner, consumers ultimately want to find that one pair of jeans we simply cannot live without. So to help narrow your search for the perfect pair of denim jeans, here are some tips you may want to consider before buying into a never ending Canadian clothing staple for both men and women of all ages.
1.Choose a classic fit -- stick with a skinny leg or boot leg whichever you feel compliments your body best
2.Contemplate the occasion for which you'll be wearing them -- is it to the office, a dinner party or gardening? Knowing where your jeans will be used most often might help make the decision easier.
3.Go dark or Go light -- stick with one or the other for a nice classic fit denim jean and you can't really go wrong!
4.Evaluate the level of comfort - make sure you feel at ease walking around the inside of the store. Ensure there is enough pocket space and that they aren't too stiff.
5.Down size -- Purchasing a size smaller will avoid the post wash baggy effect some jeans pose and might make you feel more secured.
Jeans have transcended down generations, economies and styles. They are probably the most versatile piece of clothing in your closet and the most dependable too. Who would have ever thought that a simple fabric used in cowboy movies would become the forefront of fashion from the catwalk to everyday life.
Popular in the Community