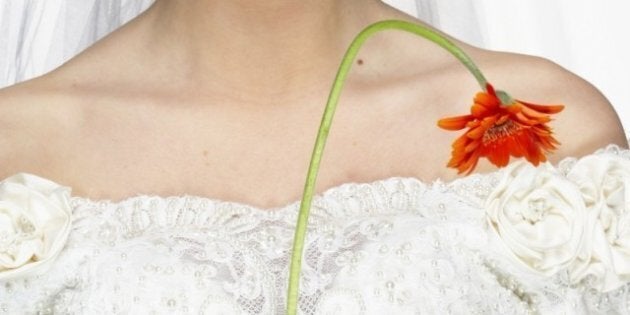 Brides research, clip photos out of magazines, "pin" like crazy on pinterest, and scour stores near and far to pick the "perfect" wedding dress. Why do brides put so much pressure on themselves to find the "right" dress? I know that choosing your wedding dress is a big deal, but often times I think brides should take a step back and put the day into perspective. As someone who loves fashion and style as much as I do and who gasps at some of the dresses that are selected for brides on bridal reality T.V. shows; I still think that if you know your body, your shape, are in tune with your personality and style -- the "perfect" dress will find you. The hunt will be easy. You need to know what you want and go for it! Choosing your wedding dress should be a fun and exciting process.
Here are some tips for choosing the "perfect" wedding dress:
Don't stray from your everyday style. Don't settle for something because you want to get this part of the wedding planning over. When shopping at bridal shops ask for customization options, what non-traditional dresses are available, and if they can't help you with what you are looking for perhaps they can recommend a bridal shop that fits more with the style and theme of your wedding.
Try on a variety of dresses. Trust the sales associates. They are trained and know how the dresses fit. Be open to try something you didn't think would work. Sometimes the unexpected dress ends up being the "perfect" dress for you.
Think comfort when choosing your dress. Keep it on for awhile in the store, sit-down, stand-up, walk around, dance a little, think about it, you could be in that dress for over 12 hours.
Consider the venue and the style of your wedding. You need to consider your overall theme when choosing your wedding dress. For example, if you are having a beach or country wedding, a simple or vintage dress would be best.
I know you probably want to bring your grandma, mom, best friend, mother-in-law, and who knows who else to help you choose the "perfect" dress, you also need to first and foremost listen to your gut & trust your own intuition. If you need to sleep on it -- do it!
Don't get pressured by anyone to choose a certain dress. It's your day and you have to love what you are wearing. Also, only bring a few people when trying on dresses. Try to bring people that know you well and that you can trust their opinion. Don't let them to take over the appoitnment and sway you in one direction or the other.Simply put, if it doesn't feel right -- it probably isn't the "one."
Once you choose your dress -- stop looking. This is important. Be happy and move on to the next task in the wedding planning process. Take pictures of yourself in the dress to remind yourself how awesome your dress is, so that when you happen to see something else you can have the confidence to know that you already have the "one."
My last tip, when going for fittings wear the same undergarments as when you first tried the dress on -- better for consistency and ensuring a proper fit.
Goodluck dress shopping. Enjoy the process and don't make it a chore!