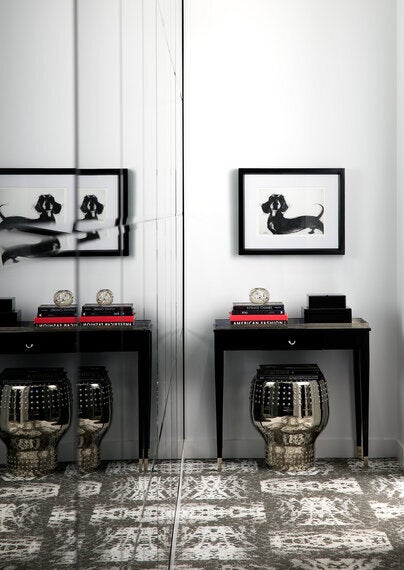 Area rugs aren't just a practical solution for warming up those chilly feet in the wintertime, they're also an important design tool: they can bring colour, texture and pattern to any space (like artwork for your floors) and help bring definition to furniture groupings and a general sense of order. In 2014, you can expect to see area rugs continue to rise in popularity even in the most modern spaces, so here's my top 4 tips for choosing the right rug for you:
1. Material Goods -- All rugs are not created equal. Keep in mind when investing that, as rugs can be easily moved from room to room (or home to home) and stored between seasons, that you should be treating a rug purchase as such: an investment.
- Fine rugs are typically made of wool, often blended with silk, for the finest texture (which has a density that also naturally repels nonliquid soil and dirt). Synthetics can be the most resistant to water-based stains, but check the material: polyester can actually be very quick to absorb oils, and is less crush-resistant than nylon (my preferred choice), while olefin will resist water and sun damage in outdoor settings.
TIP: As a general rule, the amount you budget for a living room rug should equal that of your primary sofa.
2. All Tucked In-Although an area rug does not need to fill a entire room (that's what wall to wall carpeting is for), people do still tend to choose ones too small. A properly sized rug will anchor an entire area, and when placed beneath a seating group will tuck under at least the front legs of each piece. If you aren't sure, go a little on the bigger side, and you'll be more able to use the rug for other rooms down the road as well.
-Rugs tend to come in standard sizes, so if you measure in advance you can usually know before you enter a store what sizes of rugs you want to see. Rugs can be custom sized, but this can add to the cost dramatically (and custom rugs often ship from Europe in about 12-16 weeks). The most common: 4′ x 6′, 5′ x 8′, 6′ x 9′, 8′ x 10′, 9′ x 12′, and 10′ x 14′.
TIP: Keep these guidelines in mind for sizing rugs for each space: in a bedroom, tuck the rug under about 3/4 of the length of the bed. For a dining room, make sure the rug under the table extends past the back legs of the chairs when they are untucked. For a living area, you can layer the rug under the furniture by about a foot. For a very precious rug, you can float a smaller size in the centre of the furniture, or even layer it over a larger, simpler carpet for a full look.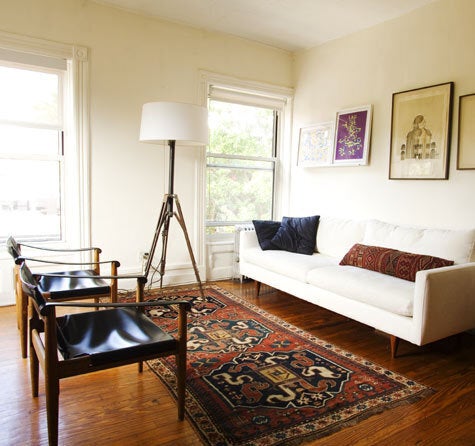 -People often think of painting the walls as the #1 way to add colour to a space, but this can be tricky, as a bright or deep colour all over can easily be overwhelming. Treat your floor like the 5th wall, and add a complex palette with a patterned rug that brings in hits of colour in a variety of hues.
-Persian and Oriental style rugs have been a staple for traditional interiors for centuries, but lately they're also becoming a popular choice for modern schemes as well -- the contrast between a richly patterned carpet and streamlined furnishings creates a sophisticated statement.
TIP: A major measurement of rug quality is the "knot count", meaning the number of knots (usually per square inch) in the rug, or in other words the density of the weave. Like pixels on a computer screen, having more knots allows a high-definition image to be created, for a more beautifully detailed appearance -- 100 is a good minimum for a fine rug point.
4. Stylish Tiles-If you foresee spills being a major issue, or know you won't be staying in your space for the long term, carpet tiles can be the perfect solution. They can be laid as a grid in whatever shape you like to fill a space as needed, and if one becomes stained it's easy to replace with a spare to preserve the look.
-When purchasing carpet tiles, consider grabbing a few extra pieces to tuck away - besides acting as replacements for those that are damaged, they'll also allow you to expand or reconfigure your rug to suit a new space in the future.
TIP: Check out Flor.com for their selection of tiles - I even used their Hide And Batik series (in grey) in the Toronto Interior Design Group studio!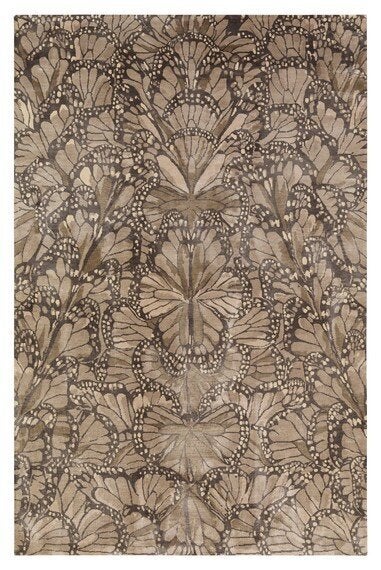 BONUS: My Recent Three Favourite Rugs
-Alexander McQueen's Monarch Smoke rug available from Avenue Road.
-Silk Rug collection at Elte (which I just recently used for a client).
-Natural cowhides (like the IKEA Koldby).
For another cool carpet idea (that you can DIY in a day) check out my Keep Up with Yanic blog at http://tidg.ca/keepupwithyanic.