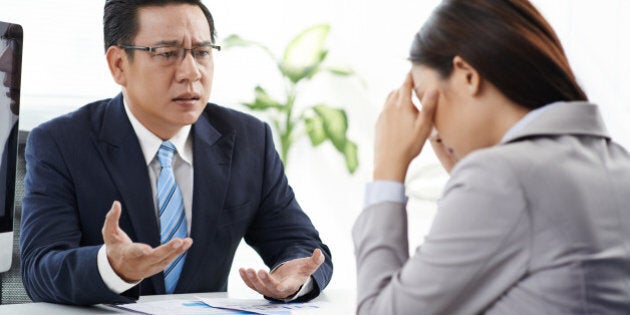 Getting fired can be a hard and unexpected blow to anyone's self-esteem as well as cash flow, which can be quite stressful. Firing someone can trigger the same stress levels - but for different reasons.
For most employers, firing an employee is not as easy as calling him or her into your office and telling them "things just aren't working out," giving them two week's salary, and asking them to vacate the premises within one hour. No two employment situations that lead to dismissal are the same because there are usually extenuating circumstances that are anything but routine. It is up to the manager to decide on the best course of action in each situation, never losing sight of what is fair, legal, and most ethical.
Given each situation is unique, letting an administrative support person go can be just as complicated as releasing a senior vice-president. The process can get complicated quickly, even after you have offered a severance package and other release benefits that you feel are reasonable and even generous.
Here are five steps to firing an employee in an empathetic yet effective way.
Step 1: Focus on the facts
Make sure your decision is based on well-documented facts that you have been assembling for several months. The decision to fire an employee is commonly driven by:
Poor job performance over a period of time despite counseling and/or cautioning the employee or putting him or her on probation.
Inappropriate behavior in the workplace.
An incident or recent acts of insubordination or threatening behavior.
Giving away corporate secrets/proprietary information.
Criticizing the employer in the workplace or in public.
Restructurings due to budget constraints or mergers and acquisitions.
Step 2: Seek advice or a second opinion
Ensure that you have shared your reasons for dismissing someone with an employment lawyer. If you don't have a human resources or legal department, ask a business colleague to recommend an employment lawyer. Speak with three lawyers to get a sense of their respective approach to the problem and their fee structure before you go ahead. Ask for a complimentary consultation to ensure their personal styles reflect yours.
Step 3: Prepare yourself mentally and professionally
Accept the fact that you'll need diplomacy, some courage, and empathy when letting someone go. You will need a carefully documented series of events that clearly support your decision. It will also help avoid legal action that can be costly, time consuming, and distract you from your business. And always meet face-to-face.
Step 4: Map out your conversation
When dismissing an employee, set out your reasons for letting them go in a script to keep you focused. Be clear, honest and brief. Consider having another person present (not their boss but another senior employee or representative from your human resources department). If you anticipate a difficult and emotional conversation, have your employment lawyer there to explain the termination letter (which your employee can review at home).
Be prepared to talk about providing referrals and possibly extending their time with your firm so they can look for another job while employed. Your goal is to reassure the employee that you have taken into account their future while remaining firm on your decision to let them go on terms you have negotiated. Don't expect an outpouring of good feeling at the end of the meeting but keep in mind that terminations don't always end in anxiety. Once set free, some employees are relieved and, if they have been treated fairly, are happy to continue their careers elsewhere.
Step 5: Be sensitive to the situation
In many businesses, a sudden resignation or termination is sometimes followed by a "walk out." The employee is given 15 minutes to remove their personal items, return any company property (such as laptops, tablets and phones) and escorted out of the building where a company security officer waits until they leave the parking lot. This can have a devastating effect on employee morale, not to mention the fired employee. You can avoid this by working with your IT team to capture the employee's emails and other sensitive information in advance thus avoiding a "walk out."
Regardless of the size of the firm, it's often important to provide the employee with a support system for a pre-determined period after they leave. If they feel alone and even abandoned, there's a chance the employee will reach out to others still at the company to complain, get emotional support, or both.
Few people enjoy firing others, especially after years of service or a professional bond has developed. Management jobs come with a leadership role. It's a difficult but inevitable part of business growth. For your own peace of mind (as well as the employee's) take your time in reaching an objective decision and make the ongoing success of your business the key factor in your decision. That's sometimes harder than it appears.
Follow HuffPost Canada Blogs on Facebook