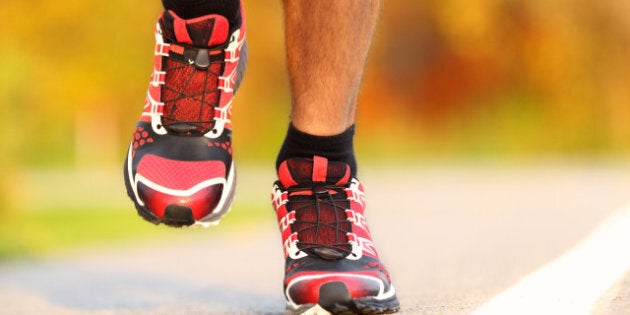 We were excited when Mark, a six-time Hawaii Ironman World Champion, was recently named ESPN's "Greatest Endurance Athlete of All Time." But when the two of us first met, Mark was a triathlete who just couldn't win.
Mark began his career as a triathlete in 1982. By 1989, after six straight defeats at the Ironman, he decided to give it one final try. The one-day journey through the lava at Kona, on the Big Island of Hawaii, is a test like no other. It's an exhaustive trial of body and soul that starts with a 2.4 mile open ocean swim, followed by 112 miles of cycling through relentless hot trade winds along the desolate, lava-strewn west side of the Big Island, then 26.2 miles of running in temperatures in the high 90s.
Mark remembers running just behind six-time Ironman champ Dave Scott when his reserves were reaching their limit and he was about to resign himself to second place. Just then an image of the old Huichol shaman, Don José Matsuwa, and his adopted grandson, Brant Secunda, came into his mind. He had recently seen a photo of the two in a magazine advertising an upcoming workshop on shamanism. At that moment, Mark remembers that his weariness dropped away and he was able to overtake Dave Scott for the first time in the race. He ended up winning by 58 seconds.
Soon after, the two of us began working together. It became apparent to both of us that Mark needed to think of fitness in broader terms -- in terms of his spirit and emotions--in order to become the champion he aspired to be.
Here are six lessons that helped Mark -- and can help you -- become a top performer in sports, business, and in life.
As any competitive athlete knows, there's usually a moment during the competition when internal chatter starts to erode one's motivation. When this happens, quiet your mind. An easy way to do this, if you're outside, is to shift your attention to the beauty that surrounds you. The instant your mind goes quiet, your mind, body, and spirit can realign to accomplish the task at hand.
When we become frozen with fear, negative emotions drain the body of energy. If you can learn to be fearless in the face of your fears, you open yourself up to the exhilaration of competing and performing in the moment. It's helpful to concentrate your focus on the nerika, a calm center in front of the heart that the Huichol shamans say is like a doorway that connects your desires and wishes with the realities of the outer world. It's the place great athletes call on when they need endurance.
Mark's old training program entailed working out as hard as he could. He figured if he trained fast, he could become fast. Yet he was often tired and sick and depleted after these workouts. The Huichols have some of the strongest, fittest elders who, at well over 80 or 90 years of age, can still walk miles every day and carry heavy loads of wood or water up and down the steep hillsides where they live. They never rush, yet they get a tremendous amount of physical labor done. By slowing down your workouts -- by using a heart-rate monitor to stay just below your target heart rate, for example, or by taking breaks in the middle of a big deadline push -- you can increase your endurance, strength, and the pleasure you get from working.
Whether it's exercises you do every day to train for an event, or the never-ending practice of clearing away negative thoughts, the effect of performing an action over and over can yield a profound reward. The Huichols find pleasure in planting a steep hillside with corn, one kernel at a time. The work is relentless, but they enjoy the repetition, knowing the immense satisfaction they will feel when the shoots emerge to cover the entire slope.
The steadiest athletes -- the tortoises -- always have the best performances. If you are in the habit of charging full steam ahead, you will then need to slow down and recover until you get up the energy to surge again. There is tremendous strength in being steady and maintaining balance. Being steady is one of the secrets to the longevity that enabled Brant's Huichol grandfather, Don José, to live a long and healthy life all the way to 110 years of age. It takes a lot of self-confidence to let others get ahead in the early stages of the race. But once you learn how to stay calm and focused, put one foot in front of the other, and have faith in your own ability, you have the key to winning -- and doing so consistently.
Shake hands with the impossible.
Good athletes can perform well when things are going as planned. But it's the great ones who are able to rise up and achieve amazing success when nothing is going right. Always remember that no matter how impossible a victory or a great performance might look in the moment, if you take the next step and then the one after that, things can always turn around. Never give up.
This was a mantra that helped Mark keep going in his final Ironman when he found himself 13.5 minutes behind the leader at the start of the marathon, a gap no one had ever closed to become the champion. He did keep taking the steps, making up the smallest of margins until finally, after 23 miles of running and nearly eight hours of racing, Mark took the lead, making the final pass of his Ironman career to overtake a competitor who was 13 years younger than he was. He went on to win his sixth and final Hawaiian Ironman World Championship.