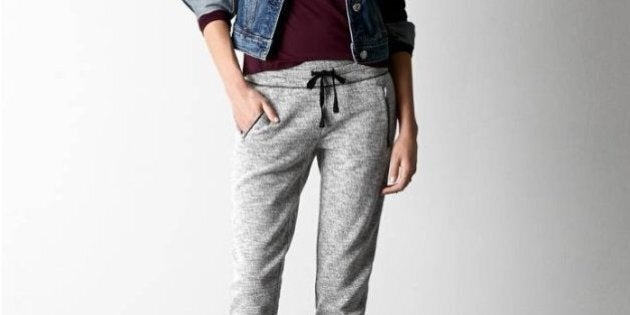 We can pretend that we're fancy; that, despite weather warnings and cold snaps we're still happy to dress up and "look professional," but deep down, we all know the truth: we'd all rather be wearing sweatpants. Or at the very least, fleece.
And who can blame us? Tights, skirts, and even jeans aren't conducive to being a living person in Canada, and considering some of us are typing in stretchy pants right now, nothing seems more unappealing than dressing like an adult.
So that's why we've come up with this list: a guide to conning your way into jogging pants. Or more specifically: a guide to conning everyone else (by convincing them you're not wearing jogging pants).
1. Know "Jogging Pants" Aren't Limited To Fleece
Know this. Do you know this? It took us years to know this, but thanks to American Eagle's Denim Jogger Pant, we quickly embraced the most important lesson in jogging pant etiquette: that if a jean has enough stretch in them, they can also constitute as a jogger. And thanks to that, you can wear them almost anywhere, and no one will be any the wiser.
2. But Seriously: You Can Dress Up Jogging Pants, Too
As evidenced by GUESS? and their Kate Sequin Jogger Pants, our favourite kind of pant are no longer designated solely as dorm wear. (Especially because not all of us lived in dorms, and we wore real jeans to school because we wasn't a lazy adult yet.) Sure, there's a drawstring waist involved but the sequins cancel out lounge vibes. (And can take you on a night out.)
3. To Further Dress Up: Think Pumps
So, let's say you're considering sequined jogging pants as part of a formal look (and seriously: do it -- life is too short, friends). It's easy to pass the dress code by upping your shoe game. As proven by Jenna Lyons, even if your pants are more cotton than sparkly, a pair of heels and a white top (and sweater) will tie your outfit together, or at least make the pants blend. What will also help?
Accessories are everything. Enter: Leandra Medine a.k.a The Man Repeller, whose affinity for racks on racks on racks (of bracelets and necklaces) work to bring sparkly joggers into "office appropriate" territory. They'll do the same for a casual look too: ditch the blazer, substitute with a t-shirt, and add more necklaces than you know what to do with. That way, you'll still look comfy, but not like you rolled out of bed. (Again, not that there's anything wrong with that.)
5. Pair Them With A Crop Top (And Oversize Button-Up)
Like Selena Gomez (and her leather jogging pants—just like Kanye West himself), you can make your joggers a little less obvious by pairing them with another trend: a crop top. (And bonus points for the oversize flannel, too.) Since we can't escape the trendiness of the pant, we may as well embrace it—especially since the two work together so well. And on the flipside, the bagginess of the bottoms balance the "exhibitionism" factor of the top, so you have a little more room to play around with style, and with...
And here's another thing about jogging pants of the spring/summer 2015 (or anytime) variety: jogging pants aren't just the retro gems (which we'll get to soon) we grew up with—they're available in prints that range from animal print to florals. What does this mean? Prints will trump comfy fabric in terms of grabbing attention. By the time your co-workers realize you're in joggers, you'll already be home for the night (in more joggers).
8. Mix And Match Textures
We've talked about mixing and matching, but try this on for size: bask in the spirit of American Eagle (seriously: they've got their jogger game on lock), and combine fleece with denim, a bold top, and leather shoes. Ultimately, treat joggers like you would any other type of bottoms, and use them to anchor other pieces. This is also why accessories work so well.
Alternately, you could completely reject dressing joggers up, and embrace their comfy, cottage-like glory. Roots has several types of sweatpant styles (from skinny to original), so pair them with a work sock and oversize sweater, and brag to everybody you meet about how much more prepared for winter you are than they'll ever be.
10. Wear Them As They Are
However, the easiest way to con is to own up to what you're actually wearing. Are you wearing jogging pants? Of the fleece variety? With neither denim nor sequins in sight? Then wear jogging pants. As we've established, they're a permanent part of the fashion landscape, which means you're safe to pair them with a hoodie, zip-up, or tank top. The rules are: there are no rules. Unless you work at a fancy office—and then there are some, and we're sorry.
Popular in the Community