Ever wonder how models prep for a big shoot? While there may be a few in the industry blessed with nearly perfect genetics and a miraculous metabolism, others follow industry tips and tricks to stay ahead of the game.
Sometimes there's a lot of notice before a big booking, a week or two for example, and that's plenty of time to get into shoot-worthy shape.
But the key is to start off and maintain a certain level of health and fitness so that you can simply step things up come shoot date.
In a perfect world we all get plenty of rest, eat extraordinarily healthy and have personal trainers who follow us around whipping us into shape, but the reality is we often need some help staying on track. So whether it's a wedding, a swimsuit photo shoot, or a spectacular selfie you're after, here are our model secrets to getting yourself camera-ready.
No more skipping the gym, it's time to buckle down and skip, plank, and push your way to supermodel shape! A mix of cardio, strength training and stretching should do the trick — boxing, pilates, yoga, running, and weight training are definitely among model faves for keeping your heart rate up and your body moving.
Like it or not, alcohol is high on this list when it comes to getting ourselves into tip-top condition. Not only is alcohol full of empty calories and makes you bloat, but it's also dehydrating. So say bye to booze if you want to protect your skin from looking dried out and (gasp!) wrinkled. Avoiding processed foods, refined sugars and unhealthy fats is always a good idea, but a particular necessity when prepping for an upcoming shoot.
Eating your way to optimal health and a camera-ready glow is easy when you prioritize a rainbow of fresh fruits and veggies into every meal. With a super high percentage of hydrating H2O and a ton of cleansing fibre, a plate full of these goodies give us the natural flush we need to radiate health.
If your skin needs a tune up, now is the time to do it, NOT the night before a big show or shoot. A deep cleanse two weeks before go-time gives skin a chance to settle from a significant scrub, and plenty of time for that healthy glow to set in. An all-natural exfoliator, or a gentle facial will get rid of surface grime and give skin a deep cleanse, creating the perfect canvas to let your natural beauty shine through.
Models seem to love yoga so much we've included it twice in this list. It's our go-to to "get in the zone" activity. Yoga is the perfect way to release stress, and mentally get your head in the photo shoot game (that's where confidence comes from!). Fine-tuning, tweaking and being your best self is great, but at the end of the day it's important to feel beautiful in your own body. Yoga and mediation are definitely among our insider secrets to achieving that outwardly glowing inner Zen.
A happy belly is often the key to overall health. Probiotics, or healthy bacteria, keep the gut stable and happy which encourages the rest of the body to follow suit. Blemishes are often a result of an overload of toxins, while a comfortably flowing digestive system is going to be reflected in radiant, clear skin.
It's time to stock up on sleep so you can say "see ya" to under eye bags and hello to refreshed skin. Party girls beware, those late nights cause chaos on our skin and if we want to stay looking dewy and youthful, rest is essential.
Keep a pitcher of grapefruit water in the refrigerator and drink it when you feel the need to snack. Sometimes quenching our thirst also dulls the desire to munch in front of the TV and the tartness of the grapefruit seems to help with sweet and salty cravings.
A couple of days before a shoot we're all about the cold pressed juices and the green smoothies for lots of energy and lots of fibre. Pineapple helps reduce bloating, so look for that on your label, or add it when you're whipping up your own. Cold pressed juice brands are picking up on the charcoal trend (charcoal is also a de-bloating agent) so grab a couple of black juices while you're stocking up on other healthy fixes.
Save the extra cheese pizza or grandma's home cooking for a celebratory post-shoot dinner, and keep it simple the day before the job. Lots of water and minimal caffeine, which, like alcohol, is also dehydrating.
Pack your bag the night before to save rushing in the a.m. Make a chia pudding or have a protein shake ready to go for a sustaining energy boost. Getting everything set for a seamless morning ensures that you'll be able to rest relatively stress-free.
Unless your call time is 5 a.m., try to give yourself as much time as possible to enjoy your morning routine and ease into your day. There's nothing worse then feeling tired and disrupted by waking up late and having to rush to work, especially if your job requires you to have your picture taken. In a best-case scenario, with your morning running according to plan, do your best to squeeze in a couple minutes to gratitude journal. Trust us, your aura (and your photographer) will thank you.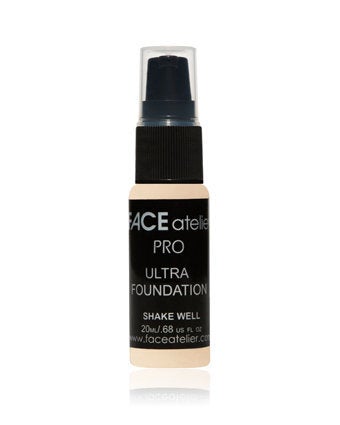 Best Backstage Beauty Products