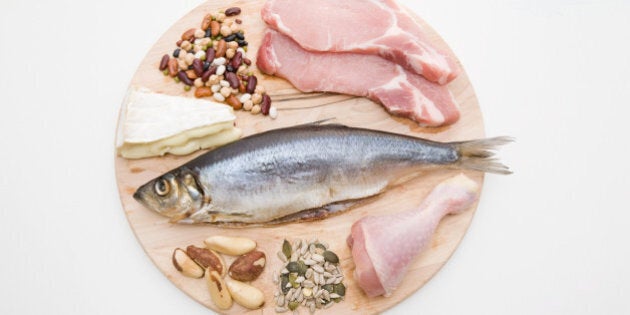 Want to feel full all day long? Keep your metabolism revved? Then eat 30 grams of high quality protein at breakfast! Are you thinking, "How does my bagel and bowl of cereal give me 30 grams of protein?" Well, it doesn't. So how do we reach this with our typical carbohydrate-loaded breakfast choices?
When I'm talking about how to get protein working for you, I love sharing this travel story. Ten years ago, when I was on business at a Vancouver hotel, I was surprised to see fish on the early morning breakfast menu! I have to admit, sushi, sardines or salmon have never been on my breakfast plate, even though they are great protein choices.
Today my breakfast plate does have more protein. This is a result of learning about the 30 grams of protein target from emerging research at a conference in Chicago last July. Fast forward to another scientific conference in April, and there was more research to support that threshold. Now to answer the question, in addition to fish, here are three easy ways that you can increase your protein at breakfast, too:
Mix 250 ml (1 cup) of plain Greek yogurt with berries and 30 ml (2 tablespoons) of hemp hearts.
Replace the bagel with two eggs, sliced avocado and 30 grams (1 ounce) of cheese.
Swap the muffin for 75 grams (the size of a deck of cards) of grilled chicken or turkey.
Protein throughout the Day
Eating the right amount of high quality protein at the right times is essential to building muscle mass and keeping you energized, which can help you lose and maintain weight. Animal, marine and dairy choices tend to be the most complete sources of protein and always make great lunch options. Often I have fish for lunch! How else can you add protein to your day? Surprisingly, seeds, nuts, lentils, legumes and beans are also sources of protein, and they pack other nutrients, too, including fibre and vitamins. Here's how to add these surprising sources of protein to your menu all day long:
Add 125 ml (½ cup) of black beans to salsa. That's eight grams of protein from the beans.
Mix 28 grams (1 ounce) of pumpkin seeds with 60 ml (¼ cup) of dried fruit. The seeds give you 9 grams of protein!
Include green peas at lunch. Did you know 250ml (1 cup) of green peas has 8 grams of protein?
As North Americans, we have traditionally overloaded on protein at supper. Statistics identify that when breakfast is consumed (and there are many breakfast skippers among us), the protein content is only about 8 per cent of the total calories, with the majority of protein showing up on our supper plate. Distributing protein over the day is a drastic change for most of us! Now that you have fresh breakfast ideas, plus surprising sources of protein to fuel up on throughout the day, what about adding some new and exotic proteins to the supper menu? Here are three interesting options (based on a 75 gram serving):
Bison has 17 grams of protein. The first time I ate bison was as a meatloaf at a restaurant in Whitehorse, Yukon. The initial couple of bites had a gamey flavour, but after I acquired the taste, it was delicious.
Elk has 18 grams of protein. I ate an elk steak served at a friend's backyard barbeque about the same time I had my not trying fish for breakfast experience. It was good; however, it is my least favourite of the exotic proteins.
Wild boar has 17 grams of protein. I had a rigatoni with wild boar and peppers when I was in Tuscany. It was scrumptious! And you can find wild boar at your local butcher.
It's important to make sure you are eating protein as part of a healthy diet that is also low in saturated fats and high in vegetables and fruits. Add a good mix of different protein sources, especially since non-animal sources are also high in fibre and vitamins for heart and immune health. And remember, to get protein working for you, distribute it throughout the day, aiming for 30 grams at breakfast, 30 grams at lunch and 30 grams at supper -- no overloading at the end of the day!
Popular in the Community