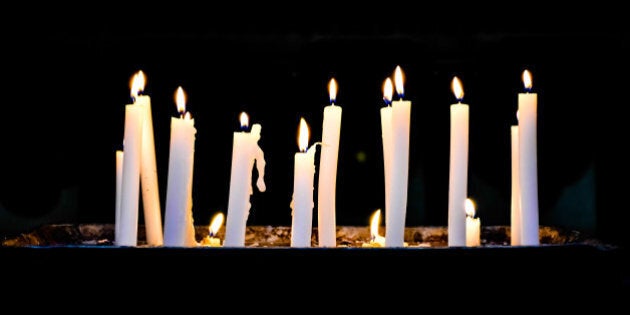 As the Christmas and Hanukkah decorations get hung, apple cider gets mulled, and the mass media machine begins cramming all things "festive" down our throats, I've realized that the grief from losing my mom last year has resurfaced in a major way.
While everyone else throws back rum and eggnog and busies themselves with holiday shopping, those of us in grief are doing our best just to get through the day. Hearing a holiday song, smelling a familiar scent or walking by a decorated store window can be all it takes for us to come undone.
My mom made the holidays sheer magic but now that she's gone, a slow, insidious sadness has crept into my bones as Christmas draws closer. I'm guessing some of you feel it to.
So, what can you do? Well, quite a lot. Below are my suggestions for how I plan to get through -- I hope it's of help to you too.
How I Plan to Get Through The Holidays
First and foremost I'm going to listen to my heart rather than my head, and do whatever it is that feels best for me during the holiday season. This may look like spending time alone, or saying no to certain invitations, "ghosting" from holiday parties early (i.e. leaving without feeling the need to tell anyone when or why #boybye), or laying in my jammies all day watching Love Actually...which I strongly suggest everyone do no matter what you got goin' on.
Its important to honour both yourself and your loss during this time. As the days get darker and shorter, I light a candle every night and think about my mom; and I'm doing my best to treat myself with love and compassion as I know I'm holding hurt in my heart right now.
I like to find a quiet space, put my hand on my chest and ask myself "how does my heart feel?" Then whatever comes up, I just let it be and let the loss have its time and space.
Whatever and however feels best for you, feel it so you can heal it. Honour your loss and in doing so, you honour yourself.
Self-care is a divine responsibility -- especially when you're grieving. The pain of loss can take a serious toll on you mentally, spiritually, physically and emotionally so putting your needs first can make a world of difference.
For me, this looks like getting more rest, going for a manicure or massage, taking a bath/hot shower, and giving myself permission to focus my attention on M-E.
The holidays are all about giving but it ain't worth sh*t if you haven't given to yourself first -- and no that's not selfish, it's just smart. If my cup is empty, what do I have to share with others? Not a lot. And that can (and has) lead to exhaustion, resentment and ultimately, a lot more pain. So putting yourself first is actually an act of love for all those around you too...yay!
"You are more than the sum of what you've lost and you are free to be and feel whatever and however is real and right for you."
One of the most difficult things about loss, no matter the kind, is that we also lose the way things were. Whatever, wherever or however we used to celebrate, or had hoped to celebrate this season, its now gone.
I will never again be able to sit and open Christmas presents with my mom but that ain't gonna stop me from trying my damndest to enjoy Christmas morning. This year, I plan on having chill time with my partner -- waking up late, making brunch in our pj's, heading out for a nature walk and doing whatever feels best and most right for me. This is a new tradition of sorts, and one I'm totally looking forward to.
Expressing your emotions can be challenging given that our culture is avoidant to actually feeling feelings, but grieving out loud can really help in moving the crappy emotions through and out of your system.
This can look like crying into a pillow, screaming at the top of your lungs (which I do in my car where no one else can hear me -- #winning), letting loved ones know that you're feeling sad, wearing black, talking about your loss, putting out a holiday dinner setting for a departed loved one, anything and everything that will help you release the grief.
You don't need to have it all together. You don't need to pretend that you're fine if you're not. But -- if you are feeling the holiday cheer, then don't be afraid to be cheerful. You are more than the sum of what you've lost and you are free to be and feel whatever and however is real and right for you.
Other Tips for Getting Through the Holidays When You're Grieving include:
Journal your thoughts and feelings;
Exercise (especially with friends);
Hang a decoration in honour of a departed loved one;
Find a grief coach or therapist to provide you with tools and resources for coping with your loss;
Light a candle to honour your loss;
Celebrate/toast to where you are right now (it may not be where you want to be, but you are here and that's a lot);
Get lots of rest; and/or
Meditate.
Sending so much love and light to you this holiday season! xo R
For more tips and tools on moving through grief, sign up for my FREE e-book "The Shit You Need to Know About Grief' here . If you're in need of hands-on help, book an intuitive grief coaching call with me here.
Follow HuffPost Canada Blogs on Facebook