It is no secret that I am a big fan of wine. Every month I share with you the results of my monthly wine tasting group, I HEART WINE Club; a very exclusive party of unsophisticated wine lovers like myself. I was recently asked by a few of my readers to share my recipe for hosting an amazing wine tasting party -- so here it is.
Not only will you find a guide to help you host an amazing wine tasting party, but you will also find a free printable copy of the I HEART WINE Club's scoring sheet to use to help you and your friends grade wine like a pro!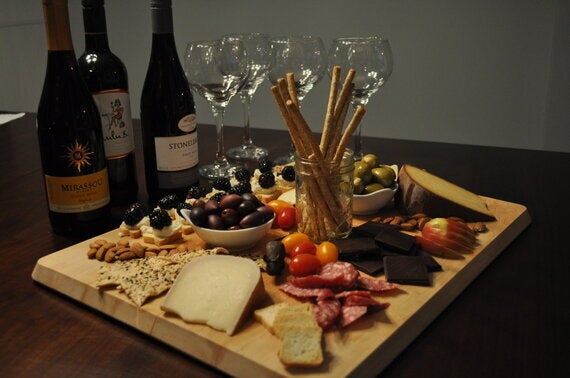 The fun part about hosting a wine tasting night is you can make it as simple or technical as you or your guests want. For this guide, you will find instructions for a relaxed but educational night. I also can't imagine not swallowing a wine after tasting it, so no spittoons here!
$$$ = Depends on the number of guests coming, but it is important to keep in mind that wine and cheeses are not inexpensive. As parties go, wine tasting is up there. Assuming you have 10 guests and you are sampling 3 wines, I would estimate that it will cost around $150 CDN for just wine and cheese at the party then you still need to purchase appetizers. For my lucky American friends it will likely be less expensive since you are able to get your hands on wine much cheaper than us.
Wine
Wine Opener
Wine Glasses
Glass Charms or Identifiers
Paper Towel (to rinse and dry glass between wines)
Cocktail Plates and Napkins
Wine Tasting Scoring Sheet [FREE PRINTABLE!]
Pencils
Cheese, Meat and Appetizers, including Palate Cleansers
Bags or Covers to Hide Wine
How to Host an AMAZING Wine Tasting Party:
Choose the Wine and Theme: This is one of the most important steps, second only to drinking the wine. When selecting the wines to taste at your party, you want to consider how you will be judging them. There are many ways to do it and since you are the party planner you get to choose! Here are a few ideas: A single wine variety from multiple regions (for example, Pinot Noir from New Zealand and California), cheap vs. expensive wines, a single wine from different vintages/ages, or what about a single wine tasted with a variety of cheeses. You are limited only by your creativity.
How much to Buy:

A regular sample size of wine is about 2-3 oz or about 75-90 ml (about half the size of a regular glass of wine) which means each bottle has about 8-10 servings. You know your friends best. Is this going to be a proper fancy get together? Are your friends out to have a night they will never remember? Or maybe somewhere in between. I would recommend for a party of 10 you will want to have about 2 bottles of each wine to taste. Your guests may go back to seconds or thirds of their favourites.

Food Pairings: You can't have wine without cheese! Serve cheeses that compliment the wines you have chosen using this great guide. It is amazing how much the flavour profiles change when introducing different cheeses. You aren't limited to just cheese and crackers either; appetizers such as the Blackberry, Honey, Goat Cheese Cracker (seen below) or a charcuterie board are great on the menu as well. If you need help selecting meats for the charcuterie board, check out this great article on Bon Appetite written by Rochelle Bilow. Lastly, don't forget to have cool water and bland crackers available too to cleanse the palate between tastings.
Setting up for the Party: There is much to do before the guests arrive, such as setting out the glasses and uniquely identifying each (ie. charms), print out my Wine Tasting Scoring Sheets to help your guests dissect the flavours of the wines, uncork the bottles of wine about 1 hour in advance, hide the labels of the wine and number them, and finally set out the cheeses and appetizers.
Time to Start Tasting: When your guests arrive give them the instructions and how to use my I HEART WINE Club Wine Tasting Scoring Sheet. For smaller groups it might be best to do the tastings together step by step as outlined in the scoring sheet. I always love hearing how others are experiencing the wine. Once the wine has been tasted on its own, then sample the wine with the appropriate cheese pairings to see how the flavour changes. Between tastings, if you don't have enough glasses for each wine, rinse out the glass with water and dry with paper towel.
Reveal the Wines: Once all of the wines have been sampled and scored, reveal the wines, read the labels and disclose the price. Sometimes there are flavours within that no one detected or were unable to name. I have always been shocked that the crowd pleasing wines have typically been the low to mid-range priced wines. Is that true for your group? Did the group score the wines similarly? Was there a definite favourite?
Relax and Enjoy: Go back for seconds, thirds or maybe fourths of your favourites, or why not re-sample some of your previous wines with the bottle description in hand. Can you find those flavours? Enjoy the rest of the evening with your friends! You've earned it!
According to Amanda... the verdict is:
A wine tasting party can be as simple or as sophisticated as you want it to be. I say, relax, have fun and enjoy the special time with your friends while getting tipsy on wine! Hosting a wine tasting party is not an inexpensive party to host. If you are on a tight budget maybe ask friends to bring 1-2 bottles of their favourite wine and you provide all of the appetizers.
Have you hosted a wine tasting party? What was your theme?
Check out some of my past wine tasting parties!
Follow HuffPost Canada Blogs on Facebook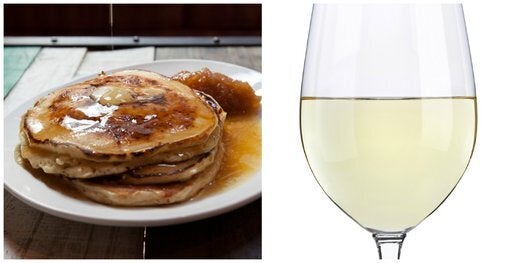 Brunch and Wine Pairings For The Ages