It's sad to say, but summer is coming to an end. While we are hoping for a few more weeks of sunny, warm weather, the reality is our days on the deck and patio are numbered.
To help extend the life of your patio furniture, the experts at Wayfair.ca are sharing their top tips for packing up your patio essentials. From scrubbing cushions with all-purpose cleaner to wrapping up pieces you can't move and bringing in breakables like your garden hose, these tips will help keep your patio decor looking like new, year after year.
To best protect your patio essentials, both Wayfair and Home Depot Canada say bringing your outdoor items indoors is the safest bet — especially when glass is involved. If you lack garage or shed space, Home Depot Canada patio expert Megan Schroeder recommends purchasing a weather-resistant storage bench to hide away your goods.
And don't forget about your plants! Aside from bringing in pots, Home Depot Canada's garden expert Mark Beaty suggests wrapping, mulching and mounding outdoor plants in preparation for winter.
"Adding mulch around the base of trees and plants can help prevent them from freezing once winter comes," says Beaty. For delicate flowers like roses and hydrangeas, piling loose soil and compost at the base can help promote healthy stems and buds once spring rolls around again.
Check out the slideshow below for more tips from Wayfair.ca.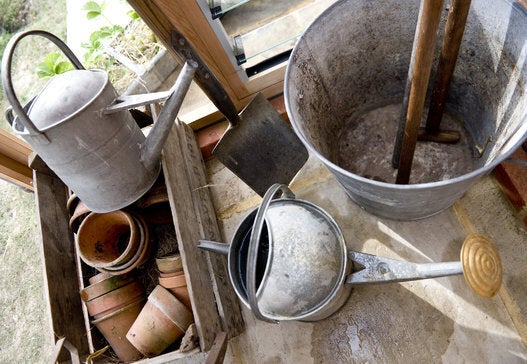 10 Tips For Putting Away Your Patio Essentials
Popular in the Community