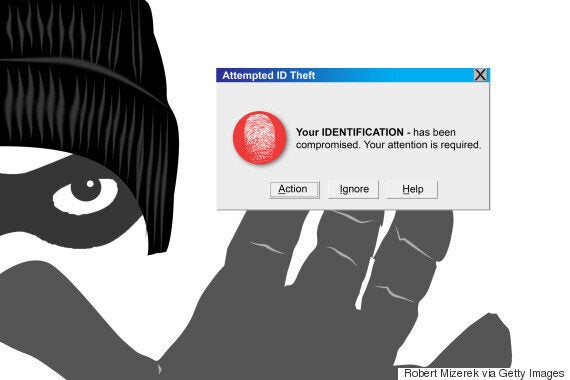 I know no one wants to think they could ever be a victim of fraud however the reality is thousands of Canadians lost more than 10 million dollars to identity fraud in 2014 and authorities say this figure is on the rise year after year. The sad thing is some Canadians do not even know they are the victim of fraud until something extreme happens -- like when bill collectors come calling for their money.
I can tell you of a real life story I know of where a widowed mother became the victim of identity fraud on a wide scale, the widow noticed something strange about her mail -- she was waiting for an important document to arrive and it never did. She called the company in question and they told her the documentation she required was mailed a few weeks ago. The widow was concerned and decided to do some further investigating as to why her other bills did not come through the mail. The more she inquired about her bills the more suspicious she got until she found out what was happening to her mail. Someone stopped her mail from coming to her house and redirected it to another address.
This widow became a victim of fraud so much so, they were able to stop her mail and take out credit in her name too. This widow is now a victim of identity fraud. And she's not alone. Fraudsters enjoy duping unsuspecting Canadians on a daily basis -- it's their full time job.
As it is Fraud Prevention month, consumers should consider the following to guard against identity theft and fraud:
Don't walk around with your birth certificate, passport or social insurance number or ID you simply do not need. The less ID you have on you, the better. Keep the ID you don't need at home in a secure place.
It is a good idea to check your credit report at least once a year.
Why are you holding on to old bills from five years ago? If you don't need it, shred it. Better yet, shred all documents you no longer need with your personal account details on it. It's better to be safe than sorry.
Check your bank and credit card statements on a regular basis (at least once a month is better than nothing). Check your statements and be on the lookout for anything suspicious (even if it's something small -- report it). Fraudsters start off small and then work their way up to larger amounts of cash. So if you notice something out of the ordinary -- report it to your bank or creditor right away.
It is a good idea to check your credit report at least once a year. Contact TransUnion and Equifax to see if there's anything fishy on your credit report.
Keep all of your online passwords secure and keep them strong. It's a good practice to use upper and lower case letters as well as letters and symbols and change them every quarter.
Treat your name, date of birth and address like it is priceless. Do not release this information freely to just anyone. Fraudsters like to call unsuspecting consumers to obtain as much information as they possibly could.
Sometimes every precaution is still not enough to avoid fraud. If you are a victim of fraud -- the first step is to report it as soon as possible. Do not feel embarrassed that somehow you got caught. Fraudsters are opportunists at best and all they need is for someone to let their guard down for a second and they're in. If you are a victim of fraud contact the following authorities:
•Canadian Anti-Fraud Centre

Toll-free: 1-888-495-8501

•Competition Bureau of Canada

Toll-free: 1-800-348-5358

•Ontario Provincial Police

Toll-free: 1-888-310-1122

•Financial Consumer Agency of Canada

Toll-free: 1-866-461-3222
Remember the faster you are at catching fraud -- the quicker you will be able to recover from it.
Follow HuffPost Canada Blogs on Facebook