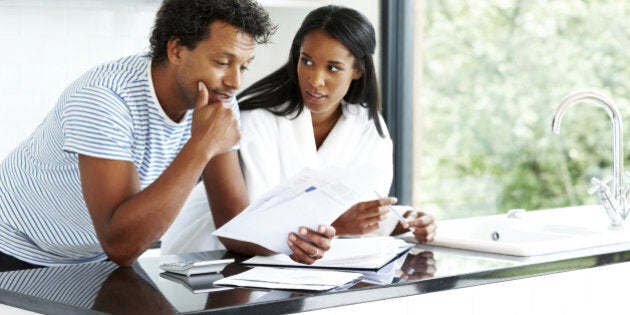 March is Fraud Prevention Month. A time to focus on how you can keep your personal information safe. Every year hackers, dumpster divers and phone scammers try to find new schemes to get their hands on your personal information. I've teamed up with Canadian Anti-Fraud Centre and their sponsors to talk about ways to keep your financial information safe.
As a personal finance expert I know how important security is. You can spend years saving wisely, only to be duped by a savvy fraudster. Read about all of that in the Little Book of Scams provided by the government of Canada. It outlines all the latest ways fraudsters are trying to get their hands on your information.
This is the month we spend talking about fraud prevention, but protecting your identity is a year-round activity. Identity theft is the most serious, non-violent crime and the fastest growing type of fraud in North America. According to a survey done by Fellowes Canada, a global manufacturer and marketer of products for improving life at work, 18 per cent of Canadians say they themselves or someone they know has been a victim of identity theft. Here are a few tips to make sure your personal information isn't getting into the wrong hands.
Losing your wallet is a frustrating experience, but imagine along with cancelling all your credit cards you also had to deal with irreplaceable documents like your birth certificate and social insurance number (SIN). The survey conducted by Fellowes found 35 per cent of Canadians aged 18-34 are still carrying their SIN card with them. Even worse, 22 per cent of those aged 35-54 have their birth certificate on them. These two pieces of identification pieced together can unlock a lot of information about you and give an identity thief full access to your life. Leave them at home. In the case of your SIN, memorize it and never take the card with you anywhere.
Every week millions of Canadians place their opaque plastic garbage bags or blue boxes on the curb. The expectation is the trash will be picked up and safely disposed. But the reality is that curbside garbage is considered public property. Think of all the sensitive information about you that could be in your garbage right now. A good rule is to shred any document with your name and address on it. This includes monthly credit card statements, pay stubs, monthly bills, spam mail and membership notices.
Many Canadians still opt for paper bills to be sent to their home. If you don't want to shred going paperless is the best way to keep your personal information from getting into the wrong hands. Most companies and service providers offer customers the option of digital billing. Eliminating paper bills also decreases the chance a fraudster will pick up or intercept your mail.
Make sure you're aware of when you get your bills. If you notice you've stopped receiving certain bills, or even a particular magazine, follow up with the provider as someone may have changed the address for it. Plus always double check statements. With e-billing it's easy to forget to check your statements online. Ensure you regularly keep track of account activities to make sure they are yours.
If something looks too good to be true, it probably is. No bank asks you to log in using a special link, unless you requested them to send it to you. Every financial institution has a fraud prevention strategy, send any phishing emails to them to investigate. If you think you may have received a phishing email, here are a few warning signs to look out for: did the email address you by name or simply by your email address? Did the email come from the organization's official URL?
When using your debit or credit card, ensure you are keeping your PIN a secret. Be aware of your surroundings and make sure no one is sneaking a peak at your digits. As well, select a password that no one would be able to guess, and try to stay away from obvious choices such as, '1234,' '1111' and 'password' as an example.
This goes back to online banking. When you are doing any type of banking online, ensure you log out of the computer you are using - especially when you are at the office, or on a shared computer. This also goes for your smart phone. Be sure to sign out of your social apps.
Check all of your social platform settings regularly and don't forget to remove geo-tags, as they let viewers see where a photo was taken. Wait to post vacations pictures on line. This will avoid giving out personal location information and tell fraudsters that you're not home.
If you're planning a big trip there are a few things you may want to do before you go to ensure your personal information doesn't get into the wrong hands:
•Invest in a mailbox that only you can access
•Put a hold on your mail if planning to be gone for an extended period of time
•Take out the garbage before you go and don't leave any personal items that are not shredded in your blue bins or garbage cans
•Alert credit card companies where you are travelling to and for how long
•Limit online banking when you are travelling, always log out of all sites especially when on a public computer
•Keep your wallet light with as little personal information as possible - don't be afraid to use your hotel safe
•Choose ATMs carefully and stick with ones located directly in a bank
•Don't post about your travel plans or share images of your ticket or passport online - you may think you are covering up vital data, but there's a lot of data fraudsters can mine from that post, including that your home will be vacant
Who to call if you fall victim to identity theft?
The first thing you need to do once you realize you have become a victim is report it. Here's who you should call:
•The local police department to file a report
•Contact Canada's main credit agencies:
Trans Union Canada at www.tuc.ca 1-866-525-0262 (Québec 1-877-713-3393)
Equifax Canada at www.equifax.ca (1-866-779-6440)
•The Canadian Anti-Fraud Centre to report the issue (1-888-495-8501)
•If your mail has gone missing, contact Canada Post at www.canadapost.ca (1-800-267-1177)
Follow HuffPost Canada Blogs on Facebook