By the age of 37, I had birthed two children, reported live on national television, and travelled around the world. But I had never ridden a bike.
I'll save you the trouble now and answer the questions that inevitably come up when someone discovers this part of my personal trivia:
No, I'm not joking.
Yes, I know how to skate, swim, and walk a straight line.
Correct. I have no idea what "it's just like riding a bike" means.
Yes, people have tried to teach me before.
My dad never learned to ride a bike either. Plus, my parents worked long hours at their business in Vancouver, leaving little time for running down the street with hands on bicycle seats.
They did give me a blue bike with training wheels when I was about 11. I half-heartedly pedalled it around our driveway but I was more interested in watching TV than being outside.
When I was 16, my friend Natalie decided she would try and teach me. She walked next to me holding the seat while I pedalled slowly. She let go; I fell over. We did this a few times. Same result.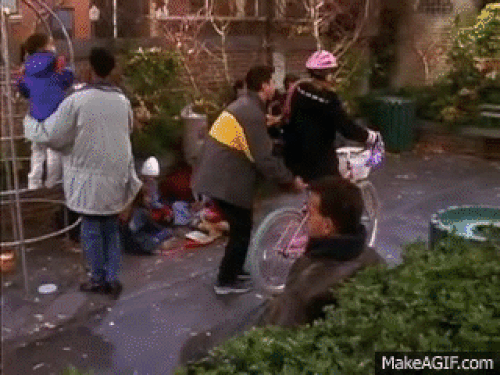 We decided to try moving to the top of a tiny hill on her street. She helped me onto the bike and once I had my feet on the pedals, she let go like a nervous parent. I managed to travel a few metres -- then slowly wobbled into a parked van and fell over.
When I was 30, my friend Steph came through Calgary, where I was living at the time, for a visit. She didn't want to leave her mountain bike overnight on her car, so she brought it into our condo. On a whim, she volunteered to show me the ropes.
Ever so supportive, my husband recorded the painfully awkward ride (if you can even call it that) on his flip phone. (It was 2008.)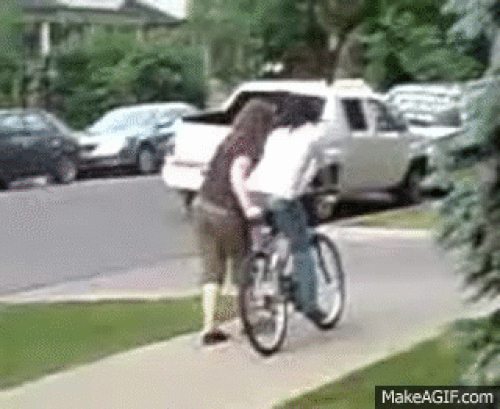 (Yes, that's actually me.)
Truth be told, I never thought I would learn. My friends' bikes were usually too big, and well, I was mostly humouring them until we could get back to drinking wine.
After such a long time, what comes naturally to so many people had become a psychological block for me. It was just something I didn't know how to do, along with rolling my tongue and making risotto.
But fast forward now to my four-year-old son graduating from his tricycle to a big boy bike with training wheels.
"Mom," he said to me one day, proudly wearing his Spiderman helmet on the way to practising in the park. "Where's your bike?"
"Mommy doesn't know how to ride one," I told him honestly.
"It's OK. Daddy and I will teach you," he said. With that simple declaration, he started chipping away at the "can't" in my life.
Even with the slow hamster wheel of working, getting the kids off to daycare, making dinner, surfing Facebook, and avoiding yet another yoga class, I had no excuse.
If my job is to teach, challenge, and embolden my children, then surely I can get over myself and figure out how to cycle.
I decided to buy a used cruiser bike I spied online one day. It was orange and had a basket in the front. That's how you choose a bicycle, right?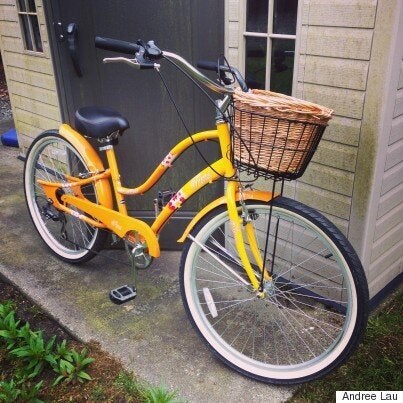 This Mother's Day weekend, my husband and sons (aged 4 and 2) accompanied me and my "new" two-wheeler to the park near our house.
I pushed off and tried to pedal. I steered the bike wildly in both directions then flopped over. The four-year-old ran over.
"OK Mom, here's how you do it," said the veteran. "Put your feet here. Hold on here. Just go slowly, then it will be OK."
My husband gave me a few tips too: because the bike was so heavy, push off hard. And since my instinct was to swing the handlebars hard to get balanced, he pointed out that I only needed to turn them slightly.
I tried several more times, getting more confident with each push-off. And then...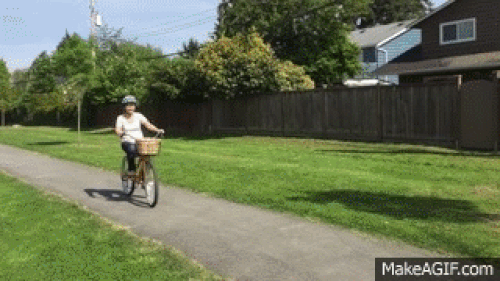 I DID IT!!! I WAS RIDING A BIKE!!!
There was a small snag. I didn't know how to stop. My son told me to pedal backwards. Nothing happened, so I veered onto the grass. My husband yelled at me to use the brakes. Uh, what brakes?
Oh, brakes on the handles. Right.
I was grinning from ear to ear, and didn't want to stop practising. It felt amazing.
"Mom, you didn't do so good at the beginning. But then you did it. And it was good," said my son.
Yes, it was. It was very, very good. Just like riding a bicycle.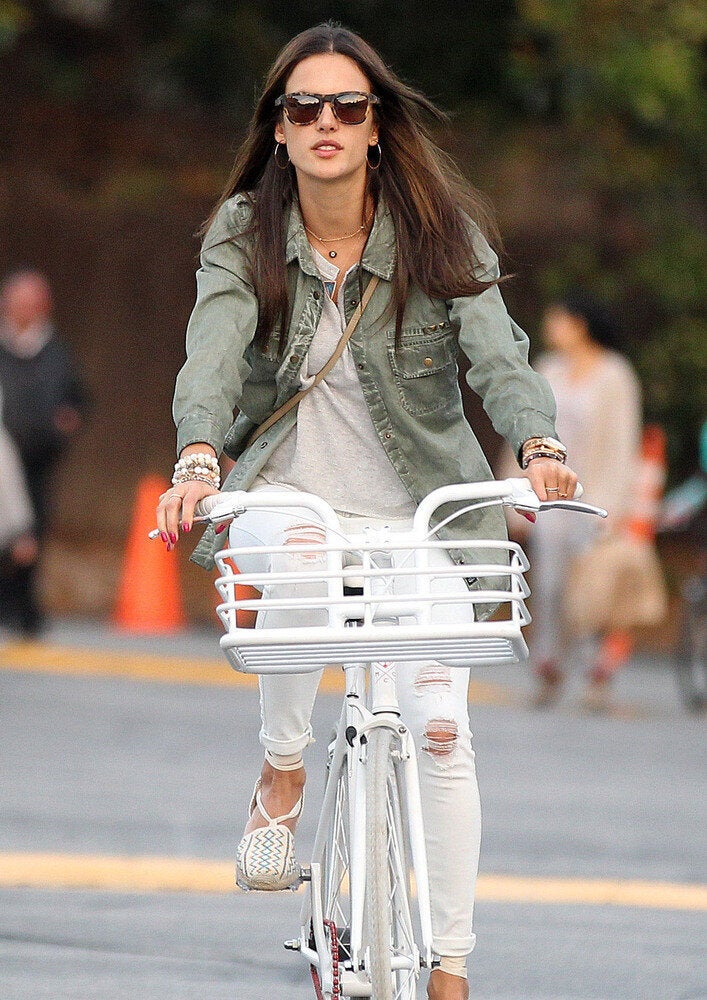 Celebrities Ride Bikes