There's no denying it, fast fashion has made it easy to accumulate clothes faster than we can wear them.
There's been a lot of discussion surrounding the evils of disposable clothing, but you can do your part to minimize the damage by ensuring that the $15 shirt you wore once gets a more fulfilling life. You can even make a buck or two doing so.
There was a time when yard sales, consignment shops and Craigslist were the only means to sell your clothes, but good old technology has made selling as easy as snapping a picture with your phone.
The millennial marketplace is an efficient and fast-paced world. Here are some of the best online destinations and mobile shops to sell your clothes.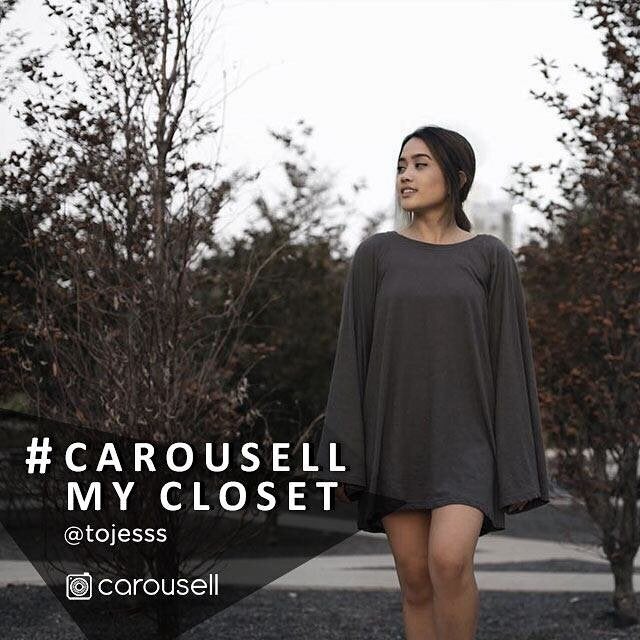 Carousell can be downloaded to your phone and makes selling everything from clothing to large appliances easy and accessible. The process takes mere seconds.
Users set up an account and snap photos of items they want to sell. Interested buyers will start a chat and you decide on a pickup location. One of the best features of buy-and-sell apps like Carousell is its peer review feature. You can feel safer knowing that other users have had positive transactions and avoid those who have negative reviews.
Letgo works similarly to Carousell. It's a mobile app that requires you to take photos of items for sale and post them on your profile. There's a peer review feature as well, and like Carousell, you can browse and search thousands of postings and hopefully score something you need for a hefty discount.
There's no real difference between the interfaces of Carousell and Letgo, but one app could be more popular in a certain city or country. Download both if you want maximum exposure for your items.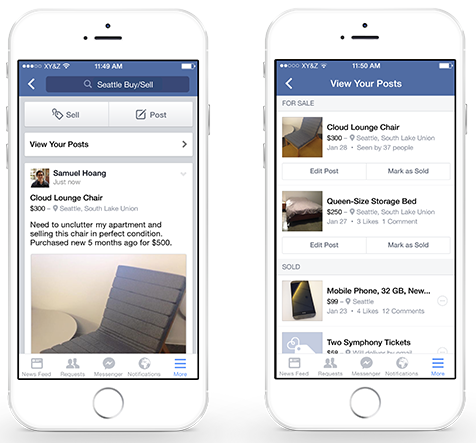 Is there anything Facebook can't do? Now, it's a great resource for buying and selling new and used items. Local Facebook buy and sell groups are growing rapidly, many of them with specific niches. A quick search will reveal groups for selling designer items or groups for residents of a certain part of town.
Community Facebook groups make the sketch factor of selling to a stranger less ... well, sketchy. Volunteer administrators are able to vet members and boot anyone who breaks community guidelines. Being able to check out a person's profile can also help quell anxiety that you might be selling your leather jacket to Hannibal Lector.
Trend Trunk is an online marketplace geared towards clothes, accessories and beauty products. Available as a web page or mobile app, Trend Trunk allows users to create shops where they can set their own shipping terms and payment methods.
This online marketplace is ideal for the true fashion lover who wants to be able to search certain brands and get emailed when someone posts an item that matches their interests. All types of gently used or new items are welcome.
U.K-based ASOS Marketplace is a great selling option if you happen to have a lot of designer or valuable vintage pieces. This isn't the place to sell your well-worn H&M blazer from three seasons ago.
The general vibe of the marketplace is that it's for serious sellers only. Boutique owners are required to take quality photos and maintain a minimum of 15 items in their shop at all times.
With all the rules and restrictions, this online marketplace has one major draw: Its extensive international audience that you can't get on your local buy and sell group.
Using Instagram as your personal online shop has become a popular way to sell clothing. It's also surprisingly easy to get started — no special apps or rules involved. Simply snap appealing photos of what you're offering and use the appropriate hashtags so other users can find you.
#ShopMyCloset #InstaSale or #InstaShop tend to be the most popular tags. Interested buyers can comment or send a direct message to sort out payment and shipping details. Easy peasy!
Bunz began in Toronto as a Facebook community that focused on helping out people who needed particularly items who might not have money to spend, but had something else to offer (like trade services or random candles) instead. It has since grown into a massive website and app (and yes, still a Facebook group) that has specific locations in 12 Canadian cities, as well as a few international ones.
It remains a place where no money is directly exchanged, so the focus is very much on whether or not you have items the seller is ISO (in search of). That makes it a bit more like a bartering game than a straight-up sale. That feature might not be for everyone, but the treasures are there to be found if you want them.