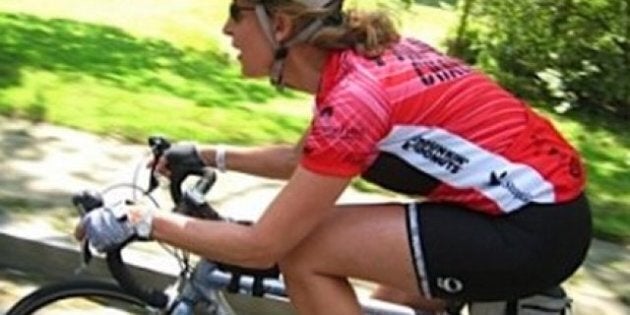 The Ride for Karen is now in its 11th year and going strong. My brother and I are proud of its success as a fundraising vehicle to help children with cancer. But running a charity event is, not surprisingly, a serious commitment. There are lessons we learned over the past 11 years that may be useful for anyone thinking about starting their own non-profit organization.
The first year of the Ride for Karen was simply a bike ride that we took with some friends after our mother passed away from breast cancer. My brother Kris and I realized that we wanted to do something meaningful as a tribute to our mother. And others who knew her -- and knew about her passion for helping others -- did too. It is human nature for people to want to make some meaning out of what can often feel like senseless tragedy. And it was that desire to find a way to celebrate our mother's life that created the Ride for Karen, which, today, has grown to be one of the premiere cycling fundraisers in Ontario.
Looking back, I am not sure we truly appreciated the time, financial and emotional commitment involved in running a non-profit organization. It has taken us, our family, our friends, and countless volunteers, hundreds of thousands of hours over the past decade to get us where we are today. We love the Ride for Karen, but my brother and I have full-time jobs and young kids, so once in a while it can feel like running this charity is an uphill battle. But, each September as we line up on the starting line and see the passion and commitment from hundreds of cyclists who have collectively raised hundreds of thousands of dollars to send children with cancer to camp, we know the time and effort has been worth it.
And there is data to support this. In a study on the benefits of non-profit organizations**, researchers found that 82 per cent of people surveyed believe that strong nonprofits are a sign of a vital community. Not-for-profit charities or organizations are not just important, but thriving in Canada. We encourage people to join us and start their own non-profit organization that supports a cause that is important to them. But, before they do, there are some key considerations:
How will you structure your organization?
There are several ways that you can structure your not-for-profit organization. Four common ones are:
1) Registered charity. This will allow you to issue tax receipts to your donors. Expect a lot of paperwork. The infrastructure can be quite complex as there are CRA and governance requirements. These requirements also apply to public and private foundations which follow. Keep in mind, the wait time to receive your charitable registration number can be quite lengthy, possibly up to a year. Registered charities are organizations that carry out a mandate- like running camps for children with cancer.
2) Private foundation. Foundations are registered charities (with CRA) that can only grant to other registered charities. Private foundations are generally started by individuals or families who are able to personally provide funding to their own foundation thus giving them the opportunity to create a legacy. Private foundations give the founder the ability to have a high level of control over granting and investing.
3) Public foundation. This again is a registered charity but exists to donate funds to other registered charities. It is usually set up with an endowment fund and it derives its funding from a variety of sources, most often through fundraising.
4) Non-profit organization. Creating a non-profit organization is faster and less complex than applying as a registered charity. Without a charitable status, non-profits are not able to issue tax receipts, which can be limiting. This structure can work well for organizations that do not need to fundraise and might have a social enterprise business or some other means of funding.
Should you have a partner?
Partnering with other organizations who have similar goals can be one of the best ways to do more with less. A partnership can be something as small as sharing in-kind donations and office space or expand to sharing workloads and responsibilities. Ride for Karen is partnered with Coast to Coast, a Canadian charity that also raises money to support children with cancer and their families. Both organizations share resources and administrative expenses which is good from and financial and efficiency perspective.
In addition, finding a donor to underwrite your overhead and administrative costs allows more work to be done and means that all money raised goes directly to the cause. Ride for Karen is lucky to have Scotiabank as a financial partner. It is because of its generosity that we can tell each rider that 100 per cent of funds raised will go directly to the camps, and, at the end of the day, that's what inspires us to come out and ride.
What is your growth strategy?
A growth strategy is important in defining the core activities of your organization, or your main fundraising event, for your organization, and then looking ahead to identify opportunities to reach new donors or volunteers. Ride for Karen started as a 160km cycling event for serious cyclists. However other groups of donors wanted to become involved, like weekend cyclists and children (including my own). So the Ride for Karen expanded to include a Kids Fun Ride and 25km and 100km events. Staying flexible and adapting to a changing donor base or marketplace is key.
Running the Ride for Karen is incredibly important to my brother and me and we are thrilled at how it has evolved. We started a small cycling event and it has grown so that now the Ride for Karen has provided more than $1.6 million to support people living with cancer. Create your own non-profit organization and you might amaze yourself at what you can accomplish.
*Kirk Tobias is the co-founder of the Ride for Karen, an annual cycling event, held in tribute to the life and legacy of Karen Tobias, that raises money to support people living with cancer. Next, Kris Tobias will talk about the impact of volunteerism.
** Markham, Chris. (2006) Ontario's Growth Projections and the Important Role Not-for-Profits Play. Charity Village Research, Retrieved at www.charityvillage.com