We hate to be the bearers of bad news but, in case you didn't notice, winter is coming. Another season of dressing like John Snow, or is it?
Perhaps there is a way to maintain your cool without succumbing to the weather. Perhaps there are some simple tricks of the trade to still look super stylish and keep warm this season.
We've scoured our favourite fashion sites, read all the how-to books and we've come up with a few simple hacks that will take you through the fall's cool chill (and winter's blistering cold) without having to sacrifice your outfit, or your dignity.
One of our absolute favourite style babes, Lucy Williams, taught us this incredibly easy and oh-so stylish hack. She layered a pretty white ribbed turtleneck, with feminine details like a scalloped neckline, underneath a sexy black camisole. Contrasting colours is super important in giving this look an overall impact. Basically, when you start with a turtleneck, anything is possible. You can layer a jumper, overalls, dresses, T-shirts, another turtleneck in a looser fit, what have you. The adage goes, a turtleneck a day keeps the doctor away.
We love how Josefine Haaning Jensen wears thigh-high boots with just about anything. A high-quality pair of thigh-highs are a girl's best friend. They look super sexy and are basically a long sock for your entire leg. Personally, we think they should be a requisite for all cold weather outfits. If you buy a pair of suede thigh-highs like the Stuart Weitzman Lowland boot, they travel really well. Basically they roll up into a ball and are perfect over jeans, under skirts and even with just a shirt dress. Warmth without the utility look.
Canadian blogger, Jill Lansky, swears by her thin, black neckscarf. And we think you should, too. This easy wardrobe essential can turn any outfit from chilly to chic. We especially love the thin neck scarf as an evening option instead of throwing on your everyday blanket scarf a la Lenny Kravitz. Date nights never looked so hot.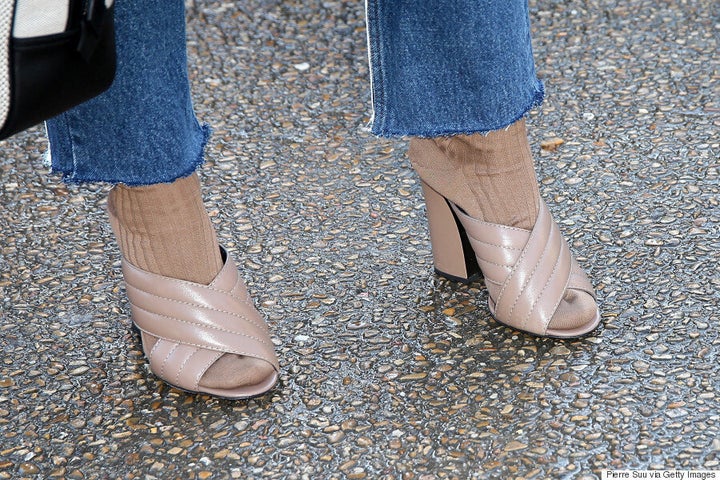 Thanks to the Russian clotheshorse, Miroslava Duma, it is now acceptable and totally cool to wear skin-coloured socks under sandals this fall/winter. We adore her approach to the summer season's must-have Gucci crossover sandals, with cozy ribbed nude socks under jeans. From far away you wouldn't even know she was as snug as a bug. Russian-approved wardrobe hack.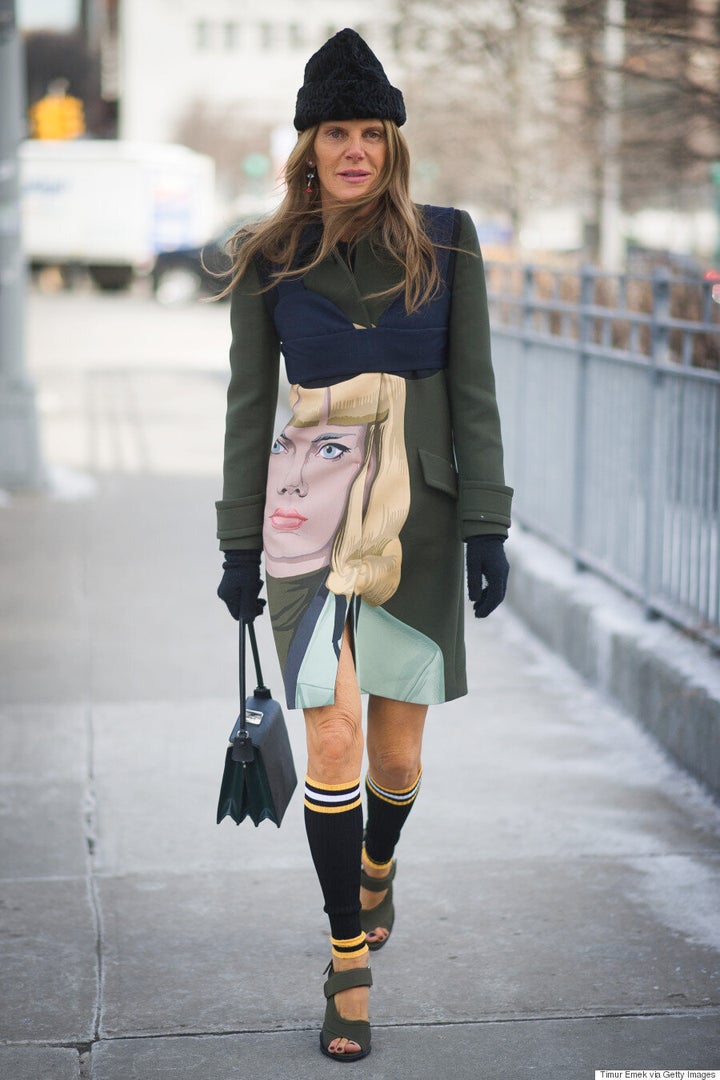 Sure, this trend was first introduced on the Prada runway for Spring 2014 — Miuccia showed us legwarmers in bright green with blue stripes, and crystal embellishment — but we don't see any reason for it to be a passing fad. Slipping on a legwarmer with fancy heels is genius. Take that, Jack Frost.
If you cannot bear to purchase a heavy parka this season, there's hope for those long walks home in -30C windchill. Might we suggest purchasing a few oversize knit sweaters (or borrowing from your dad, brother or boyfriend) and layering them over your lightwear jackets, which will then be layered over turtlenecks or collared shirts? The more the merrier. Instead of going the tradition layering route → T-shirt → sweater → jacket, try the reverse!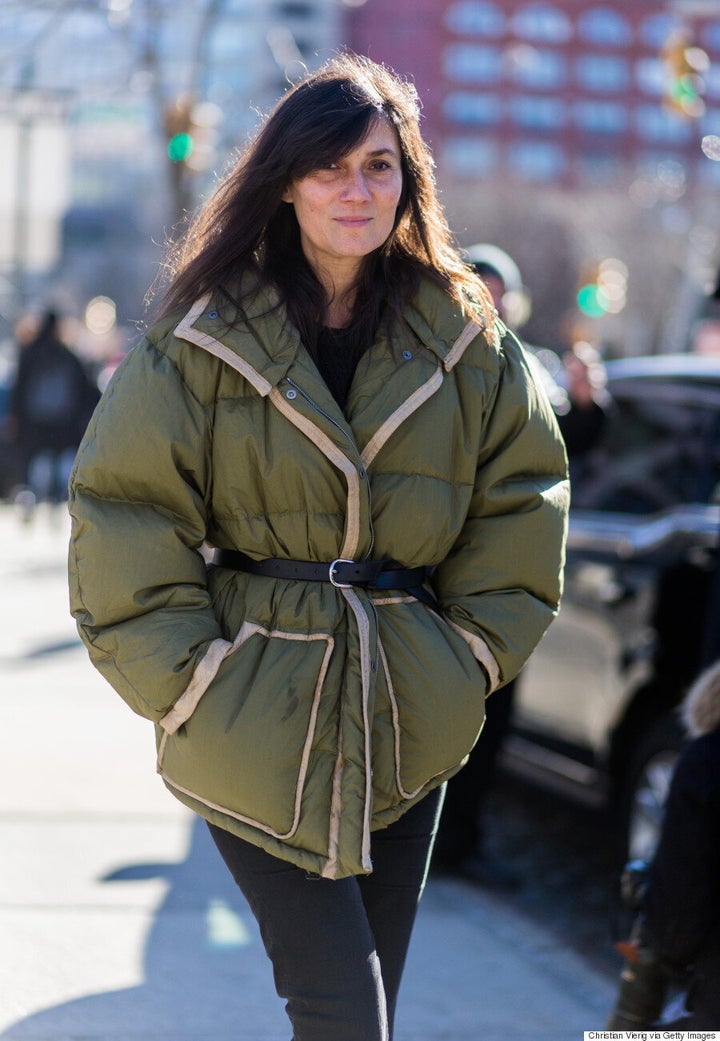 If you can however, bear to purchase a heavy parka this season, you might want to try belting it like Emmanuelle Alt for a street style win. All the rage, so many designers offered oversized puffer coats and parkas this season. But instead of drowning your waistline, try cinching it in with just a regular leather belt. Boom! You feel like a woman again instead of an amorphous blob.
OK, if you don't think this works, you're off your rocker. Instead of investing in a toque, which only keeps your ears warm and messes up your hair, invest in a felt wide brim hat. Montreal blogger, Gabrielle Lecasse, knows a thing or two about cold weather style (it gets too cold for life in Montreal) and she is never without her wide brim hat. Speaking from personal experience, I survived Nemo during NYFW with a wide brim hat. It saved my makeup looks and hair!
You haven't lived until you've worn a dress over a pair of pants. Look how the layered queen Maja Wyh, wears leather pants as a base, upon which she adds a black skirt, a white dress, a sweater and a blazer but somehow still manages to give us all the feels. Please note that this requires hours of practice. You can't just layer once and expect to be a master. Maja has been layering for years. So please, practice safe layering!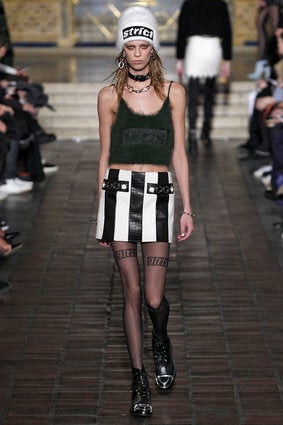 Fall 2016 Fashion Trends