Watching my son take off at top speed down our small street yesterday filled me with a feeling of awe that I can't explain. You see, he struggles with gross motor skills a lot, though he does with fine motor skills. Lots of kids with autism do. And though he has always been interested in learning to ride a bike, it came slowly.
I spent many a day with him practicing on his tricycle on our street, in the park during the spring and summer months. And then there was the work his physiotherapist did in school with him. I still remember her explaining to me why he had challenges on the bike. It had to do with low muscle tone on his upper body, balance issues.
She would work with him. She saw an interest. I saw the interest too, and though it was hard on me some days, with pleasure I went out with him. He had made amazing progress on his little boy's two-wheeler equipped with small training wheels.
A winter passed, and then this summer we were at a standstill. At first, I couldn't see the obvious. He had outgrown his little bike, but was not ready to shed the training wheels which would not fit on the next size bike.
I was at an autism conference where I saw large wheels adapted for adult models. These would be great for the future should he still need training wheels to bike ride, but for now, I could not find the right training wheels for the next size bike up. That was when I realized what I had to do.
I consulted the same physiotherapist who had been extremely helpful in the past. We rented a larger bike with training wheels, and when he got on he just zoomed off like any kid.
As I watched him, I realized all the work that I had done in helping this moment to come to pass. I thought of my dear mom friends who had invested equal amounts of time. There were definite steps we took, and today I want to share them with all of you special needs parents out there struggling to teach this skill to your special children.
1) Work on their core strength with exercises for upper body: Your child can exercise the core muscles by lying stomach down on a scooter and zooming around or swinging on a swing set. We installed one in our basement. It not only burns energy, but helps build core upper body strength. If your child will tolerate it, games like wheelbarrow (where you hold their legs and they walk on their hands) also work to build that upper core strength. Swimming is a particular favourite for my kids.
2) Start with only going up the street if you live on a small street, or bring them to a park: You would have them ride their bike for a bit, then go play on the rest of the equipment.
3) Use a friend's interest in biking and set up a biking play date: I did this with my son as he had a friend who was very advanced with bike riding. When he saw his friend riding, he was more encouraged to do it himself.
4) Show your own love of bike riding as a fun family pastime: I showed him my bike and he watched me ride around the block. He liked the idea of us doing it together.
5) Try practicing when the child is at their best and you are too: This will help you both have more patience with learning.
I also never put pressure on him in any way. If I had followed the above points and saw only frustration and stress on his and my part, I would have chalked it down to experience and left it at that.
Our family is trying to do more cost-efficient yet fun physical activities that we can participate in as a family. Bike riding is something I see us doing all together one day. I enjoyed doing it as a child and so did my husband, so it was important for us to expose our son to it.
If you find it's not working out for you and your child, however, I would encourage you to find a physical activity your child likes and go with that. You can apply the same points above to helping your child learn any activity that you also loved as a child and now as an adult.
The important thing is to never underestimate your child's ability to learn something they enjoy, as long as you let them do it at their own pace. Now go out and have some fun!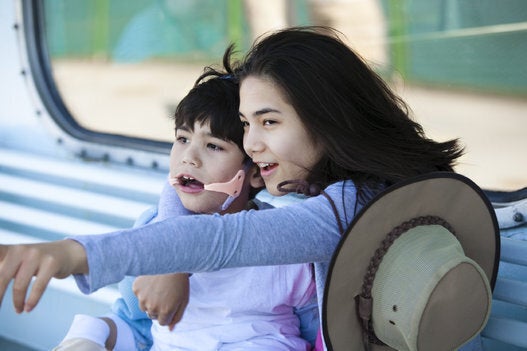 10 Things Parents Of Kids With Special Needs Wish You Would And Wouldn't Do