Election night often ends up being a waiting game, and as the whole country goes into voting mode and Canada's only baseball team heads to game three of their ALCS series with the Kansas City Royals, let's face it — there's a lot going on Monday night.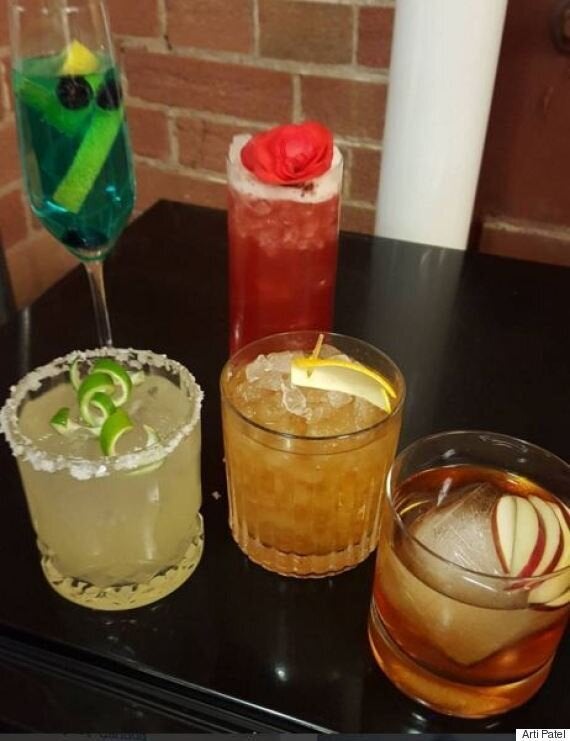 For election party-themed drinks, we teamed up with bartender Aaron Beauchamp from Toronto's Carbon Bar to come up with five cocktails you can make at home. (We suggest keeping a great Canadian beer or a shot for the drinking game, however).
Stay tuned for a live air demonstration with Beauchamp later in the evening.

Ingredients

1.5 oz cachaça (he recommends Leblon)

0.5 oz falernum

0.5 oz Grand Marnier

1 oz lime juice

0.5 oz simple syrup
The details: Rocks glass, on the rocks, salted rim, lime peel ribbon garnish.
Cocktail notes: Play on a margarita that says it's election time — let's party!

Ingredients

2.5 oz whisky (he recommends Gentleman Jack)

1 oz orange syrup

4 dashes angostura bitters
The details: Rocks glass, crushed ice, orange peel flag garnish.
Cocktail notes: A modified old-fashioned in honour of Jack Layton.

Ingredients

Using a combination of Calvados apple brandy, maple liqueur (he recommends Sortilège) and perhaps whisky (like Bastille French) with tobacco bitters and clove or chamomile syrup.
The details: Rocks glass, large format, fanned apple garnish.
Cocktail notes: A makeshift Negroni with a large format ice cube symbolizing "The Bloc!" No bilingual spirits in this cocktail.

Ingredients

4.5 oz dry champagne

1.25 oz gin (he recommends Tanqueray 10)

0.5 oz blueberry juice

0.25 oz simple syrup
The details: Champagne flute, lemon peel spiral, blueberry garnish.
Cocktail notes: This is a drink for the 1 per cent. Champagne, premium gin and blueberry to give it the proud PC blue. Drink that is refined but says, "Hey, we like to have fun too … once in a while."

Ingredients

1.5 oz bourbon (he recommends Woodford Reserve)

0.5 oz Amaro Montenegro

1 oz vanilla syrup

1 oz strawberry juice

1 oz lemon juice
The details: Collins glass, Collins format cube, topped crushed ice, and poppy garnish.
Cocktail notes: An obvious play on the first three letters of Trudeau.

For games, we have something for baseball lovers and something for trivia lovers, so get your shot glasses and drinks ready. For the first game, "Canadian or Canadi-ain't," put together a group of three and have your drinks and boards ready. These are the questions we will be asking our participants on Monday. (The answers will be listed on the bottom).
1) There is a currently a 850m beaver damn located in Northern British Columbia.

2) 67 per cent of the world's maple syrup is made in Quebec.

3) The man with the world's longest beard currently lives in British Columbia.

4) Canada produces 1.5 per cent of the world's food, but only consumes 0.6 per cent of it.

5) Currently, 34 per cent of Canada is taken up by forests.

6) The Aquatic Bathtub Race is an annual event in Nanimo B.C..

7) The leaf on Canada's flag has 10 points.

8) In 2008, Smith was the most common surname in Canada.

9) The term "Beatlemania" was coined in Ottawa.

10) The first plastic garbage bag was invented in Canada.
Answers for "Canadi-an or Canadiain't" : 1) False 2) False 3) True 4) True 5) False 6) True 7) False 8) False 9) True 10) True
Our second game for the evening is about the Toronto Blue Jays. In this drinking game, we have 14 scenarios that are bound to happen throughout the game. Our suggestion? Start in an inning of your choice and try to do three innings in total (or three rounds an hour). And because they are all shots, we also suggest taking sips of your beer or wine — it is a Monday night, people.
Take 1 shot if you see...
Take 2 shots if you see...
1 Of The Top 5 Players Batting

For food, keep things simple. We're going with very Canadian chips like All-Dressed and Ketchup, as well as party favourites like corn chips, salsa and other dips. Chef Danny Hassell of upcoming Toronto restaurant Parcae, as well as former "MasterChef Canada" season 6 finalist chef Michael Baffi have also come up with Canadian-themed appetizer ideas. And no, we're not talking about poutine and bacon-wrapped, um, bacon, but dishes that celebrate the true spirit of eating local products and goods.
For tonight's menu, we will feature live scallops with lentils, guanciale and clay pepper, as well as a duck ravioli with mascarpone cream, duck skin and hazel nuts. For vegetarians, both chefs will prepare a radish salad with three types of radish, fennel pollen, fennel, orange and chili. To top things off, the chefs have also created a "Poor Man's Pudding," with maple syrup and cream.
Popular in the Community