Growing up, my mother seemed to believe that scarves were a preventative measure akin to vaccines or prescription medication. Simply putting something around one's neck could inoculate them from the ails of autumn's chill in a way that antiseptic soap and vitamin C caplets could only dream of replicating. Given that I still rarely get sick, maybe she was onto something.
As we enter these last throes of this wet hot Canadian summer though, it's understandable that few of us want to talk fall fashion -- especially men and especially about scarves.
Guys and scarves have a long and storied relationship. Despite its more modern applications in keeping warm, the accessory has its origins in Ancient Rome. In those times, scarves were made of wool and worn exclusively by men to wipe the sweat from their neck and face in hot weather. Does anyone know the Latin word for, "yuck?"
Fortunately, antiperspirant and laws against indentured slavery have allowed scarves to flourish solely as a fashion accessory. Now they serve a higher purpose of adding a punch of colour or making an outfit look more put-together. What is paradoxical though is that while men were the first adopt scarves, many now just don't know what to do with them.
What these articles fail to acknowledge is that the modern man has a variety of scarves at his availability. From faux fur wrap to large blanket scarves to statement-making graphic prints, it's hard to reduce scarves tips just to a Parisian knot when you have so many options. With the '70s casual trend in full swing for 2015, tying scarves is more against trend this season anyways.
To make sure you look cool without catching a chill, here are the hottest men's scarves for fall 2015: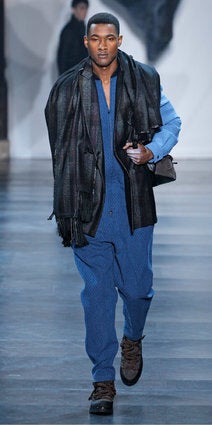 Men's Scarves