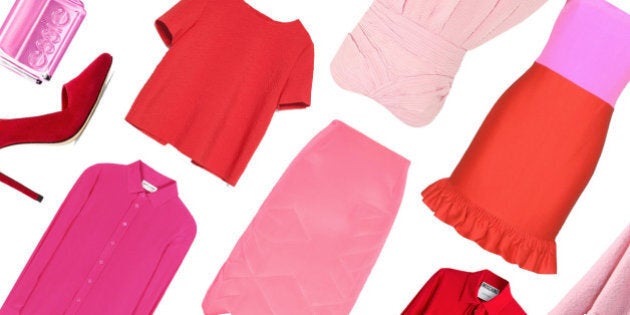 Wearing red and pink together is quite the statement.
At first glance, it gives you a sartorial edge but it also keeps your outfit fresh and interesting long after. Although we've been warned against this colour combination since what feels like childhood, like other "fashion advice," this rule was made for breaking.
Finding a perfect way to balance these two hues in one outfit can be a delicate task, but there are many ways to seamlessly add this colour mix into your wardrobe!
Read on for helpful tips to mix red and pink into your next look, for Valentine's Day, or for any other day of the year.
Story continues below the slideshow.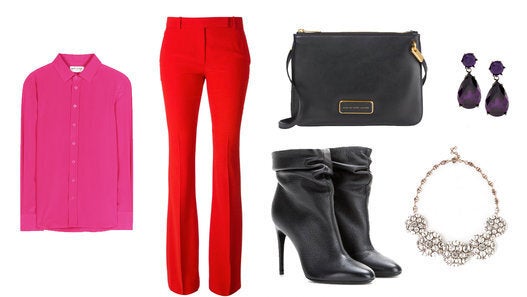 How To Wear Red And Pink Together
Make sure it's evident that the colour combo is intentional. If you go half-way on this, it will look accidental.
For the boldest look, avoid incorporating prints into the outfit.
Use an accessory as the other colour. Try a red top with a pink scarf or a pink jacket with a red statement necklace.
A dark neutral, like black, will incorporate the two colours together and allow the eye to go to the colour combo. Try black pants with a red jacket and pink top.
5. Don't Forget The Shoes!
Try a great pair of red shoes with a pink dress!
6. Incorporate The Two In Your Beauty Look
Go for red lips and pink nails. Or, try wearing red nails with a pink dress. These combos would look great with any of the other tips on this list.
7. Go For Something Pre-Mixed
Find a colour-blocked piece that has already done the work for you.
Try a soft pink coat on top of a red skirt, or a bold red jacket over a pink blouse.
9. Think Of The Colour Spectrum
Try moving red on the colour wheel to an orange hue, and the pink to a more purple tone, such as fuchsia or magenta for even more pop.
10. When In Doubt, Go Bold.
Bold red and bright pink look stunning. It's really hard to go wrong!