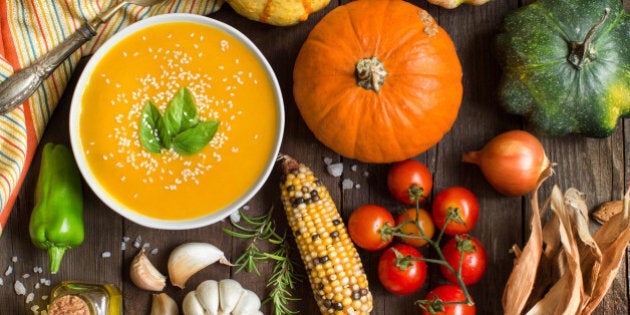 Vancouver has long been a vegetarian-friendly town. Back in 2010, People for the Ethical Treatment of Animals named the city the sixth most veg-friendly city in North America and number one in Canada.
But Vancouver and the rest of B.C.'s Lower Mainland have become more than just a good place to buy a veggie burger.
Over the last few years, Vancouver has seen the launch of numerous restaurants specializing in plant-based foods. Most recently, a gourmet pizza joint, Virtuous Pie, began offering meat-and-cheese-free pizzas to rave reviews. During the summer, Nice Vice, the city's first non-dairy creamery, attracted similar attention with a range of ice creams - all free of animal products.
This was not long after two restaurants, Meet on Main and Meet in Gastown, emerged to offer vegan comfort food, while The Acorn and Heirloom introduced more upscale vegetarian dining. These popular new spots joined well-established veggie favourites like The Naam and a wide range of eateries, cafes and bars with vegan or vegetarian-friendly menu options.
And the trend is set to continue, with Toronto's vegetarian butcher, Yam Chops, set to open a Vancouver operation in 2017.
But the meat-free trend in Metro Vancouver has not been confined to restaurants and retailers. A growing plant-based food industry has also taken root in the region. Big players in the meat and dairy alternative industry, such as Gardein and Daiya, are locally-based but sell their products across North America.
Meanwhile, the Meatless Monday movement is catching on among Metro Vancouver students. Langara College led the way in 2015, becoming the first campus in Western Canada to join hundreds of schools worldwide that have adopted the concept in their food facilities.
The Vancouver Humane Society (VHS), which worked with Langara on the initiative, has also helped introduce Meatless Monday to the British Columbia Institute of Technology and several high schools. Discussions are underway with more schools and hospitals about introducing the concept.
VHS is also hoping to gain more support for the movement from the City of Vancouver, which proclaimed Monday, June 13, 2013 as Meatless Monday. A number of major U.S. cities, including New York, Los Angeles, San Francisco and Philadelphia, have endorsed Meatless Monday and promote it to their citizens.
Vancouverites are not alone in moving toward a plant-based diet. A poll commissioned by VHS in 2015 showed that British Columbia is the most vegetarian-friendly province, with 13 per cent of respondents identifying as vegetarian or mostly vegetarian and a further 26 per cent trying to eat less meat.
It also found that 33 percent of Canadians, or almost 12 million, are either already vegetarian or are eating less meat. That figure includes eight per cent who identify as vegetarian or mostly vegetarian, as well as 25 percent who stated that they are trying to eat less meat.
While it may be a coincidence, B.C., and Vancouver in particular, also have among the lowest obesity rates in the country.
More health professionals are certainly recommending eating less meat. One Vancouver doctor recently wrote a blog post for the University of B.C. Faculty of Medicine, explaining why he has changed his practice to include recommending plant-based diets to his patients. Dr. Jan Hajek states:
"As well as foot care, smoking cessation, and medication adherence, I now recommend a healthy, low fat, plant-based diet to patients with complications related to diabetes. I often start by saying that studies have shown that a plant-based, vegan diet that avoids meat, eggs and dairy products has shown health benefits, particularly in patients with diabetes."
While some Canadians smirk at Vancouver's reputation as the trendy home of latte-sipping yoga enthusiasts and urban hipsters, this is one trend that could give the city the last laugh when it comes to benefiting from a healthy, sustainable and kinder diet.
Follow HuffPost Canada Blogs on Facebook