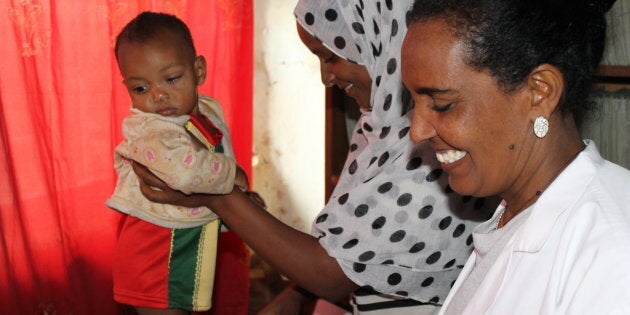 At a small health post in the village of Mirab, Ethiopia, a bright-eyed, chubby-cheeked infant named Bontu is placed on a scale. His mother looks on proudly as Aynalem, a Health Extension Worker who seems to take equal pride in Bontu's wellbeing, records his healthy measurements. Despite living in one of the most drought-prone and food insecure regions in Ethiopia, Bontu is growing into a healthy, well-nourished child.
Aynalem's pride stems from the deep transformation she has seen in her community during her eight years as a Health Extension Worker. Her face lights up as she reflects on that time: "There are so many changes. When I first came here, mothers were not following antenatal care, and so many children were malnourished. But now these things are really changing."
RESULTS Canada recently led an educational delegation to Ethiopia to give Members of Parliament a firsthand understanding of Canada's role in this transformation. MPs Yasmin Ratansi, Iqra Khalid, and Matt Jeneroux visited health posts and health centres, and observed training sessions led by Health Extension Workers.
We learned about the lifesaving value of nutritional supplements UNICEF supplies to malnourished children. We watched dozens of women gather under a tree to learn from a Health Extension Worker about giving their children the best start in life through Grand Challenges Canada's Saving Brains program, implemented by the Christian Children's Fund of Canada. We heard testimonials from adolescent girls about the transformative power of Nutrition International's Weekly Iron and Folic Acid Supplementation programming. Many adolescent girls feel "stronger and more healthy" after starting the program, noting that their attendance and performance at school have improved since anaemia no longer makes them feel dizzy and exhausted.
All of these programs have been supported by Canadian international assistance. The strength of their effectiveness lies in their integration into existing health care structures within Ethiopia, particularly through the Health Extension Worker program.
This program is a key pillar of Ethiopia's health care system. After completing secondary school, Aynalem, like tens of thousands of other young women in Ethiopia, was selected to participate in the year-long Health Extension Worker training offered by the government. She learned about health interventions ranging from family health care – immunizations, family planning, maternal and child health, nutrition, and harmful traditional practices – to hygiene and sanitation, and communicable disease prevention and control.
Equipped with these life-changing skills and a government salary, Aynalem returned to her village as an agent of transformation.
Health Extension Workers like Aynalem train hundreds of other women in their communities, empowering them to make informed decisions for their families and completely transforming the health profile of the region. As Aynalem pointed out, one of the most significant features of this transformation is the reduction in rates of child malnutrition.
Across the globe, one in every four children suffers from stunting. A lack of nutrients prevents them from growing to their full physical potential and stops their brains from developing as fully as their well-nourished peers. As a healthy child with a diet rich in diverse nutrients, Bontu will grow up to be the right height for his age, he will have the cognitive ability to learn and thrive in the classroom, and he is likely to earn 20% more in adult wages than children who are stunted.
Good nutrition is an even more powerful catalyst in the lives of women and girls. A combination of biological and social factors results in women being twice as likely to suffer from malnutrition as men. Because of blood loss during menstruation and higher iron demands on their bodies during pregnancy, one in five women has iron-deficiency anemia. This causes fatigue, dizziness, and a host of other symptoms that make living a healthy, productive life very difficult. In addition to this, there are many regions of the world where women eat least and eat last. They miss out on crucial nutrients they need to lead full lives and fulfill their potential. But this doesn't have to be the case.
An investment in nutrition is an investment in health, learning, and a brighter future.
With the release of its Feminist International Assistance Policy in June, Canada recognized that women and girls have the power to change the world. But this policy will only be truly transformative if nutrition is a key pillar in its implementation. As Nutrition International points out, good nutrition is the difference between giving birth to a child and giving them life. It's the difference between going to school and learning. Good nutrition transforms a person's existence from merely surviving to thriving.
Aynalem is a shining example of the potential inherent in every woman across the globe to create positive, transformative change within her community. Canada can play a role in unlocking that potential through the power of good nutrition. By ensuring that adolescent girls, expectant mothers, babies, and children are well-nourished, Canada's international assistance can contribute to a world where everyone has the opportunity to thrive.
Erin Gilchrist is Parliamentary Officer at RESULTS Canada, a global movement of passionate citizens, committed to raising our voices for a world without extreme poverty.
The views expressed are those of the authors and do not necessarily reflect the views of CCIC or its members.