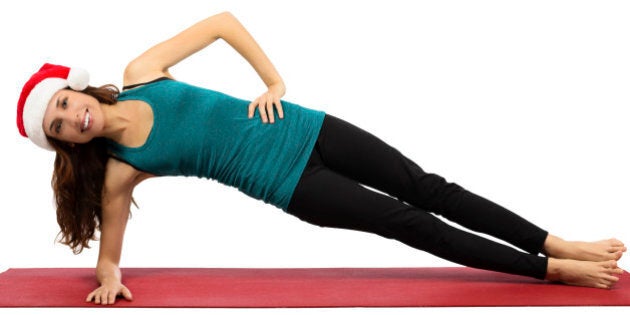 With the holidays around the corner, it is easy to get caught up in the whirlwind of stress and exhaustion. When this happens, I take a step back, breathe and hit the mat. For me, the holidays is about being present and spending time with loved ones and people in my community.
Yoga helps me to stay calm and present at this time of year.
To find out all the best tips on how you can use yoga to stay happy and calm this holiday season, I spoke with Rachel Scott, Director of Teacher Development at YYoga. Rachel shared her knowledge of yoga and tips for calming the nerves during this busy time of year.
Wow, what a big question! The philosophical answer is that Yoga is a technology to transcend suffering and to recognize our true essence. It has had many incarnations over the millennia. It's most ancient form is meditation but in the last couple of hundred years, the yoga that we practice which is called hatha, also known as physical yoga, has become prominent especially in North America but really, yoga at its heart is a tool we use to be happier and healthier people.
How can yoga help during stressful times like the holidays?
Yoga is perfect for stress relief. It's designed to help calm our nervous system so when Aunt Matilda starts getting on your nerves about the cranberry sauce, get to Hatha! We tend to see the world with more loving glasses after a yoga class.
Anyone can do yoga! Yoga is for everybody. Ultimately yoga is not about doing fancy poses; it is about your connection to yourself.
Why would anyone want to try yoga?
The physical benefits are increased flexibility and strength but the mental benefits are what is really transformative. Yoga helps us become responsive rather than reactive, increases our mental clarity and helps us to be more mindful in the world.
How can a person start yoga?
Start with a Hatha class. Hatha is perfect for getting back to the fundamentals.
Other tips around the holidays?
Breathe. Practice self-care so that you can be more available and present with others. Enjoy your holidays and don't worry too much about the cheesecake.
Are you worried that you aren't flexible enough for yoga?
I contacted one of the most renowned yoga teachers today, Seane Corn; she shared with me her thoughts on the topic of yoga.
"My hope is that regardless of size, gender or sexual orientation, yoga can be a tool to experience this world and planet in a more unified and integrated way. There are so many different ways to get into yoga."
When I asked what would be Seane's advice to anyone wanting to try yoga for the first time she shared this: "One aspect of the practice of yoga is that it can increase our flexibility, you do not need to be flexible to be in a class. Yoga meets you where you are at. If you want to decrease stress then yoga will meet you there, if you are seeking something else it will meet you there too."
I will continue to practice yoga and will share my experiences. If you have ideas or questions about yoga please leave a comment below and I will do my best to find the answer for you.
Your suggestions are always welcome, as I continue on my journey to enjoy life to the fullest. Let's have the very best holidays ever!