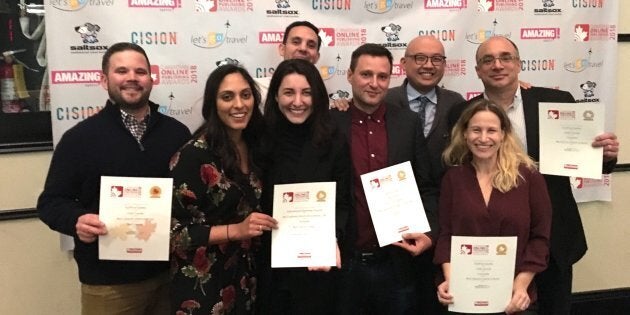 The COPA recognize outstanding achievement in Canada's digital media landscape. Nominees included large outlets like CBC and CTV News as well as niche publications like The Local and The Narwhal.
From exclusive reporting on #MeToo in politics to an examination of video game addiction, the awards for HuffPost acknowledge our work across news, video, and lifestyle content in English and French.
HuffPost had seven nominations going into the night, with wins for:
Best continuing coverage of a news story, HuffPost Canada (Gold)
Reporter Catherine Lévesque was recognized for her reporting on #MeToo in Canadian and Quebec politics. The winning entry included editors Althia Raj and Andree Lau.
Best consumer lifestyle article or series, HuffPost Québec (Gold)
Trans.com, a French video series that examined the impact of the internet on three transgender people, won gold. It was produced by reporter Francis Pilon, video journalist Daphnée Hacker-B and video editor Hugo Jolion-David.
Best service article or series, HuffPost Québec (Silver)
Producer Elsa Vecchi, director/producer Nils Incandela and video journalist Étienne Brière were recognized for their three-part series on video game addiction, Gamers: la rage de jouer.
Best investigative article or series, HuffPost Québec (Silver)
A feature series by reporter Nicolas Mesly and video journalist Hugo Jolion-David examined the mental health crisis plaguing Quebec farmers won silver. Editors Christian Duperron and Patrick White also contributed to the series.
HuffPost Québec ended the evening by capturing "Best of Canada" video content. "They push themselves to do something more every day," HuffPost Canada business editor Daniel Tencer said, in accepting the award on behalf of the Montreal-based team.
International project
A multimedia project that HuffPost Canada co-produced with the University of British Columbia's international reporting program won gold in the academic category for best article or series. "Stuck" follows asylum seekers and migrants as they journey through Turkey's two-tiered immigration process, and reveals the complex system faced by non-Syrians as they try to start new lives in Europe.
Other nominations for HuffPost Canada included best publication, as well as:
Backbenchers, a bi-weekly show on Canadian politics hosted by senior politics editor Ryan Maloney and news editor Mohamed Omar. The team also includes senior producer Allia McLeod, producer Amanda De Souza, director of photography/editor Stephanie Sannuto, and executive producers Andrew Yates and Sasha Nagy.
Best consumer email newsletter
HuffPost Canada's weekly housing and real estate and real estate newsletter is written by senior business editor Daniel Tencer and supported by senior audience development editor Ron Nurwisah and audience development manager Rebecca Zamon.