All of us here at HuffPost Canada are very excited for the Blue Jays to play Cleveland's baseball team. But that's as far as we're going to go in describing Toronto's opponents in the American League Championship Series.
The team's use of the name "Indians" and their Chief Wahoo mascot is racist — simple and plain. It is also "antiquated and unnecessary" and not the only example, wrote HuffPost Canada's managing editor of news, Andree Lau, in a memo to staff.
And so we will not be using that term as part of a new editorial policy -- or any other team names that appropriate indigenous names and mascots -- whether they're batting baseballs in Cleveland and Atlanta, hitting hockey pucks in Chicago, or throwing footballs in Washington, Kansas City and right here at home in Edmonton.
HuffPost Canada's senior managers may have made this editorial decision because it's 2016, but the issue of appropriating indigenous culture for team names mascots is not newly offensive.
Ryan McMahon, an indigenous comedian, activist and star of upcoming doc "Colonization Road," told us that laying out the reasons behind such a decision is vital.
"What is helpful is if news organizations like Huffington Post or ESPN or anyone else takes this step and then talks about why they took the step to help educate people," he said. "It's been decades that people have been saying this. There's still a disconnect between indigenous peoples' realities and the mainstream, so the more mainstream news orgs we have onside with this, the better off we are in the fight to really bring about systemic change."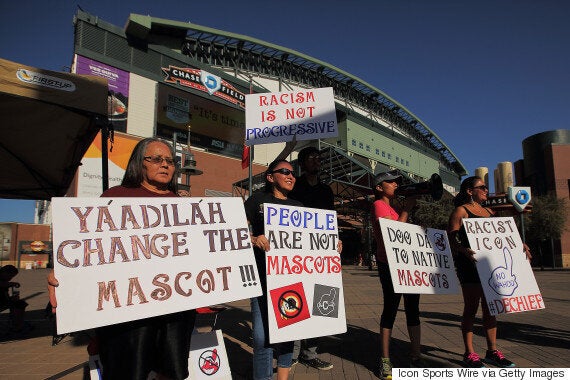 In 1972, the Cleveland American Indian Movement first sued the team for libel and slander, "in an unsuccessful effort to change the 'Cleveland Indians' team name and abolish its shameful, racist dead-Indian-head logo 'Chief Wahoo.'"
"We firmly believe that attaching the Progressive name to institutionalized racism directly contradicts this proclaimed core value, and sends the insidious message that racism is somehow 'progressive.'"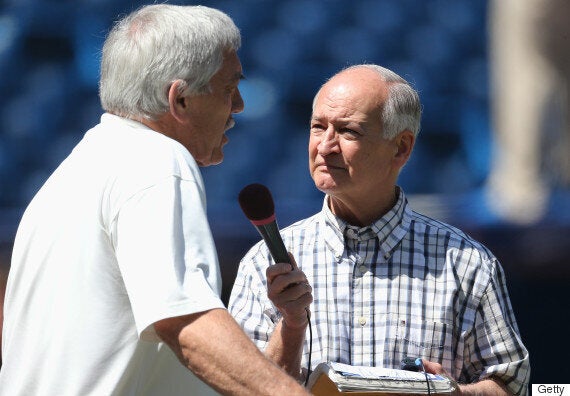 "When you get a fan letter from someone who has lived it and breathed it, and said it in this very eloquent way," Howarth recounted, "he touched my heart."
Sports Illustrated stopped using the Washington NFL team's name in 2013, joining a long list of media outlets from Seattle to Detroit to Kansas City that refuse to use the slur because, as the Philadelphia Daily News' put it: "In practical use, the R-Word is no different from calling an African-American the N-Word, a Jewish person the K-Word, a Hispanic the W-Word, an Irish-American the M-Word, or an Italian American a different W-word."
The New York Daily News put it even more succinctly: "The time has come to leave the word behind."
But it's not just that word. It's all appropriations of indigenous names and mascots by non-indigenous teams.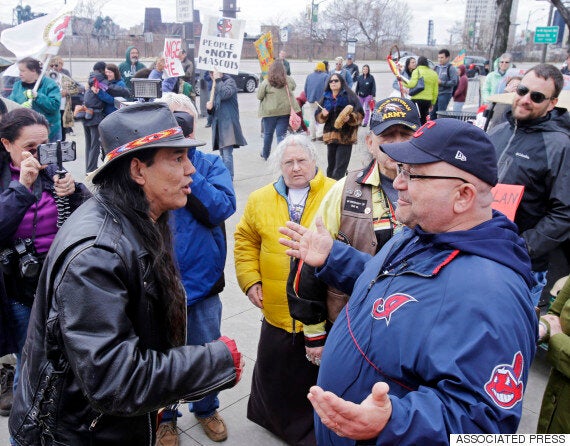 "... the immediate retirement of all American Indian mascots, symbols, images and personalities by schools, colleges, universities, athletic teams and organizations... Research has shown that [it] has a negative effect on not only American Indian students but all students."
McMahon pointed out, "How do I explain this to my kids when we're watching TV that it's OK for people to be in redface and do Chief Wahoo war whoops with their hands over their mouth? How do I explain that? Well, I can't."
"It's only indigenous peoples' symbols that are being utilized by sports teams. I don't think there is any cultural group that is subject to that anymore. People need to re-examine their behaviour -- all aspects of their behaviour -- the way they are doing business," Sinclair told the Canadian Press in 2015.
"It boils it back down to the real issue -- [whether] they want to cling to that more pejorative expression or not."
"It's only indigenous peoples' symbols that are being utilized by sports teams. I don't think there is any cultural group that is subject to that anymore."

-- Justice Murray Sinclair
Most teams cite history and/or that they're honouring indigenous groups. Cleveland does both, claiming the name -- which dates back to 1915 -- honours former Native American player Louis Sockalexis from the team's prior incarnation as the Cleveland Spiders.
"The man who said that there are no good Indians but dead Indians or words to that effect surely never saw Louis Sockalexis."
This was the lead of a Cleveland Plain Dealer article from 1957: "Cleveland is going to get some new Indians, but this is no baseball story. Honest Injun, these will be real Indians."
But this defence also undercuts their whole argument about not being able to change their name because Cleveland has a storied history of changing their baseball team's name.
They joined the National League in 1876 as the Cleveland Forest Cities and three years later became the Cleveland Blues. They were the Spiders by 1887, and in 1900 the team was the Cleveland Lake Shores, which quickly renamed the Cleveland Bluebirds until 1914.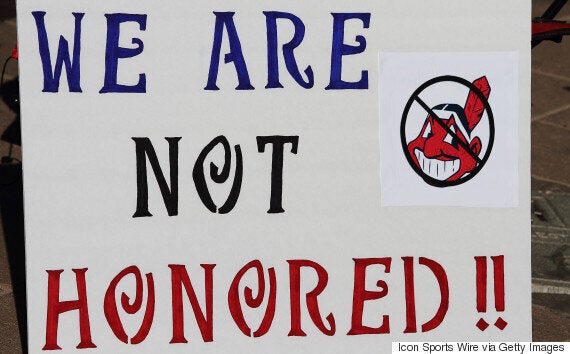 Thing is, it's not just about Cleveland. It's about dehumanizing and objectifying indigenous people, turning them into insulting caricatures and inaccurate stereotypes.
It's about fans putting on redface and headdresses, doing tomahawk chops and war whoops.
It's about clinging to the racist past instead of progressing into an equitable future.
But change is happening, if not in the big leagues, then at least down in the little leagues and at elementary, secondary and post-secondary schools where it remains a too-common feature of youth teams.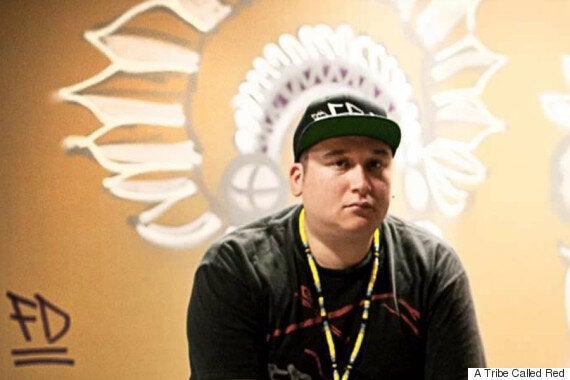 Ian Campeau, from Juno-winning music trio A Tribe Called Red, convinced the Nepean Redskins to change their name to the Nepean Eagles in 2013 after filing a human rights complaint.
After two years of insisting the name "was never used in a racial way" as protests mounted, team president Steve Dean finally admitted "the current name is offensive to some, and thus divisive to our community."
Peel District School Board spokesman Brian Woodland blasted complaints of political correctness over the name change.
"I think that's such a misnomer. As a school system, we don't ever want something that is offensive, that is hurtful," Mr. Woodland told the Globe. "We don't ever want something that makes people not feel included."
And we can only hope that sooner than later, the owners and fans of these major league teams will feel the same way.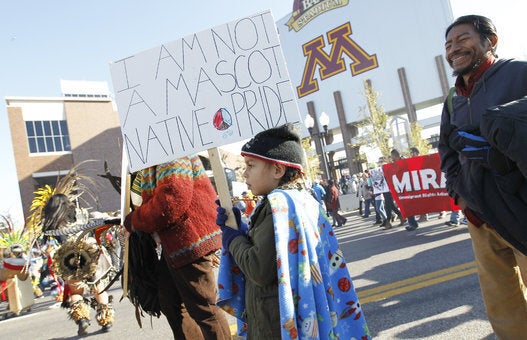 Redskins Name Change Advocates
Popular in the Community