Where are the readers? It's a question that many of us in the news industry have been asking. I won't lie: When I was asked last month at a conference what my biggest fear was, what keeps me up, I answered, "Where are the readers? Where have they gone?"
A year after we launched The Huffington Post Canada, I can confidently say that I think we've helped win back some of you. Our approach to storytelling, and how our journalism is conducted, and how it is shaped by social media has helped us answer that question.
A year on, I can tell you that readers are coming. As of April, 2.9 million Canadians visited Huffington Post sites to the tune of 415 million page views. We have more than 800 bloggers, who have contributed more than 5,000 posts. Our readers are so active, leaving 12,000 comments a week on our site for a total of 340,000 comments to date.
A few months ago, a piece ran in The Globe and Mail about us: Is The Huffington Post the future of journalism? "The future of journalism" is always a heady discussion I see flashing by on my Twitter stream.
The media space, like the tech environment we're a part of, has seen its share of disruptors. They emerge and almost instantly become the new brands, seemingly appearing out of nowhere: Google, Facebook, Twitter, Apple, Instagram, Pinterest are examples of the idea that challenging the status quo was a formula for success.
The Huffington Post is a disruptor. What I love about us is that we are digital -- end of story. Many of you have heard the cries from news executives who say, "Put the digital guys in charge." You hear others who use the words "digital first." They are talking about media that are rooted in other businesses. In my business, digital is the business. Period.
Years ago, HuffPost adopted the fact that with digital, newspapers no longer fight against newspapers, portals against portals, T.V. against T.V. But another factor has emerged as well -- and it's important to not lose sight of that: We are in the battle for readers and for their time. Time, not news, is the suck, and every platform is on the same battlefield for that time.
Time -- sucked away by longer work hours, hobbies and our overheated smartphones -- pit media against radio, T.V., movies, Twitter, books, exercise regimes and your favourite HBO series. We battle across those platforms and against those same players.
We believe content has no barriers: The medium changed the form, but think of it as an evolution. This day, I believe we have more tools to tell stories. Video, Social, Text or a mashup of all of the above. We create our journalistic constructs so they are read from beginning to end.
A few of our highlights from this past year:
A blog from Charlie Angus. It was titled "What if They Declared an Emergency and No One Came?" It had garnered thousands of shares on FB, and countless retweets. The story was Attawapiskat, and the blog was the first time the story got out to the masses. Seventy-thousand FB shares, 1,200 Tweets, 900 comments and by that Thursday, Charlie was calling it a "digital storm" that was forcing its way into the public debates on that same floor.
The platform we have is built for social because it is social. The debate we foster is amazing. We are a social news experience. Social is not a skill set, it is in our DNA, and how we communicate with you, our community. Everything we do flows to social and we see the results in the high level of participation in our comments to the amount of sharing that happens around our stories. We shape our content based on feedback from you. And we have countless examples, including a few memorable hashtags, #beereh, #giftgurus, #snowballfight, #myspring, #huffquiz.
We have a tone and personality, and it helps us connect to our audience. It is part of our identity and I think you love us for that.
We support great journalism -- to not always be where the scrum is. There are many examples throughout our daily coverage, but I'll point to how Althia Raj covered the CETA trade negotiations and was at many times the lone Ottawa reporter covering the NDP leadership race, and our business team's thoughtful and well-reported Mind the Gap series.
HuffPost is exciting because it has opened the door to a new audience that have distanced themselves from news. We are happy to engage and inform that audience. HuffPost is great simply because we now have another voice among many -- who can argue against that?
To my colleagues throughout the industry: Let's do ourselves a favour. Let's stop talking about the future of journalism. Let's stop hand wringing about what outlet is doing what, what territory they are pushing. Let's stop laying blame -- at culture, leadership. Let's focus on listening to what our audience is doing. What they are not doing. "Be where the puck is" is my motto because I translate that to mean be where the reader is.
Our living editor Rebecca Zamon told us about a dinner she had recently with her husband's cousins, where she talked with their 86-year-old aunt.
"When I told her where I worked," Rebecca said, "she exclaimed, 'I love the Huffington Post Canada -- I read it every day! Keep up the great work.' 86!"
A few weeks ago, I was having lunch with my girlfriend's family, when her 18-year-old niece, started talking about the news. "The Huffington Post, I read that!" she said, referring to an RSS reader on her new Macbook. As I told her she was my now-favourite family member, another person flipped on her iPhone and showed me her news app, with that big unmistakable HuffPost icon. So there's where the readers are.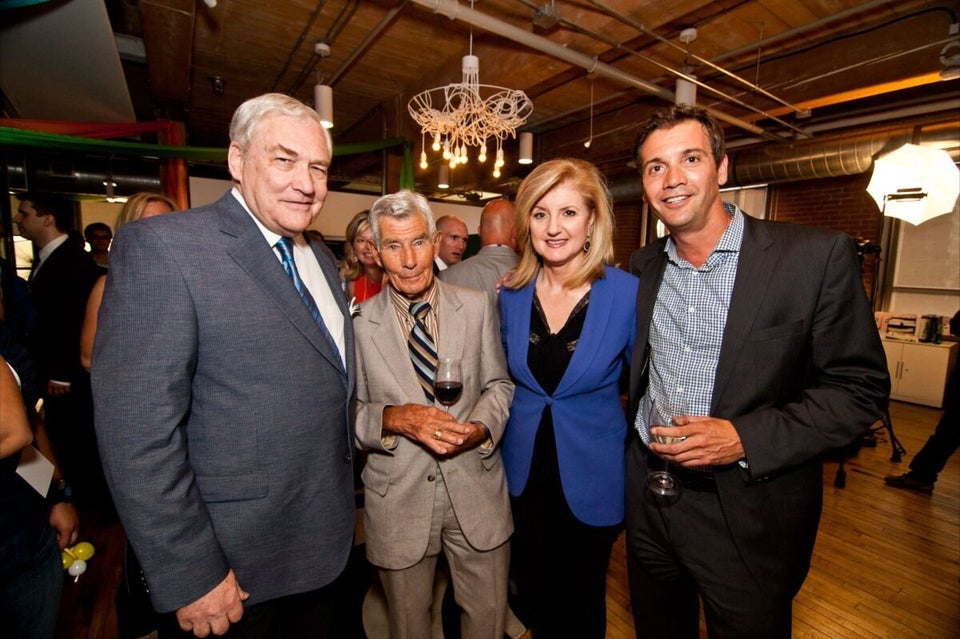 HuffPost Canada's Birthday Party
SEE HUFFPOST FIRST BIRTHDAY PARTY COVERAGE HERE.
This blog is adapted from a keynote delivered to the Canadian Association of Journalists annual conference in April.