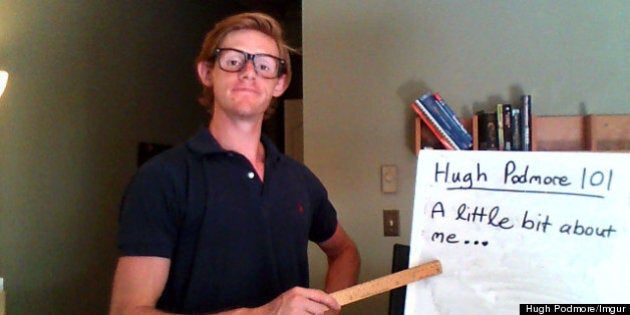 Hugh Podmore is moving to Toronto from downtown Montreal and he needs some roommates.
The 22-year-old took the traditional route of posting an ad on Craigslist, but decided to spice things up a bit.
His photos became an instant hit, and while he's only received two Craigslist responses, the album shot straight to the top of the page and got over 400 comments since it was posted by user All_thingsConsidered.
"I actually intended it to be a pretty normal Craigslist ad with the imgur thing just thrown in to spice it up," Podmore said in an email to the Huffington Post.
"I was hoping that it would arouse the interest of some other like-minded individuals who might otherwise have only advertised their amazing apartment to their own circle of friends."
In the album — which has since received over 49,000 views — Podmore lists his hobbies (Quidditch, rock-climbing and kite-surfing included) as well his qualities as a prospective roommate.
He's a good cook (but not vegetarian), quiet (but social), and even doesn't mind sharing food. He loves karaoke and is up for "roommate bonding over pitchers and mediocre renditions of Queen."
Did we mention he wants to be a "Master of Space"? Podmore will start his Master's in Earth and Space Science at York University in the fall.
"I've always loved space, but I don't know if the PhD track is for me, so I'd really like to get into the space exploration industry, which is just now starting to really pick up steam," he said.
"York's program has a lot of strong ties to industry, so it was a natural fit."
And it seems he would be a natural fit to many people on Reddit.
"I'm considering kicking my wife and kids out of the house just to make room for this guy!" wrote Reddit user section111.
"Mr Podmore, if you ever, EVER come to Glasgow, Scotland then let me be your friend! You're awesome! :3," wrote user cinnamonkitsune.
User ckillgannon wrote: "You're adorable. If you ever head down to the Sunshine State (Florida), beer's on me."
Podmore was "flabbergasted" by the reactions online, and made another album as a thank you to the Reddit community.
He was close to finally finding a place when user collocake made an offer, but Podmore told the Huffington Post Thursday that someone else had beaten him to it.
The roommate search continues.