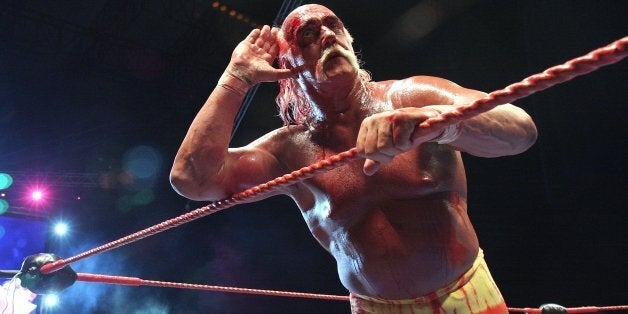 Moderated by former WCW president Eric Bischoff inside the Metro Toronto Convention Centre's John Bassett Theatre, the Friday night event requires a separate ticket from Fan Expo proper, but will give Canadian Hulkamanics the opportunity to go one-on-one with The Hulkster and ask him anything they want.
Turns out they deserve it, because when we caught up with Hogan for our own Q&A, he revealed that fans played an important role in bringing him out from his post-divorce depression and his son's legal troubles to what is now the happiest time in his life.
HuffPost TV: This is the first time you've done any kind of convention appearance like this in Canada, so what brings you to Fan Expo?
Hulk Hogan: Well you know, I really love Toronto. There's been this crazy love affair between me and all my Toronto Hulkamaniacs. It's like magic up there. It has just been crazy -- what goes on between me and the fans -- and I just thought it would be a great idea to come up, see everybody, be part of Fan Expo and let everybody know that Hulkamania's alive and well. I'm really looking forward to doing 'Hogan: Uncensored,' where I get an opportunity to sit down with the fans. They can ask me whatever they want.
Wasn't that classic match you had with The Rock at WrestleMania about a decade ago also in Toronto?
Yeah that was WrestleMania 18. It was one of the biggest moments of my life, because on that day the fans made a huge statement: no one can ever tell them who to like and who to hate.
Let's talk about this 'Hulk Hogan: Uncensored' show. Is it going to be in character or out of character? What are you planning to do?
No, it's out of character. It's me sitting there with a building full of Hulkamaniacs and they can ask me anything about wrestling, business or my personal life. That's why we're calling it 'Uncensored' -- there's nothing we can't talk about.
Plus, it's going to be with Eric Bischoff, and you two have a history going back to WCW. What's the dynamic like when you two get together?
Eric is like Anchorman or something. He's a great moderator and sometimes when I'm there by myself it gets a little out of control, so Eric is the middleman. There will be some basic questions asked too, and sometimes he puts a little icing on the cake. Eric can dig a little bit more for the fans and he's been around the business. He was the head of Turner Sports. He ran a major company there for a lot of years, so he knows a lot of the ins and the outs and the real edgy stuff. Someone will ask a basic question like, 'What was Ted Turner like?' and Eric can add a few more layers onto that.
As fans, they're probably really glad they get to talk to you because there was a time, a few years ago, where it seemed like you'd be one of those wrestlers gone too soon because you were really going through the ringer. Your divorce and your son's legal issues even drove you to contemplate suicide. How are things going for you now, and what brought you out of that space?
First off, everything's perfect now. I never said I'd get remarried, but I met the perfect person and I did. It changed my life and that was a huge part of it, but I've always had this really good space inside of me. It's just that I was around so much craziness in my personal life and there was so much chaos all the time in my personal home. I was just trying to keep everyone calm and keep everything in check and get them to stop yelling and screaming. But eventually, I just got sick and tired of being sick and tired and I snapped out of it.
It happened one night, when we were living in Miami. We were at a huge dinner with a table full of people and there was a bunch of negative stuff being said. My ex-wife was unhappy with the food, the dinner and the service. She got on one of those crazy rants and it was just so negative. I had to step outside for a minute. The moment I walked outside, the first thing I heard was 'Hey, we love you, Hulk!' You're the greatest, Hulk!' You were my Idol growing up, Hulk!' I went, 'OK, it's nice out here, it's bad in there. Clean air out here, dirty air in there.' I walked back inside and I heard a bunch of other crap and then I walked outside again and the next person who came by was like, 'Hulk, can I have your autograph?' and another person was like, 'I never had a father. You were my father figure growing up.' It was because of that support, I snapped out of it and swore I would never breathe dirty air again. I just started praying to be happy and well, ask and you shall receive, brother.
Even though wrestling matches are arranged, they can still take a physical toll on your body. How do you make sure you stay healthy and in peak physical condition?
Well brother, my lifestyle speaks for itself: I eat all organic food, I train every day, I drink hydrated water with a 9+ pH and basically stay on top of my game. I'm 60 years old and I'll take my shirt off next to you. I'll bet you anything I'm built as good as you are or better. At the end of the day, I just take care of myself and as you get older, you get wiser. To see all the examples of guys that aren't here, or have made huge mistakes with their lives, I'm slow, but I'm not that slow. I learn pretty quick and I'm on the right path. I'm happy, I'm joyful and I just maintain a positive lifestyle.
What's it like facing off in the ring against younger wrestlers who grew up watching you when they were kids?
The Rock caught my headband when he was a kid, and I took a picture with Randy Orton when he was hanging around with his dad when he was five or six years old, so it's pretty overwhelming to get in the ring with these guys and realize that my run has been as long, or longer and more intense than anybody's. But those days are behind me. Right now, I don't anticipate getting back in the ring. After all the surgeries and stuff, I've pretty much had my day and "know my role," as The Rock would say. I'm having a blast with Impact Wrestling right now just being the general manager, being creatively around all the young guys and trying to help them and the art form. It's very fulfilling just being around the business because I love it so much.
Being the general manager, what has changed?
Everything has changed, I just get a script. I could be the general manager, I could be a jet pilot or a helicopter pilot. I get a script from the writers and usually it's pretty darn good. If I can make it any better, I'll sit down with them and say, 'Let me do this,' or 'Let me do that', but it's generally pretty good and it's a different business nowadays, so it is what it is.
Do you get at least a little bit of creative control?
If I was to wrestle, I probably would, but I don't think I can trump these writers. They write these stories a year to six months out. I really don't know all the details, so I can't just change something because there's a domino effect. There's more to it than people understand. Guys work a certain number of days and have a certain amount of time off, so you can't just book whoever you want. The biggest misconception is people thinking, 'I can do better than that,' or 'I can write this or that' and they usually don't have any idea what they're talking about.
That's a TMZ question that they asked while I was going through the airport and I told them: it's already in the works. There's two kids who sent me a three-page treatment and that's it. They haven't even done a first pass yet.
In addition to Hulk Hogan: Uncensored on Friday, Aug. 23, Hulk Hogan will be appearing at Fan Expo in Toronto on Saturday, Aug. 24.