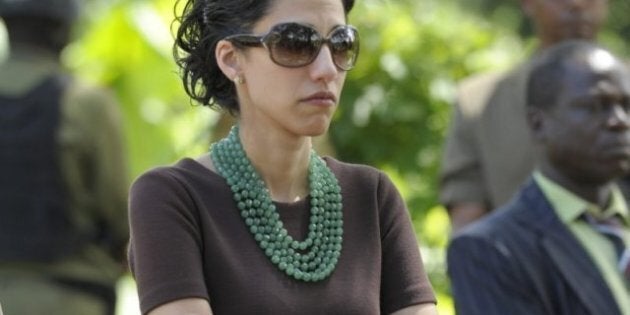 Not too long ago, there was an interesting story in Sunday's New York Times by Katharine Q. Seelye about the fast changing rules for women on how to handle their respective political hubbies' digital digressions.
In "A New Twist to Wives' Playbook for Sex Scandals" Seelye, details various political wives who were either dragged on to the podium in classic Tammy Wynette-style and instructed to stand by their man to others who made it clear that they stood shoulder to shoulder with their disgraced spouses unequivocally on their own volition.
The latter was best exemplified by Hilary Rodham Clinton's (then jaw-dropping) rebellious stance towards supporting her husband during his 1992 presidential campaign. When Casanova Clinton's activities were threatening his first presidential bid, she promptly took charge, making it clear that she wasn't playing the part of the obedient political wife but wanted the media and voters to understand that she was there, by choice, ready to support him -- foibles and all.
Most recently there have been a plethora of political wives decked out in their scarves and crisp blue suits, painfully standing there from one microphone-swathed podium to the next. The body language experts had a bacchanal feast when in 2008 Silda Wall Spitzer, the wife of then-governor of New York, Eliot Spitzer made her now legendary appearance. She didn't utter a single word. She didn't need to. Her clear disdain of being there spoke volumes. In warp speed, women all over the U.S. filled chatrooms, Facebook updates and twittered with a collective 'Why would she put herself through that?'
Silda -- whether she liked it or not -- was the game changer.
Thanks to her, Sanford and Shriver, by way of their silence, told their husbands that they are pretty much on their own.
Now it's Huma Abedin's turn. She quietly worked her way up the ranks, first as an intern in 1996 with then-First Lady Hilary Clinton, then working alongside Clinton during her presidential run and now in a pivotal role as Clinton's senior aide.
I don't know her personally, but that hasn't stopped me from admiring her from afar for many reasons. Most importantly is that she is the reflection of today's South Asian woman: independent-minded, career-driven, who fearlessly creates her own uncompromising balance with her cultural upbringing and the world she lives in.
She, like me, is half-Indian and half-Pakistani who doesn't drink, observes various Muslim holidays but is not suffocated by cultural expectations. On the contrary, we don't view our roots as a detriment but rely on them as an anchor. We relish in them, not be reserved by them.
Then there is the career path. Sorry Sarah, but the whole Maverick/Going Rogue vibe belongs to us.
Living parallel lives, we both decided to embark on the non-traditional route. We didn't go to school to get our "Mrs" degree (code for landing the perfect husband), medicine and law (for me) wasn't of interest. But we couldn't deny that our own destiny was in the publishing world for me, and the political world for Huma.
While I was interning at a national Canadian fashion magazine in 1995, not knowing a soul but eager to jumpstart my journey towards being an editor, a year later Huma was following her own dream as an intern at the White House. Both of us carving out our own paths and opening doors for South Asian women who also dared to venture into these worlds.
Now both of us are at the top of our respective games, we've earned our stripes and years of experience. And here is where our paths diverge.
She has a problem I can't even imagine. A straying husband. So when her newlywed hubs Weiner leaned into the gas pedal of his political ride towards the cliff, TV interview-hopping, educating us on the meaning of the word "certitude" and giving all of us a "this doesn't add up" moment, my thoughts immediately went to Huma.
I'm sure I don't have to tell her, but being South Asian in this instance is a blessing. It's this rich family-oriented culture, which undoubtedly put the Abedin family's protective huddle position into overdrive, the sole purpose: protect Huma. I've experienced that when my heart was broken. My family went into overdrive stepping in and stepping back when necessary. And it wasn't just my immediate family; it was countless aunts, uncles and cousins who all stepped up.
So Huma, I'm not going to get into a long lecture about what you should do or shouldn't do. We share another similarity: hate it when people get into our business.
What I will say and with no reservation, is that from one South Asian woman to another, I got your back. And I know that I'm not alone.