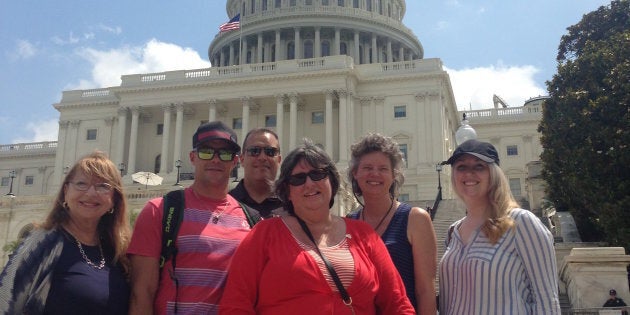 Human trafficking is not generally associated with disability by the average person, nor is it for many who work in the field. It is usually understood in a fairly predictable context such as forcing deaf and disabled children to beg, or abducting and in some cases disabling/dismembering children for this purpose. As horrific as this is, it is only part of what is a very dark reality for people, particularly women and girls with disabilities, in Canada and around the World.
Labour and sex trafficking are both on the rise and people with disabilities fit the bill for what the perpetrators see as low risk and high gain by exploiting them thousands of times over.
I spent the last week in Washington, DC with a delegation of extraordinary fellow Canadians as a participant in the International Visitor Leadership Program (IVLP) hosted by the U.S. State Department. This ground breaking project called Healing the Wounds of Trafficking is linked to the U.S. Trafficking in Persons (TIP) Program. When I was selected to participate in the IVLP and was told the focus would be on human trafficking and disability, I had a notion of what this would mean in the context of our work at DAWN Canada, despite the very limited data and research that exists about human trafficking. So much of the time I do my work as an advocate for women and girls with disabilities in a policy vacuum. My fellow travellers, on the other hand, are at the front lines of this work in Canada.
Two are police officers. Constable Anthony Morissette of the R.C.M.P. and Captain Peter Moriera of the Toronto Police Service both represent the very best of their profession. Isabelle Nelis is a brilliant Criminologist with the Quebec Police Department. And then there is Larissa Maxwell, Director of the Salvation Army Canada's ground-breaking programs for survivors of human trafficking.
I have listened, learned and shared in their company with appreciation and deep respect. Being with the people that encounter some of these women and girls in the very worst of circumstances is grounding (as it turns out) for each of us.
A large number of the women and girl with disabilities who are trafficked in Canada and around the world however are still not showing up in any data sets that will lend themselves to the policy reforms that could lead to change. Women with mostly invisible disabilities (traumatic brain injury, intellectual or psychosocial disabilities) are the most affected in sex trafficking. Add being indigenous, racialized, immigrant, migrant or undocumented and you've got the picture.
These are the victims of slavery and they are in front of your eyes as you walk down the streets and in the homes of your neighbours in places like Vancouver, Winnipeg, Toronto, Montreal and beyond.
DAWN Canada begins 32 years of service as I file this blog. More than three decades of focus on violence against women and girls with disabilities and deaf women, and yet I am completely undone by the shear magnitude of these victims and their suffering. How to be hopeful?
At each of the meetings in Washington this week we met people who are part of that how and they are attached to the vast resources made available by the U.S. Government. As I follow my Canadian colleagues virtually for the next two weeks as they continue this exchange, in Baltimore, in Charlotte, in Cleveland, in Kansas City, and finally Las Vegas, many more interactions will occur with folks in State and local law enforcement, and local NGO's who, like my colleagues are at the front lines of human trafficking.
The opportunities for bilateral engagement abound and it's clear that we bring a strong Canadian perspective to this darkest of forms of violence against our most vulnerable. It is through the critical mass of all these people, through their leadership and ours -- that we can find hope.
Follow HuffPost Canada Blogs on Facebook