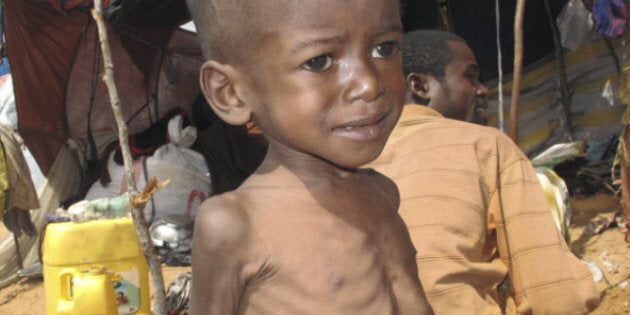 It was in Africa in the 1970s that the reality of child hunger, malnutrition, and starvation confronted us both and shaped our lives. One of us was nearly a doctor working in northern Nigeria, a young man on a global health mission during a medical school elective, catalyzing a lifetime commitment to nutritional innovations.
The other was a teenage girl, living in a Northern Ugandan famine zone, with her family who ran a feeding program for malnourished children and a long term development program; a childhood that inspired her entry into pediatric medicine and who is now addressing global newborn health and survival.
Together, we want to draw attention to Save the Children and the launch of their new global report, "A Life Free from Hunger: Tackling Malnutrition to Save Children's Lives." On the cover of the report is a child from South Sudan, right next door to to Northern Uganda. Three decades after our formative experiences in Africa, the reality we saw and felt remains too common still.
We both saw the "in your face" fundamental importance of nutrition to the health and lives of children. We felt the paucity of food especially at the end of the dry ("hungry") season. We saw how undernourished children were more susceptible to illness and how common illnesses like pneumonia and diarrhea killed children who were stunted. How the poorest were most affected. We realized that to invest in prevention would save on treatment.
Too often an extreme hunger crisis is reported as if it were an accident of nature. Chronic malnutrition, or a lack of proper nutrition over time, is actually far more widespread than the acute malnutrition that can result from illness and lack of food in emergency situations. We know there is enough food to feed the world. The fact that some are malnourished is often a result of global and local policies.
Too often policies do not factor in the reality of the poorest and most marginalized. Policies dealing with agriculture trade and even humanitarian and foreign aid are not sufficiently robust to provide immediate assistance when needed, nor help to foster long-term self-reliance, and sustainable poverty reduction.
Early warning signs were not heeded in East Africa with the result that 13 million East Africans were affected, millions of them children, thousands of whom died needlessly. The fate of a chronically malnourished child rapidly slides from bad to worse in an emergency setting and undercuts any progress made.
Newborns born too early or too small start life with much higher risks. An example of a proven practice that can be supported by policies that would save hundreds of thousands of lives is the promotion of early exclusive breastfeeding. Under-nutrition in the first crucial 1,000 days of life during pregnancy to two years of age doesn't just mean missing calories, but nutrients including mineral and vitamin deficiencies.
Vitamin A, zinc, and iron are critical to building a strong immune system -- something that becomes increasingly important when food shortages mean children face increased vulnerability to infectious diseases. The effects of under-nutrition can last a lifetime, and having an impact upon growth, development, learning, and even earning power later.
Fortification has been identified as an innovative solution such as micronutrient powders that can be directly "sprinkled" and mixed into a variety of complementary foods, traditional foods, as well as food rations; these fortifications have shown great promise in both emergency settings and developmental settings to reach children between six-24 months of age.
Our fundamental message is that solutions are already well known and include the 13 cost-effective interventions identified by world nutrition experts in a 2008 series in the medical journal, The Lancet. Interventions including promoting breastfeeding and improving complementary feeding of children six-24 months of age; micronutrient interventions especially targeted towards infants, children, pregnant, and breastfeeding mothers; hygiene interventions and therapeutic feeding with special foods for children with severe acute malnutrition.
We're calling for national and international action on six key steps, as set out in the new report, to tackle the global malnutrition crisis head on. First we must make malnutrition visible. Chronic malnutrition is a hidden killer and doesn't appear on death certificates. In order to make governments accountable and to prevent these deaths, there must be agreed global targets.
Second, there is a need to invest in proven, cost effective direct interventions: The cost of scaling up the "Lancet package" of 13 interventions, including fortification, is $10-12 billion a year. Shared between developing and donor governments, this sum is, we believe, affordable and could save two million lives.
Third, we must fill the health worker gap to address the critical shortage of at least 3.5 million doctors, nurses, midwives, and community health workers who are vital for delivering key interventions that can improve nutrition.
Fourth, protecting families from poverty with effective social policies that reach vulnerable families in some of the poorest countries has been shown to be critical in tackling malnutrition, particularly programs that focus on pregnant and breastfeeding women, and children under two years of age.
Fifth, agriculture must be specifically harnessed to tackle malnutrition. This can be accomplished by supporting small farmers, particularly female farmers, and ensuring that crops are planned to improve children's diet.
Lastl, political leadership must be galvanized. We commend the Canadian government and citizens for playing an increasing leadership role in global health and especially nutrition. But more action and innovation is urgently needed. The U.S. G8, the Mexican G20 in 2012, and the UK G8 in 2013 all offer major opportunities for progress as food, nutrition, and social protection are likely to be on the agenda.
Canada can work with these other leaders to ensure an ambitious action plan that aligns institutional reform with new resources. With the support of the international community, countries with high malnutrition burdens should exhibit the leadership and commitment needed to eliminate malnutrition.
Together we can and must make sure that millions of children do not lose their childhood and their lives to hunger and malnutrition.
Popular in the Community