It was in Rankin Inlet in 1963 where he almost lost his life.
"I was medivaced (airlifted) out," Tootoo said in an interview with The Canadian Press.
"I was in an incubator for the first three months of my life, so I am told."
Tootoo's mother, Sally Luttmer — a Jewish woman originally from Montreal — described her son's dramatic birth story in an edition of a Uphere magazine.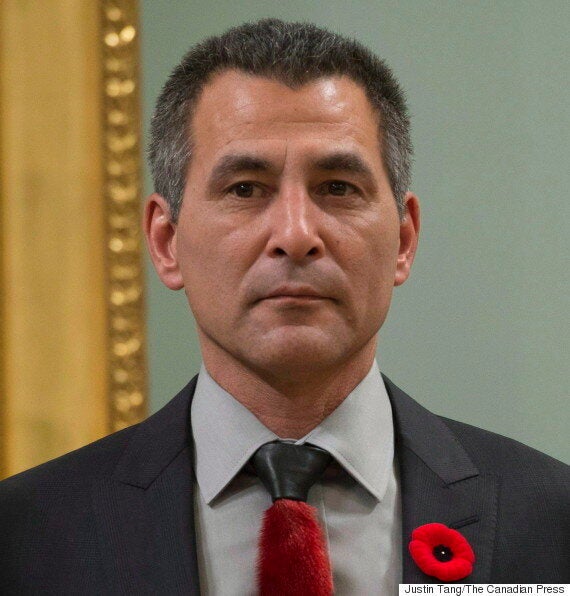 Tootoo is seen during a group photo after being sworn into Justin Trudeau's cabinet. (Photo: Justin Tang/CP)
"We were whisked to the hospital — at that time on the military base," she wrote.
"I remember lying in bed in the ward and hearing that Jacqueline Kennedy's youngest baby had just died of hyaline membrane disease. Somehow it didn't occur to me that my tiny baby might die too."
After overcoming this struggle, Tootoo went on to live in various parts of Canada, including Quebec, Ontario, Alberta and Saskatchewan before making his way back to the North in the early 1990s.
"That's my home, right," he said. "I always wanted to go back."
That home has also provided the backdrop for his political career.
Tootoo was first elected as the MLA for Iqaluit Centre in 1999, where he served for 14 years and was the Speaker of the Legislative Assembly until 2013.
The 52-year-old also held a number of cabinet positions in the territorial government, including serving as the minister responsible for the Nunavut Housing Corp.
Tootoo now hopes he can transfer this political experience to a national scale.
"I think that it is going to be very beneficial to me as we move forward," Tootoo said.
Some of the minister's main goals include working with Transport Minister Marc Garneau to address changes made to the Fisheries and Navigable Waters Protection acts by the previous government — alterations that became a lightning rod during the Idle No More movement led by aboriginals across Canada three years ago.
"I'm very proud to be the first aboriginal person, first northern person to be appointed to this position."
The minister believes his appointment points to a new relationship with Canada's aboriginal peoples.
"I'm very proud to be the first aboriginal person, first northern person to be appointed to this position," Tootoo said.
"As the prime minister indicated, he wants to have a renewed relationship with the aboriginal people of this country.
"I think by him appointing me to this portfolio, it's a sign that he's committed to that."
Tootoo will also work on issues including overseeing funding for federal ocean science and monitoring programs to observe fish stocks and monitor pollution.
"I think one of the big things for me is looking at the increased protections of our oceans and coasts and the fisheries to make sure that they remain healthy and sustainable over the years ahead," he said.
"Also looking to make sure we have good science in order to make those decisions."
Last month, Tootoo defeated former Conservative cabinet minister Leona Aglukkaq, claiming the federal riding of Nunavut.
He now wants to provide the territory a fresh voice in Ottawa in his capacity as MP.
"Every community that I represent, there's no road access," he said. "It's by air or by ship and resupply once a year in the summer time.
"Those are things ... (to) a lot of people in the south ... it's a foreign concept to them."
Tootoo believes this level of awareness needs to change.
"I think one of the biggest challenges we face is a lack of understanding ... of the unique circumstances and challenges we face in the North," he said. "People don't realize it costs three times as much to do anything up there."
On a personal level, the minister is also quick to quash the idea he may share some of the hockey skills honed by his cousin Jordin Tootoo — a forward for the New Jersey Devils.
"I watch hockey," he said. "The only sport I do is curling."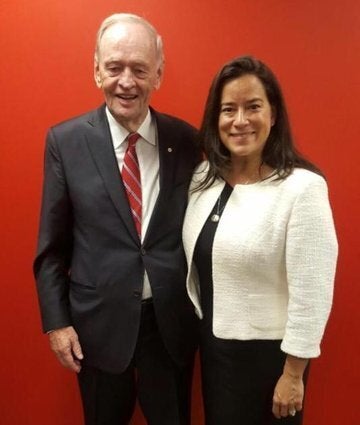 Meet Canada's Indigenous MPs