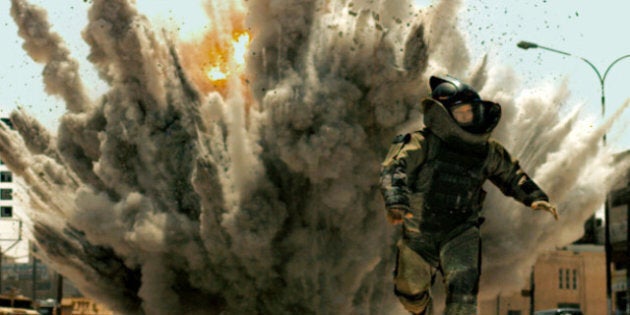 The maker of the Iraq war movie The Hurt Locker has sent letters to more than two dozen Quebec residents accused of illegally downloading the film, demanding that they immediately pay $1,500 or face a lawsuit, according to a news report.
Montreal's La Presse reported Monday that Voltage Pictures sent out the letters following a federal court's order that Internet service providers Bell, Cogeco and Videotron reveal the identities of subscribers whose computers were alleged to have been used to download The Hurt Locker illegally.
Some of the targeted individuals have already contacted Voltage Pictures to resolve the matter "in one way or another," an unnamed source close to the issue told La Presse.
But at least one targeted individual anonymously told the newspaper they plan to challenge the lawsuit in court.
Consumers' groups have expressed concerns about the process of suing Internet subscribers on the basis of computer IP addresses.
Questions have also been raised as to why these three Internet service providers were targeted in the suit, while subscribers of other large telecoms such as Rogers and Shaw were spared. Intellectual property lawyer Howard Knopf told La Presse it may be because Bell, Cogeco and Videotron are more inclined than the others to support file-sharing lawsuits.
"Shaw and Telus defended their customers' right to privacy in 2004," Knopf said. "Bell has done nothing, while Videotron has sided with the industry. Maybe if they had defended their customers at the time, there would be no lawsuit today."
It marked the first time that the entertainment industry tried to sue Canadians over file-sharing since 2005, when a group of recording industry giants was rebuffed in its effort to launch a music file-sharing lawsuit. The judge in that case declared that file-sharing was legal in Canada. That judge's decision was later set aside by a higher court.
The company has not yet responded to a request for comment for this article.
Chartier will deliver the keynote address at next month's Content Protection Summit, an annual meeting of media executives to develop strategies for fighting piracy. He was previously in the headlines in 2009, when he was banned from the Oscars after he emailed members of the academy lobbying them to vote in favour of The Hurt Locker at the Academy Awards.

Popular in the Community