Nobody expected Godspeed You! Black Emperor to show up at the Polaris Music Prize Gala on Monday night -- which their album "Allelujah! Don't Bend! Ascend" wound up winning in one of the Canadian music award's ever-unpredictable outcomes -- because that's just not what they do.
For the past two decades, the Montreal post-rock collective has defined music's anti-corporate indie aesthetic, allowing them to create a business model that makes supporting them financially a political statement in and of itself for their fanbase. This has allowed them to survive the industry's post-Napster downward spiral while avoiding doing interviews or anything else that smacks of collaboration with The Man. (They also own a couple music venues and a recording studio in Montreal.)
This place of privilege also allowed them to respond to their win with a morning-after communiqué that ripped the Polaris Prize a new one. After thanking "kanadian music-writers" for the prize (Polaris is voted on by a jury of 200 music journalists, bloggers and broadcasters while the final prize is decided by an 11-member grand jury) they made "3 quick bullet-points that almost anybody could agree on maybe"
- holding a gala during a time of austerity and normalized decline is a weird thing to do.

- organizing a gala just so musicians can compete against each other for a novelty-sized cheque doesn't serve the cause of righteous music at all.

- asking the toyota motor company to help cover the tab for that gala, during a summer where the melting northern ice caps are live-streaming on the internet, IS FUCKING INSANE, and comes across as tone-deaf to the current horrifying malaise.
They then went on to decry the corporate banners and culture overlords while dismissing a music prize that shortlisted the likes of themselves and their experimental saxophonist labelmate Colin Stetson as "lazy money patting itself on the back." (The rest of the short list was pretty underground, too, with Metric and Tegan & Sara as the only marginally mainstream nominees.)
Unfortunately, their rant about Polaris' corporate hypocrisy -- given its claim to be about recognizing "artistic merit" -- undercut the coolest thing about their win. Their Constellation records label boss (who does have Godspeed's dreaded "gov't. culture-money in [his] pockets") accepted on their behalf and said they'd be using their $30,000 winnings to fund musical instruments and musical education for Quebec prisons.
Pretty subversive move, to redistribute corporate money to support prisoners rehabilitation through music -- and it's not unprecedented as the past two winners Arcade Fire and Feist also reportedly donated their money, albeit to less controversial causes.
But if Godspeed thinks all corporate money is bad, they just shouldn't have taken it because their donation proves opposite. They may think Polaris would be better without that sponsorship money, but the prisoners who will now be benefiting would probably beg to differ.
It's not where the money comes from in this "time of austerity and normalized decline," it's where it goes.
In fact, Godspeed could have withdrawn themselves from the competition months ago after making the Polaris Prize Long List, opening up the winner's circle to another nominee. But then we wouldn't be debating their acceptance statement.
Accusations of hypocrisy always open up the accuser to same -- and GY!BE are about to open for Nine Inch Nails in arenas across America that are named after banks and insurance brokers, arenas between which they will presumably travel in a polar icecap-melting vehicle. Should they have turned down the tour? Of course not, but where's the line?
Godspeed do make some valid critiques -- the presence of a Toyota Scion inside the gala's new fancy-pants venue The Carlu was kinda gross, though the brand is well-known for putting money into undergound hip-hop, metal and electronic music scenes. But the fact that they won without deigning to participate undercuts much of their complaint.
Maybe they could have even looked beyond their anti-corporate shtick and criticized the fact that their win marks yet another victory for white folks with guitars during a year where A Tribe Called Red were bridging EDM with Idle No More to bring marginalized Aboriginal culture into mainstream youth culture.
Tribe's an act that actually could have benefited from both the prize money and the attendant media attention -- and if they'd won that would indeed have, to use Godspeed's own words, served the cause of righteous music.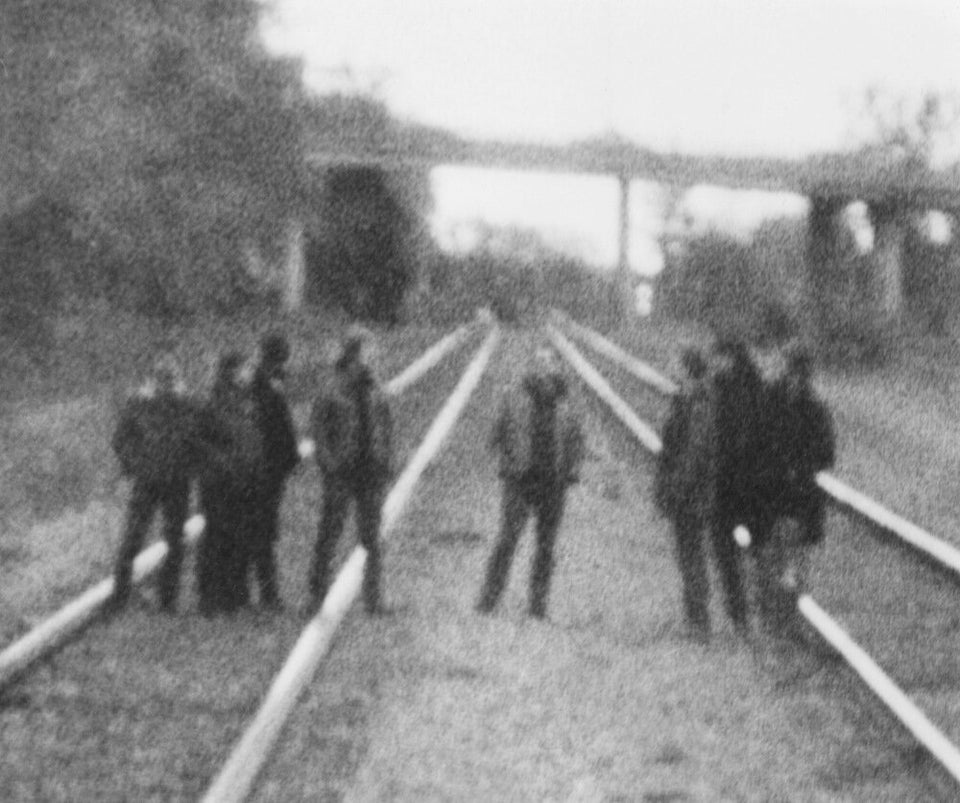 Polaris Music Prize 2013 Short List