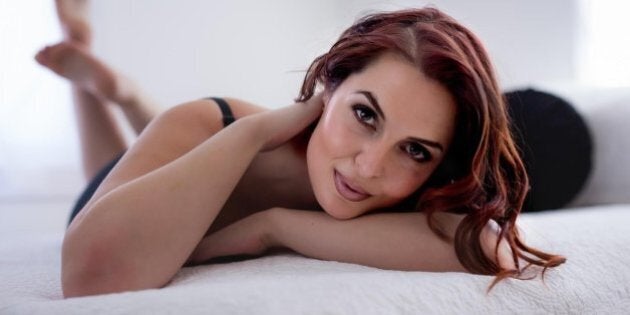 If I'm going to talk the talk, then I better be ready to walk the walk -- especially if they're Jimmy Choo.
What I'm talking about is that I can either preach to you about body positivity in your face and feeds or I can actually demonstrate this through the celebration of my own shape and sexuality.
I may be trying the likeness of a Kardashian, but those babes have the right idea. Why are we threatened to capture the essence of our bodies throughout periods of time or life moments? What's wrong with being authentic about your body, taking some pride in it and pushing yourself beyond healthy comfort zones in order to discover the sex-positive, beautiful goddess that you are? Pictures won't suck your soul, but the trolls will try.
In today's world we take more selfies and record more "precious moments" than ever in history, and yet, we still invite messages about body shame, slut-shaming, and dismiss the truth in the sexual capacity of our bodies. Seriously, some people are famous just for being contextually beautiful -- and that's legit it. Can we get over it already? Because once we get over that I'd like to start talking about relevant topics, like how to celebrate and protect ALL of our bodies in whatever way we individually see fit.
As we see themes like #DadBod, #FreetheNipple, #LoveYourLines, #EffYourBeautyStandards and #BeautyBeyondSize emerge, it is clear that we all are craving more. We are thirsty for more diversity, less rules, an expansion of norms, a requirement to set healthy, consensual and safe relationship standards, as well as a desire to dive into the exploration of our sexual capacity, thus rewiring our ability to experience pleasure in all that we do.
So, how does this relate to my most recent experience doing boudoir?
Well, I'd have to start by answering why I decided to participate in a boudoir shoot to begin with. I did boudoir because I had something to prove to myself -- and, only myself. Your reasons, if you so choose are your own. It's no one else's business; never give someone that power to take away from you. Your body, your rules. It's as simple as that. For me, I had to prove to myself that I could practice what I preach, dig deep within and translate that through quite a bold and intimate experience, which would enlighten me to face the impact of shame, powerlessness, doubt and repression.
As I prepped my shoot bag I felt nervous, yet excited. Being familiar with the work of my photographer I knew only to expect the highest quality of results and professionalism, but, could I pull myself together amidst my anxiety and apprehension to convey the raw emotions I wanted captured in film, on demand?
The Answer: Fuck yes I could, and you can too.
I have my own story, and the relationship with my body has been a hell of a journey thus far, and will admittedly, continue to be. Not only does society tell me that sometimes I'm not allowed to feel sexy, be sexual, show my body or overtly express my definition of pleasure (especially because I'm a woman), but I battle my own inner demons on a daily basis as well. Here's the deal -- I love to feel sexy, I love to put on a corset and feel that tightly pulled silk against my body, I love to be naked, I love to fuck, and I love to love my body. And, for all of those things, I am telling you, I am not ashamed.
So, I did it. I connected with a local brilliant photographer, Ruth of Ruthless Images who has an unbeatable reputation and got down to my skivvies for her and, more importantly for myself. It was one of the most affecting and exhilarating experiences I have had so far with my body. Although at times I felt awkward, my lazy eye felt like it was giving more Quasimodo than Angelina, and my swervy curves had a hard time dealing with the garter belt (seriously, those things can be the worst); I took myself out of my slightly OCD head space, took a deep breath, grounded my hesitation and let my freaky-fun-loving-quirky-sexy-self fly. The result was a deeper meaning translated within, of the power and strength in my ability to love myself wholly for all that I am: Every. Last. Bit.
This experience may not be for you, but if you've ever considered it, I highly recommend booking a session with your favourite photographer. Do your research, screen shoot some of your favourite poses, browse your Instagram for inspiration, and give yourself permission to just go for it!
Additionally, I get that the whole experience can be overwhelming, so, I put together a quick list of the top 10 things that will help you get through your boudoir photo shoot and get you started on your own path towards your intimate enlightenment.