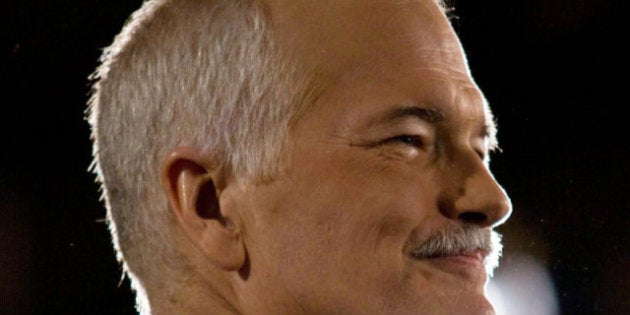 I find it difficult to imagine any other politician addressing Canada's youth this way. It's even more difficult for me to imagine Canadian politics without him. He has led the NDP since I was a teen and now that he is gone, I feel like his infectious youthful energy is gone, too.
I don't feel like a young Canadian anymore.
Jack wasn't young either, really. He was 61. Almost 10 years older than Stephen Harper. But if you saw Layton atop a gay pride float, you wouldn't have thought so. If you heard him say "hashtag fail" during a televised debate, you wouldn't have thought so.
If life's objective is to die young as late as possible, Jack did it. Now that he has died, I wonder if Canadians can hold on to that fleeting feeling of idealism cultivated in youth and then, more often than not, forgotten and outgrown in adulthood. Unless you were Jack, that is.
"Young people have been a great source of inspiration for me," he wrote. He made that clear not only through his policies that addressed issues important to young people, but also through the memories of his colleagues and followers. In return, Jack noted, "Many of you have placed your trust in our party."
At times I did. At other times I didn't. Sometimes his hopefulness seemed like a stretch too far. Whether the NDP can regain my trust in part depends on finding another leader who thinks of young Canadians as a "source of inspiration" and one who inspires us as well.
But what politician has the wherewithal to lead Canada's youth the way Jack did? Sure, the NDP has young leaders, but engaging young Canadians isn't really about age, as Jack taught us. It's not even about the NDP -- he wanted parties to "succeed together." It's about listening to our frustrations and hopes -- and doing something about them. Whether such a leader exists remains to be seen.
Until a new leader galvanizes Canada's youth, we must grow up, take charge and succeed without him or her. Jack's death forced us to grow up, to confront an adult reality: that life isn't fair. It's unfair that his time spent as leader of the Official Opposition amounted to days, not years. It's unfair that a man, any man, dies at the relatively young age of 61. And it's unfair that we lost a leader at a critical time when we face significant economic and environmental turmoil. With both opposition parties leaderless, many fear that no one will keep the Conservative party's power in check.
That's why Jack's words, about how Canada's problems are ours to fix, are so pertinent.
"There are great challenges before you, from the overwhelming nature of climate change to the unfairness of an economy that excludes so many from our collective wealth, and the changes necessary to build a more inclusive and generous Canada," his letter reads.
If young Canadians can remember some of Jack's youthful idealism as we transition into adulthood, we will stand a chance when attempting to right some of Canada's wrongs.
Popular in the Community