Maybe I was a bigger nerd than most, but when I turned 18, I was really excited to finally be able to vote. As a teen in Toronto, I went down to the polling stations at the Polish church on Bloor St W, or to the Keele Community Centre, and always voted. Even if I barely knew what I was voting for, I knew it was my duty as a citizen, as a Canadian, to give at least the smallest toss about politics. I also began doing my taxes, which I looked forward to. At the time I liked filling out forms. Today, not so much.
As citizens of the "free world" -- North Americans, at least -- we have a great power bestowed upon us: the right to vote. Yet this basic right is often taken for granted. Understandably, enacting one's support for politicians can be frustrating, but fundamentally they are chosen by us to manage our tax dollars. And listen up: you pay taxes. Even if several years delinquent on your income taxes (unlike 18-year-old me), everything you buy has a range of taxes and tariffs included in the price you are paying. Essentially if you don't vote it's because you couldn't care less about, well, anything. You might as well become a feral anarchist. Goodbye. Have fun living alone in the forest. With no internet. (which, incidentally, is taxable).
While some may swirl away in these #YOLO daydreams, a harsh reality reveals itself: Canada has a voter turnout problem. Historically, Canada has an approximate average turnout of 74 per cent, ranking it 30th among democratic countries worldwide (the highest being Malta at 94 per cent). In our last federal election turnout was a paltry 61.1 per cent. No wonder PM Harper is still in there. Canadians couldn't care less.
When I gather this sentiment from peers and friends -- young people, artists, musicians, thinkers -- that they didn't vote, I am endlessly frustrated. What is preventing people from voting? "All the candidates are losers," they say, or: "I spoiled my ballot," which at least is closer to the mark than not voting at all.
Having lived in Montreal for nearly two decades, my biggest moment of "Rage Against Apathy" came after the last provincial election -- hot on the heels of the Maple Spring, when Montreal's student and young adult population took to the streets to protest tuition increases. The generally peaceful protests cast a larger shadow, vocalising a general discontent with governmental ways. But the real frustration set in when, after walking the streets of my neighbourhood, talking with protesters, ruining cookware, and listening to their voices, many of these people still did not vote.
Were the protesters faking it? I lost a little respect for the "red squares" because few stood behind the cause. People cared enough to march around for hours but could not care enough to march for 10 minutes to the polling station around the corner. Granted, overall voter turnout for the post-Casseroles election did increase: youth aged 18 to 35 turned out at an average rate of about 64 per cent in the 2012 provincial election, compared to about 42 per cent in the 2008 elections. Overall turnout in 2012 stalled at 74.6 per cent.
The moment Pauline Marois pinned that little felt square onto her lapel, everyone's hearts melted and suddenly young people thought that she cared. The PQ put a Band-aid on the problem by shutting down the hikes. Which, ironically, would be meaningless in an "independent" Quebec -- university tuitions would increase drastically should federal transfer payments to Quebec be discontinued. But I digress.
All this, taken together, is the irony of politics. At the end of the day politics is just business and asset management. The frenzied actions of politicos asserting their salaried positions in office. It's plain to see how this stuff can appear totally boring to young people. Politicians have been suitably branded as "uncool" and therefore not worth it. Blame PM Harper's normcore hairstyle and his World's Most Boring News Capsule, 24 Seven. Or that Quebec's Liberal leader Philippe Couillard reeks of "dad" and PQ's Pauline Marois is a snore (except in GIF form). And the other two? Bandwagoners.
I decided to call someone who cares. Alison Maynard is part of the Vote It Up campaign, created by the Quebec Community Groups Network (QCGN) in association with Quebec's Chief Electoral Office. Vote It Up is a non-partisan organisation aimed at the specific demographic of 18-35 year old anglophones in the upcoming provincial election. I asked Alison why young people aren't voting:
"Accessibility and motivation are the top two reasons why youth are less likely to vote. Generally there is a lack of motivation, in that youth don't see a significant difference between political parties, and don't have an enjoyable experience throughout the process of voting.
"According to Elections Canada, youth are more likely to vote when they are contacted directly by a political party. If there is low voter turn-out by youth, political parties are not reaching out enough to this demographic. For the first time, polling stations will be setup in educational institutions across the province, which will hopefully increase youth voter turn-out."
In an attempt to remedy this, Vote It Up is running a comprehensive social media campaign, as well as offering a rundown of each major party's platform. The info has been distilled down by issue and is useful even for old farts like myself to get a sense of what each party is on about.
Why the focus on young anglophones? Alison continues: "English-speaking Quebec is a diverse, confident, recognized and respected national linguistic minority that actively participates in and contributes to the social, economic, cultural and political life of Quebec and Canadian society. English-speaking youth represent 15 per cent of the total youth in Quebec, while the total population of youth (both Francophone and Anglophone) is 2 million, representing 25 per cent of the population of Quebec."
At the end of the day, electioneering, like the Radiohead song, is a wailing, cowbell-driven, hot mess that often feels as though it is going nowhere. But we can't leave it at that. We have to own it, own our roles as citizens of Quebec, no matter how "meh" or "un-cool" it may seem. The Casseroles ignited a spark in Montreal's youth, we have to find a way to keep that burning. Did the Quebec Charter of Values smother or fan that flame? I suppose that on April 7, Quebec will find out.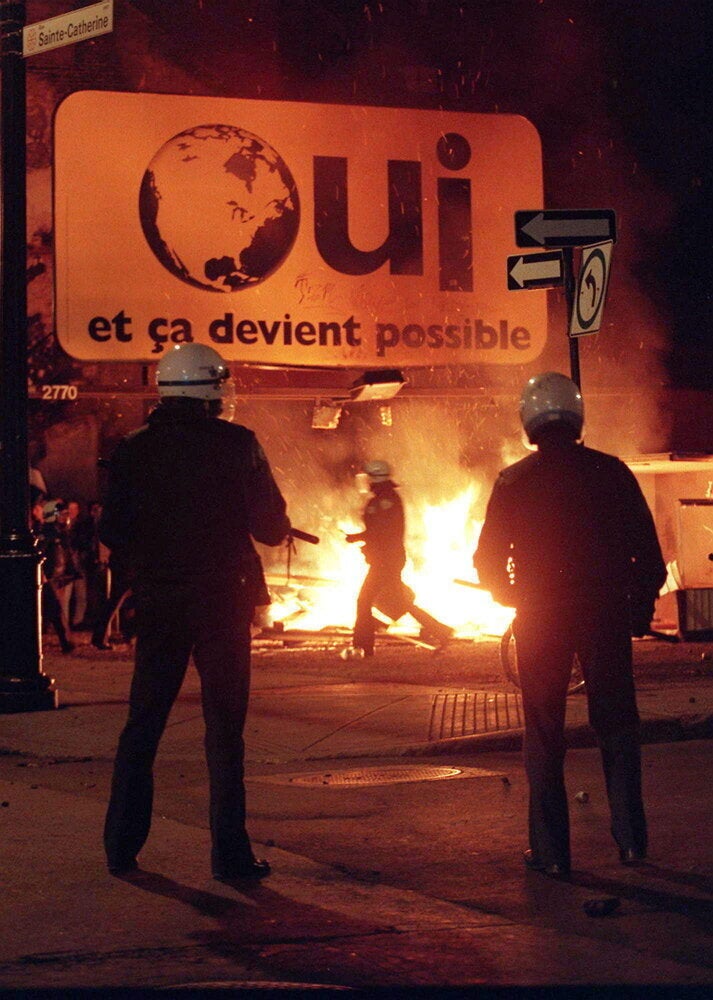 FLASHBACK: The 1995 Quebec Referendum