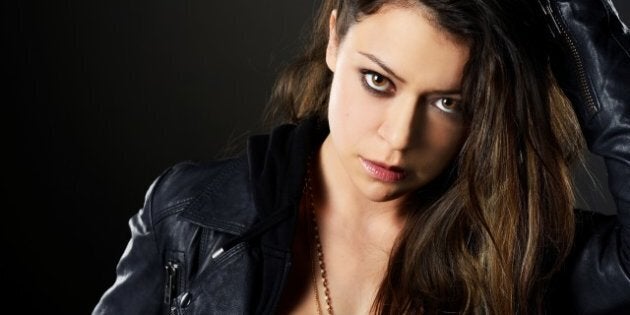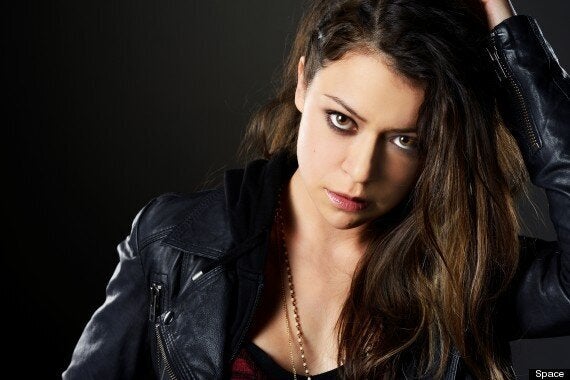 Before you read that Orphan Black is a sci-fi show and click away, give me a chance to sell it to you. It's so much more than simple sci-fi. It's mystery, it's action, it's drama and it's as sexy as hell.
Truly, this joint BBC America/Space Channel venture is what productive TV collaborations should aspire to. It's like the joining together of all of western civilization: you can literally sense the Britishness in the show's aesthetics (not unlike Doctor Who), the Canadianness in the cast and scenery (shot in a very gritty Toronto) and the American touches of fast action and zippy, perfect dialogue.
Starring Tatiana Maslany as the title character Sarah, Orphan Black starts off with a bang -- or more specifically, a grim suicide on a train platform. Sarah witnesses the act, and notices just before she jumps that the woman killing herself looks exactly like her. Sarah acts quickly and grabs the dead woman's purse, along with all her identification, and checks it out. Sure enough, the woman is an exact replicate.
Since she's an orphan, Sarah passes her off as a potential long-lost twin she was never told about and proceeds to steal her identity, including all of her ID cards and a cool $75,000 stored in a bank account. Thinking she'll have an easier life as "Beth Childs" (the name on the ID), Sarah believes she's home-free. That is, until she starts receiving mysterious phone calls and texts. She also has to re-adjust her voice, her accent, her demeanour and her attitude in order to fool the people in Beth's life -- like her ideal boyfriend and her police detective boss.
If that wasn't enough, people in Sarah's life also have to be dealt with. She has a toddler daughter who she loves more than anything, and a foster brother, Felix, who she counts as her only confidante. Not to mention her pesky psychotic ex-boyfriend.
All of this happens in the first 20 minutes of the pilot episode, and things just escalate as the hour progresses. The innumerable layers of each character and their relationships with one another are dealt with perfectly. Not once does Orphan Black feel convoluted or clunky; it rides smoothly and quickly. There isn't a single dull moment as we're introduced to everyone, and the show holds the viewer on lock. It was enough that instead of 45-ish minutes, the episode felt like 20, at most. And the breathtaking ending (which I won't reveal here, it was that awesome) kept me wanting more. It's been a while since I actually cared about a TV mystery's outcome.
There is so much to deal with here, Orphan Black shouldn't have any problem filling out their first season order. The best part is I have absolutely no idea where this show is going. There are countless tangents it could take, since all we know for certain is that Sarah and Beth look exactly alike, and are clones (thanks, TV trailers). But how did it happen? Who's responsible for it? Who else knows? The climactic ending also lets us know that Sarah is in some pretty serious shit. Who would've thought that stealing someone's identity was such a terrible idea?
In the lead role, Maslany has to wear many different hats. Literally. The casting couldn't be better -- she carries the show with ease. Described continually as a "rising star," Maslany has appeared in multiple independent films, and won a World Cinema Special Jury Prize for her "Breakout Performance" in Sundance Film Festival movie Grown Up Star in 2010. I personally don't think she's "rising" anymore, so I'm doing away with that moniker. Let's just say she's arrived and leave it at that. She's charismatic, sexy and rides that unique line where she's a bit sensitive but also hardcore enough to kick some ass when necessary.
Maslany gets help from her co-stars across the board, but special mention must go to Canadian actor Jordan Gavaris, who plays Felix. (I actually thought he was British, that's how realistic his accent is.) While he borders on scene-stealer with his eccentric behaviour, he and Maslany play off of each other in the best possible way, and make themselves believable siblings. Each scene with them is a treat.
Finally, I want to tip my hat to series creators John Fawcett (Being Erica, Lost Girl, Spartacus: War Of The Damned) and Graeme Manson (Flashpoint), who have succeeded in an area where so many others have failed. Orphan Black is a frenetic, pulse-racing, genre-blending gem that sucks you in as much as it keeps you at arm's length.
In an era of endless cop and lawyer shows, finally, finally we have something original and different. I can't tell you how exhilarating it is to watch a TV show and not have one clue about where it's headed next.
"Orphan Black" premieres on Saturday, March 30 at 9 p.m. ET/6 p.m. PT on Space Channel in Canada and at 9 p.m. ET/8 p.m. CT on BBC America in the U.S.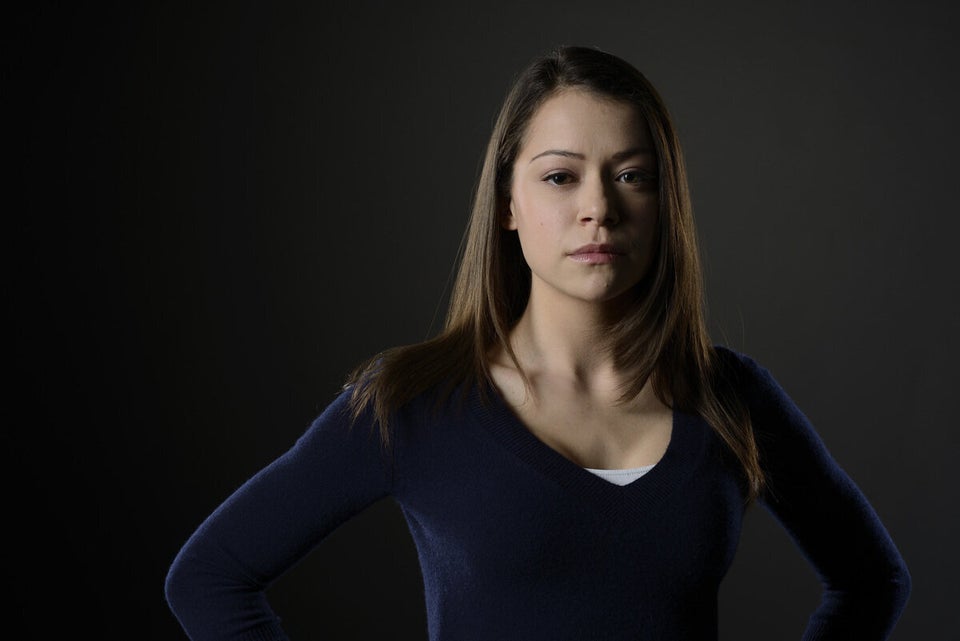 "Orphan Black"