 Contains spoilers -- do not read unless you've seen House Of Cards Season 1, Episode 2
I recently re-watched Schindler's List, Steven Spielberg's Oscar-winning 1993 movie, and was taken aback by how masterfully the director managed the black-and-white filming process. Angles, shadow and bright beams of white are every bit as important as dialogue.
Taking in Episode 2 of this Netflix series, I realized the same can be said for House Of Cards. As we move on in the storyline (and as with any great puzzle or mystery), things are getting deeper and more complicated. There are increasing numbers of people involved, each with their own secrets and agendas. Pulling the strings in the middle of it all is our beloved Frank, who wheels and deals in the shadows of the iconic stone buildings he so lauds. His face is often completely blackened into anonymity: if you didn't know Spacey's distinct voice, Frank would be just another blank spot, a shadow roaming in the dark spaces of politics. He is one of the rare men in Washington who chose power over money, and he isn't afraid to wield it.
In Episode 2, Frank is in control of everything and everyone. At the beginning of the episode he receives a cryptic visit from law partner Remy Danton (Mahershala Ali), who has something to do with natural gas. We don't learn too much on this, but I'm betting that we can count on good ol' Remy popping up in a serious way in the future. Gas lobbyists are major players in the political sphere, so we can assume that this is a build-up for later.
In other news, Frank manages to take down Donald Blythe with barely a bat of an eyelash. Seriously, getting dressed in his suit for the day might have been harder. He even manages to get power bestowed upon him by Blythe -- which is truly manipulation at its finest. But he doesn't stop there.
He discovers a 1978 anti-Israeli newspaper op-ed about Israel and Palestine, written when proposed Secretary of State Michael Kern was editor-in-chief. Of course, without having Kern in his back pocket, what use does Frank have for him in office? He texts and meets up with Zoe to get her to publish an article about it, and when she does, the resulting shitstorm gets Kern booted out (as an anti-Semite, no less) and Frank's puppet Catherine Durant in as Secretary of State.
There's a whole sub-plot here with Peter Russo finding out key information to bring down Kern, but it's mostly a distraction to show us that he has a propensity to be reckless, and could possibly be a liability for Frank down the road. He can also roll an amazing joint, apparently. Peter's relationship with office assistant Christina is even more distracting, and is the weakest part of the show. No Spacey involvement, no care.
Equally uninteresting is Zoe moving quickly up the ranks at her newspaper (from Metro desk to CNN appearances), having to deal with jealous coworkers and a boss growing increasingly uneasy at her mysterious sources and killer stories. Besides the fact that I don't buy such rapid progression for a minute, Zoe's arrogance is tiresome. I do like how House Of Cards shows the texting between its characters on-screen, though -- that's a cool element that other shows could benefit from using.
In her own separate storyline, Claire is a hardass, firing most of the employees from her non-profit company, Clear Water Initiative (CWI). If Wright weren't playing Claire, I think this plotline would definitely suffer, but with her in the role it works somehow. It's enjoyable (and somewhat terrifying) to see her completely dismantle the company she formed, and then fire 59-year-old devotee Evelyn. Crushing stuff coming from the steel-jawed Wright, and it absolutely left me wanting more. Frank and Claire are like two rock pillars, strong and unbreakable -- at least for now.
At the end of the episode we're left with numerous shots of talking heads in the media, spouting "news" that Frank literally crafted from the ground-up. Accurate and very scary, it certainly made me wonder how much of what goes on in reality is actually fabricated information, built to keep the maw of the shadowy underbelly fed.
Best Frank quote: "When the tit's that big, everyone gets in line."
You can stream House Of Cards at any time on Netflix.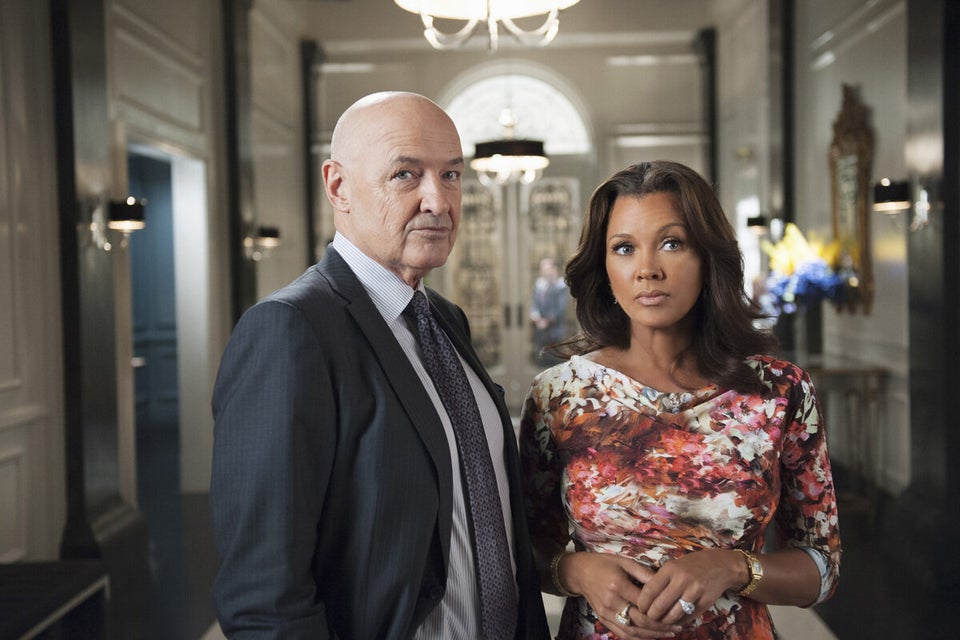 2013 Renewal Index: Canceled, Renewed & On The Bubble Shows