It seems our society is quite literally obsessed with keeping up with the Kardashians. From their clothing to their diets to their hair, anything Kim K and her klan does seems to have an enormous kultural kopykat effect.
Consonant play aside, it is undeniable that reality television's royal family does hold court over pop culture. With Kim Kardashian's physics-defying curves and Kylie Jenner's lip fillers, it seems now more than ever that they are shaping not only social norms, but also our bodies themselves. (Spanx not included.)
A procedure popularized by "Keeping Up With the Kardashians" was the vampire facial, better known as platelet rich plasma (PRP) injections. Like most in the public, I watched Kim Kardashian undergo this beauty blood bath with polite fascination and thought, "Um… Why?"
In the spirit of journalistic inquiry, I decided to investigate for myself. Verso Surgery Centre in Oakville, Ont. graciously hosted my curiosity, patiently answering my questions and giving me a test run of the procedure.
PRP involves the extraction of blood from your arm, which then gets spun through a centrifuge to separate out the clear, yellowish plasma. The benefits of plasma include its ability to initiate growth factors in the skin, leading to a healthier, glowing, age-defying complexion.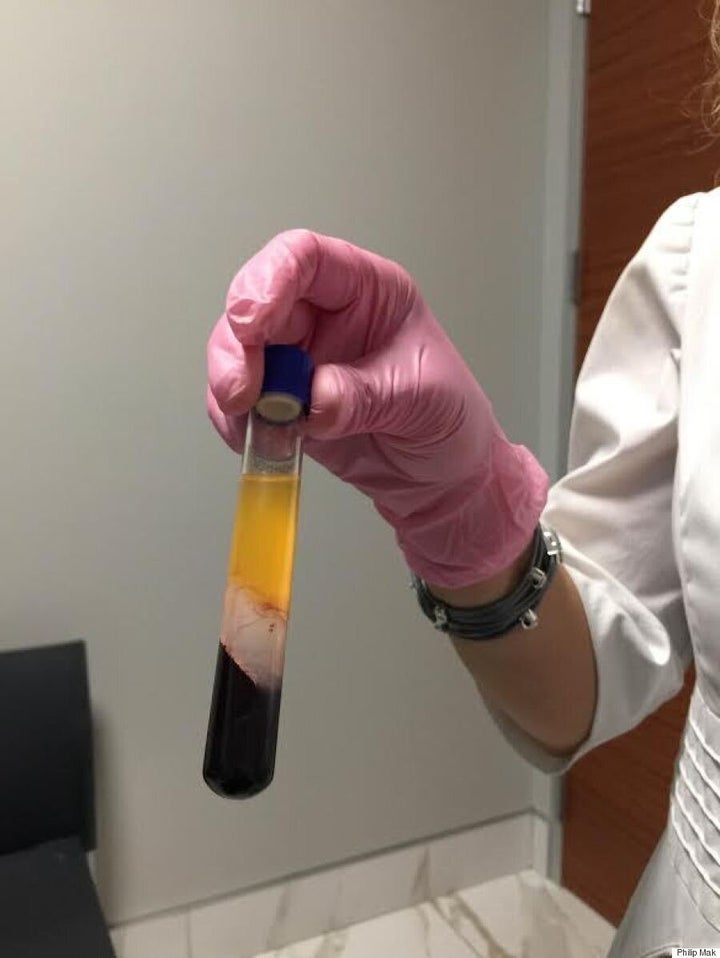 Blood and plasma in the vial.
Verso Surgery's medical aesthetician Veronica Pascu tells me: "Growth factors are healing the damaged cells [in your skin] so [PRP] acts like fertilizer on grass. It will basically make the damaged cells healthier –- much like if you put fertilizer on grass, you will see it become more green and you'll see more of it."
While Kardashian had the plasma re-injected into her face manually (which is exponentially more painful, bloody, time-consuming, and requires downtime and anaesthetic) Verso Surgery has invested in a European gun-like tool with a short needle on the end. It works by creating small divots across the face while gently spraying the harvested plasma over top. The liquid is then gently massaged into the divots. Compared to Kim, my experience involved barely any blood and only minor stinging –- and certainly none of that meme-worthy ugly crying.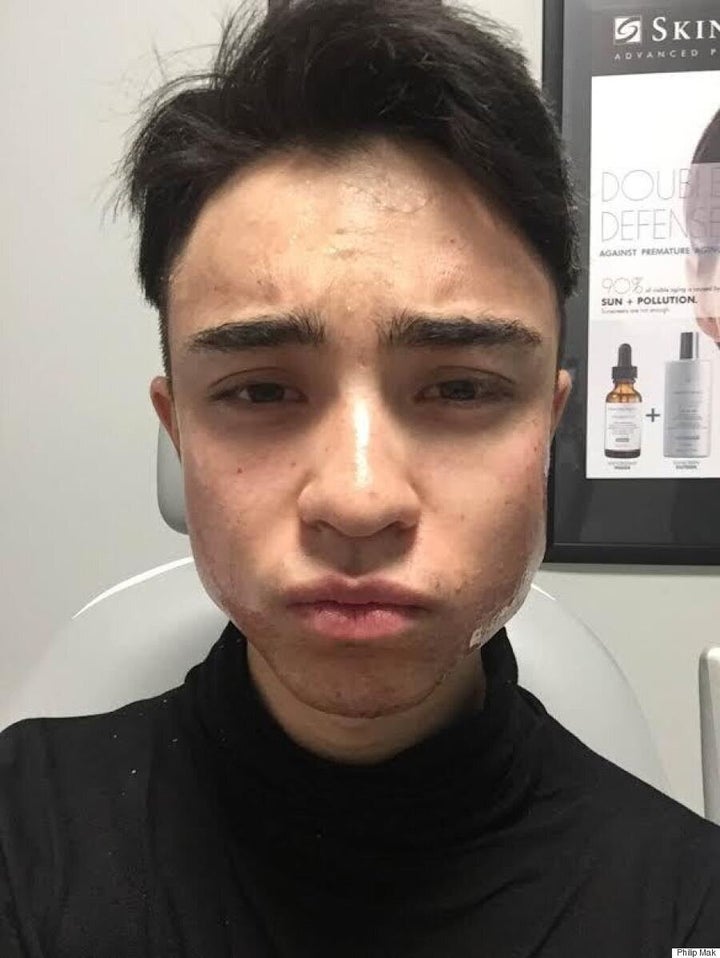 Blood, sweat and barely any tears.
The PRP procedure takes less than 45 minutes and should be repeated once a month for three months, and then once a year following to maintain optimal results. Part of the appeal of the vampire facial is it doesn't require any downtime, though your face may be a little red for a few days. While it isn't recommended to go on Scott Disick-style bender or hit the gym like Khloe soon after, you can go straight back to work.
Aftercare for me involved a twice-a-day regimen of Skinceuticals products including the Phyto Corrective Gel, Epidermal Repair cream and Physical Fusion UV Defense SPF 50 sunblock. Sun protection is paramount following PRP, and you should be sure to reapply SPF throughout the day and after any heavy sweating.
Interestingly, Verso Surgery's Dr. Jack Kolenda tells me they are seeing almost as many men come in for PRP as women. However, the gents are getting it for hair regrowth and hair implants.
"In our practice it's one-to-one, fifty-fifty [male to female ratio]. That's because we're doing hair transplantation," Dr. Kolenda says.
In the same way that PRP 'fertilizes' the skin for a healthier glow, it helps nourish hair follicles and aids in hair transplant retention. It can also help slow hair loss in men who do not wish to get a transplant yet. While science is unsure on plasma's exact beneficial mechanism, it is most likely because it increases the blood supply to the scalp and hair follicles.
I spoke with Jay Herman and Darrell Simpson of Salient Medical Solutions, the Canadian distributor of ARTAS -- the mechanical hair transplant system at Verso Surgery. Simpson tells me: "Many surgeons are mixing the ARTAS robot with PRP for faster wound healing, better uptake, more survivability and even better results."
Whereas follicles used to have to be harvested individually for hair transplants, these new computerized techniques can transplant up to 1,000 follicles per hour. Much like the hair being placed, the trend is growing: Canada is seeing the fasted per-capita increase in the uptake of ARTAS hair transplant technology in the world.
That said, at $13,000 to $16,000, you may need to be a Kardashian to afford a hair transplant. However, Herman assures me that -- much like laser eye surgery-- the procedure will become less pricey with popularity.
The next big trend in cosmetic procedures? Having just got the inside scoop at the Aesthetic Show in Las Vegas, Herman says: "Feminine rejuvenation. Vaginal rejuvenation, more precisely."
While it certainly sounds like the makings of an interesting episode of "Keeping Up With the Kardashians," I think I'll pass on trying that one.
PRP treatments cost $600 at Verso Surgery Centre. For more info, visit versosurgery.ca.